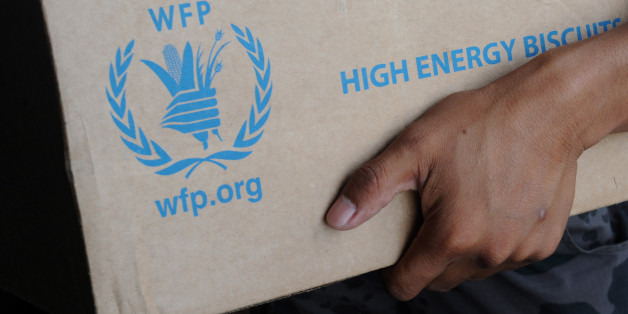 In the wake of Typhoon Haiyan, the United States has launched a thorough and concerted relief effort that flies in the face of American disengagement. But reports of the deft response in the Philippines might be more the exception than the rule when it comes to the U.S. lending a helping hand.
The recently-published Commitment to Development Index (CDI), released by the Center for Global Development, reveals that, on the whole, the U.S.'s aid efforts are greatly lacking in comparison to those of other wealthy countries around the world.
Every year the CDI ranks wealthy countries according to efforts in categories ranging from trade to technology to migration. The organization assesses each category based on nuanced considerations; for example, ranking not just how much aid a country provides, but also how corrupt its beneficiaries are. The overall ranking averages scores from all categories and assigns each country a weighted score based on the whole.
Of the 27 nations assessed this year, Denmark, Sweden and Norway topped the list, with the U.S. coming in at 19th. Japan and South Korea ranked dead last.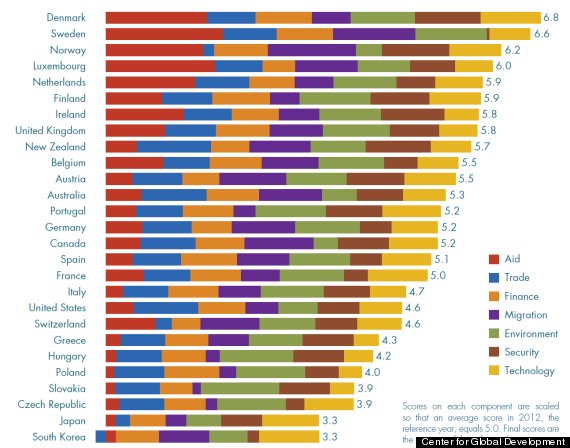 The U.S. creeps up to 17th when considering aid alone, but the country still has room for improvement. The aid portion of the CDI is more concerned with quality than quantity. "Tied" aid, or aid required to be spent on products from the donor country, counts as low-quality aid. Nearly 45 percent of the U.S.'s aid is tied or partially tied, dragging down its ranking, despite the large sum the country provides on aggregate.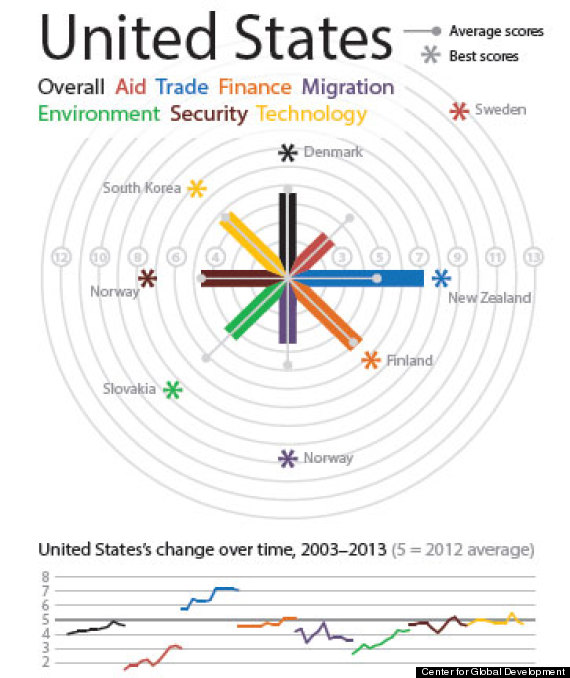 In addition, the relative need and efficient governance of a recipient country compounds the index ranking, rewarding the relative savvy of a wealthy country's investment in the right nations. Afghanistan, for instance, has great humanitarian need but is riddled with corruption and a weak legal infrastructure. Thus the CDI counts aid to Afghanistan at one cent on the dollar, rendering the U.S.'s high aid to that and other undemocratic governments virtually useless.
Check out the slideshow below to see how the U.S. and other countries rank on their commitments to global development:
PHOTO GALLERY
Commitment to Development Index