What started as just another ski trip for Layne Spence and his three dogs quickly became tragic Sunday, when a hunter killed one of Spence's dogs after apparently mistaking it for a wolf.
Spence had been cross-country skiing near Missoula, Mont., when he heard what sounded like a gunshot, he told The Missoulian. His 2-year-old malamute, "Little Dave," then fell to the ground. As a man holding a gun ran from the woods, Spence said he started screaming "stop, stop" but said the man shot the dog at least four more times.
"My dog is lying there, dead, and I shouted 'What are you doing?' and the guy said, 'I thought it was a wolf,'" Spence told the outlet.
(Story continues below)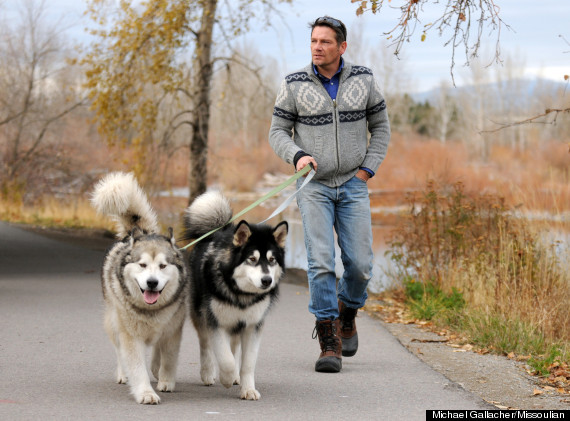 A photo of Spence with his two remaining malamutes, "Rex" and "Frank."
(See more photos of the dogs on The Missoulian.)
The Associated Press reports the hunter asked Spence if there was anything he could do, but a distraught Spence told him to leave.
"I know it's hunting season so I put lights on their necks, they're on their collars and they're really bright," Spence elaborated to NBC Montana. "My dog was within 20 yards and I'm amazed because the guy can see me and he's shooting at my dog and I could have been killed."
A complaint filed with the Missoula County Sheriff's department yielded additional interest from the U.S. Forest Service and the Montana Department of Fish, Wildlife and Parks (MFWP), but an initial investigation did not reveal any immediate wrongdoing.
In a statement issued Tuesday morning, the Sheriff's Office reiterated it's "following up on any and all leads but [the incident] does not appear to be criminal in nature." Spence has said he does not want the hunter to serve any jail time; he just wants an apology.
Whether or not a criminal act took place, basic hunter safety protocols were not followed, especially "being sure of your target and beyond," Vivica Crowser of MFWP told Montana's KTVQ news.
Montana's wolf hunting season started in September of this year, with much looser restrictions than in prior years, including lower license fees, a larger bag limit, and a longer season. According to the Associated Press, the changes were championed by livestock owners and hunters.
BEFORE YOU GO
PHOTO GALLERY
100 Most Threatened Species