When Indiana University juniors Logan Weisberg and Chad Silver learned their longtime friend and Zeta Beta Tau fraternity brother Brian Levitas had been diagnosed with non-Hodgkin's lymphoma, they racked their brains for a way to support him.
"When we got the diagnosis about Brian, we just wanted to control something and we knew we couldn't be in the hospital with him treating him, so we tried to control the mental side of things," Silver told NBC's "Today" this week.
It just so happened that Levitas was diagnosed mere days before the start of "No-Shave November," an annual, month-long "no shave" event that seeks to raise cancer awareness.
Silver and Weisberg knew what they had to do.
Vowing to ditch the razors for 30 days to support their friend, the students started a fundraising campaign dubbed "Zeta Brian Tau" to rope in friends and family to do the same.
"As you may or may not have heard, our best friend and brother Brian Levitas has been diagnosed with a form of Lymphoma. It is our manly duty to sacrifice our beautiful punims [faces] in order to fight this disease," Weisberg wrote on the campaign's Crowdrise fundraising page. "On Halloween Eve, we shave for the last time until December."
Weisberg said they hoped to raise money and awareness for cancer research and to show Levitas there were lots of people rooting for him.
"Our first goal was $500," he told the Indiana Daily Student, Indiana University's student-run newspaper. "Although it wasn't about the money. For us, we just wanted to have Brian's name out there, knowing there were people supporting him."
Thus far, the young men have raised almost $60,000. This amount includes donations to their Crowdrise page, as well as the money they've raised through the sale of special "Zeta Brian Tau" T-shirts through their website.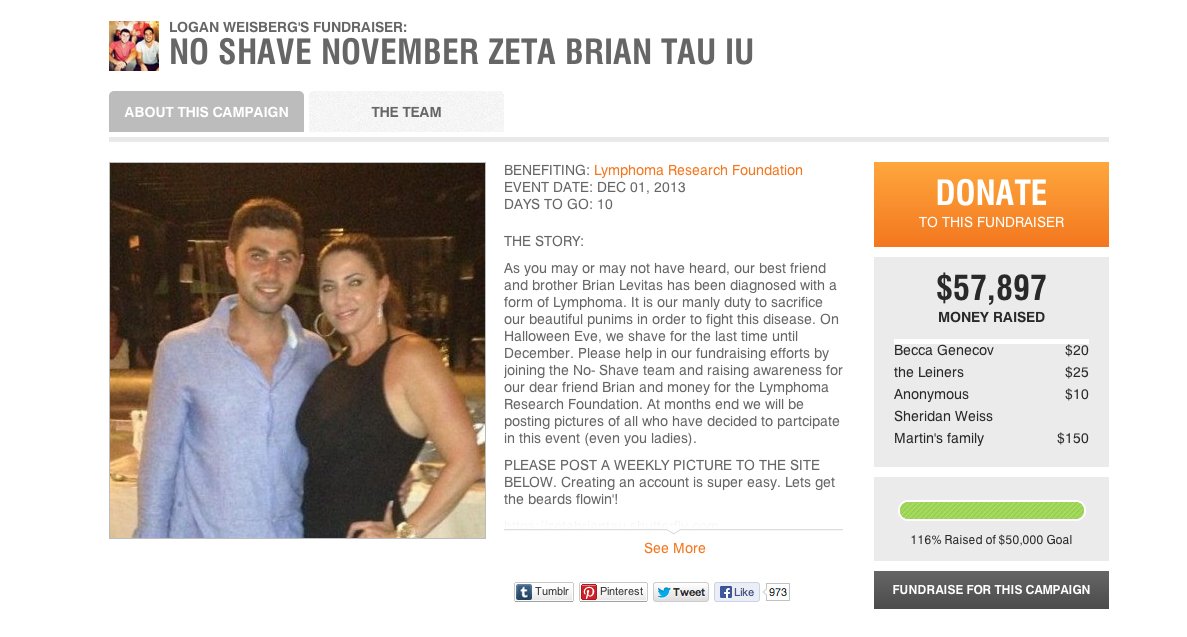 According to "Today," the students have already donated $57,000 to the Lymphoma Research Foundation, and they say they're now fundraising for the Chicago branch of Children's Oncology Services, which hosts camp experiences for kids who have cancer.
"We chose this organization because they believe that half the battle is mental," Silver told the Daily Student. "They support the mental side of cancer through programs, camps and sessions. We wanted to raise the money for them."
On his part, Levitas, who is currently undergoing treatment, says he's been floored by the outpouring of support.
"They've literally put a smile on my face every single day that I wake up and make this 10 times easier for me," he told TODAY. "With all their love and support, I can't even begin to tell you, I'm just speechless."
For more information about "Zeta Brian Tau," visit the campaign's crowdrise page and website.
Correction: An earlier version of this post mistakenly identified "Movember" as the campaign that the fraternity brothers were inspired by. "Movember" is a similar annual, "no shave" event that seeks to raise awareness for men's health issues.
BEFORE YOU GO
PHOTO GALLERY
Frats Being Awesome