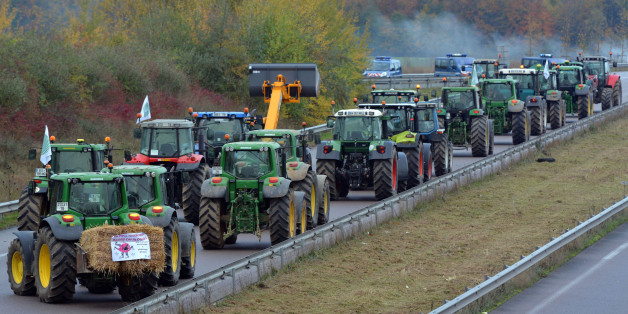 In a sprawling protest that caused some heavy congestion in central France, farmers marched on Paris early Thursday morning.
Using tractors, the farmers blocked roads to the capital in a demonstration against high taxes and rising costs. However, what started as a peaceful protest, turned into tragedy after a fireman was killed in a collision with a truck. According to local reports, six other people were also injured in a separate accident involving a police van.
Transportation Minister Frédéric Cuvilier took to Twitter in the wake of the deadly accident and demanded an immediate end to the protest. While the protesters refused initially, agricultural unions called off the demonstration within a few hours and instructed the farmers to go home.
Despite the unfortunate turn of events Thursday morning, it appears the ongoing protest had already brought some attention to the farmers' plight.
On Monday, Agriculture Minister Stéphane Le Foll agreed to begin "high level" discussions with the transportation minister and the two main agricultural unions, Le Huffington Post reports. The French prime minister will also meet with the head of one of the unions to open a dialogue on tax reform.
The farmers unions first announced their intention to blockade Paris Monday. The radical measure follows several weeks of smaller demonstrations -- primarily in Western France -- to call attention to the rising costs of the agricultural industry, which have become a heavy burden on farmers.
As Reuters notes, the farmers are primarily taking issue with France's planned "eco-tax" on freight transportation and an anticipated increase in sales taxes, which should take effect on Jan. 1.
In another protest earlier this year, farmers in the Brittany region smashed thousands of eggs to protest low market prices.
BEFORE YOU GO
PHOTO GALLERY
French Farmers Smash Eggs