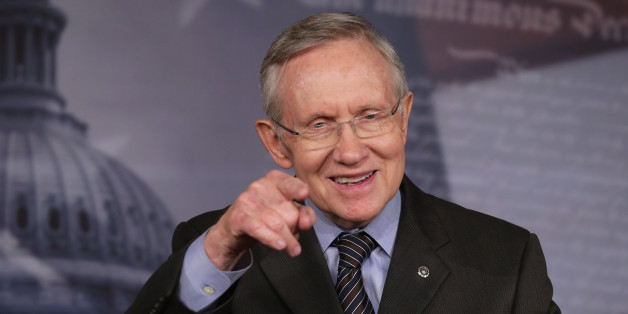 In Washington, the filibuster is a hot topic, elsewhere not so much (at least until today). Gallup finds the Affordable Care Act is more popular than "Obamacare." And Charlie Crist's lead in Florida narrows. This is HuffPollster for Thursday, November 21, 2013.
OUTSIDE DC, FILIBUSTER IS AN OBSCURE TOPIC - Drew DeSilver: "In January 2011, the most recent time Pew Research asked people how much they'd heard about proposals by the Senate's Democratic leadership to change the filibuster rule, nearly half (49%) said they hadn't heard anything at all; more than a third (36%) said they'd heard only a little bit...In January 2010, when Pew Research asked how many senators are needed to break a filibuster, only about a quarter (26%) knew the correct answer, 60. Almost as many thought only 51 votes were needed — in fact, the rules change that Senate Majority Leader Harry Reid is threatening to adopt, at least in regard to presidential appointments — while more than a third (37%) wouldn't even venture a guess." [Pew Research's Fact Tank]
Inconsistent results on support/oppose - As DeSilver points out, when pollsters have asked people whether they support or oppose the filibuster, "their answers haven't been consistent." Earlier this year, CBS News found more Americans who reacted positively than negatively to a description of the filibuster (52 percent said it was a good thing, 35 percent a bad thing). CNN found similar results four years ago, and Quinnipiac University found inconsistent results when they turned the question around and asked about "eliminating" the filibuster. But perhaps least surprising, when an online HuffPost/YouGov poll presented "not sure" as an answer, nearly half of the respondents (45 percent) opted for that category. Americans' unfamiliarity with the basic facts of the filibuster means that many, perhaps a majority, lack preexisting opinions on the subject. As such, questions about it that push hard for an answer are mostly producing reactions to the text of the questions. [HuffPost, CBS NewsQuinnipiac]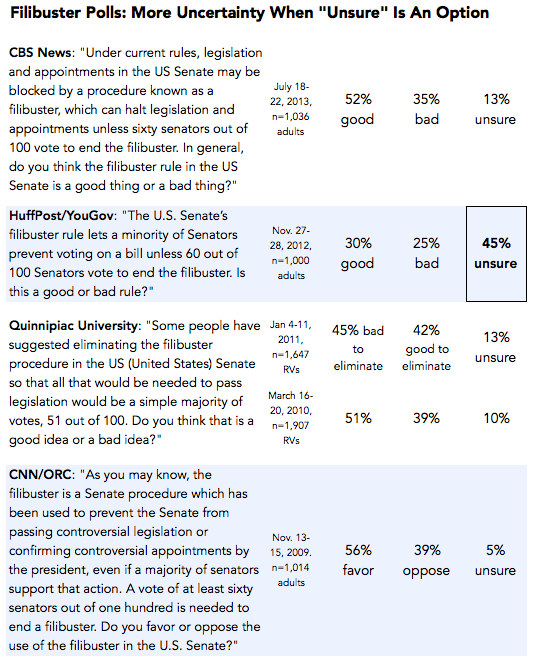 Opinions have changed Mark Mellman (D): " Public opinion on the filibuster itself appears malleable. In the first poll on the subject, conducted by Gallup in 1937, 34 percent opposed filibustering FDR's plan to expand the Supreme Court, while 31 percent favored it, with the rest uncertain. In 1947, 57 percent favored a simple majority for cloture over the two-thirds rule then in force. As professors Steven Smith, James Gibson and Hong Min Park point out in a paper on the subject, that pattern continued through the 1950s and '60s, when majorities supported reducing the threshold for cloture and the enactment of civil rights legislation that was the object of filibusters. The year 2005 brought a somewhat different alignment, as voters favored retaining the filibuster….More recently, we appear to have witnessed another pendulum shift….Moreover, a survey experiment conducted by professor David Doherty of Loyola University found that a senator who achieved a victory through filibuster was less highly regarded than one who did so as part of a simple majority. Why the malleability? Attitudes toward filibusters stem from both an enduring value preference and a grant of political expediency to the side you consider 'right.' The philosophical divide arises between those who prioritize majority rule as against those who emphasize protecting minority rights. Here, too, the country is divided, with just about 40 percent taking each side." [The Hill]
CNN POLL FINDS OBAMA AT RECORD LOW - Paul Steinhauser: "According to a CNN/ORC poll released Thursday, 41% of Americans approve of the job the President's doing in the White House, the lowest level for that crucial indicator in CNN polling. Fifty-six percent questioned say they disapprove of Obama's performance, an all-time high in CNN surveys….Fifty percent believe that congressional Republicans will have more influence over the direction the nation takes in the next year while only 42% saying the President will have more influence, according to the poll. That's a change from November 2012, when more six in ten said Obama would have more influence in the year to come. Who should have more influence is a different story. The poll shows 47% want Obama to be in charge while 45% say the GOP should have more influence over the country." [CNN]
CRIST LEADS IN FLORIDA - HuffPollster: "Former Florida Gov. Charlie Crist has a 7-point lead over incumbent Gov. Rick Scott (R) in the 2014 Florida gubernatorial race, according to a Quinnipiac University poll released Thursday….Forty-seven percent of registered Florida voters supported Crist, who was elected as a Republican before becoming an independent and then a Democrat, compared to 40 percent who backed Scott. That's down slightly from two past Quinnipiac polls in March and June, when Crist led by 16 and 10 points, respectively….HuffPost Pollster's average, including all publicly polls, gives Crist an 8-point lead over Scott." [HuffPost, Quinnipiac
BIGGEST ACA VS. 'OBAMACARE' EXPERIMENT YET - Gallup Editor-in-Chief Frank Newport explains a large survey experiment to better understand how the wording used to test opinion on President Obama's health reform law: "Gallup read the same basic question to four randomly selected groups of the Gallup Daily tracking sample each night between Nov. 4-17 -- but with four different descriptions of the law. A total of 1,725 to 1,885 respondents received each version of the question...The results of this experimental test show that the healthcare law descriptions can make a difference in the responses. Only mentioning the Affordable Care Act yields the highest support (45%), while only mentioning Obamacare yields the lowest support (38%). Support for the law when using the other labels falls in between, at 41%.T hese results suggest that the Obama administration's decision to shift to Affordable Care Act as their label of choice and to avoid using Obamacare would appear to be a branding strategy that works in the administration's interest. Clearly, all else being equal, the words "Affordable Care Act" engender a modestly more positive reaction than the term Obamacare...Gallup's trend measure uses the version which includes both Affordable Care Act and Obama -- which seems to us to be the most balanced approach. [Gallup]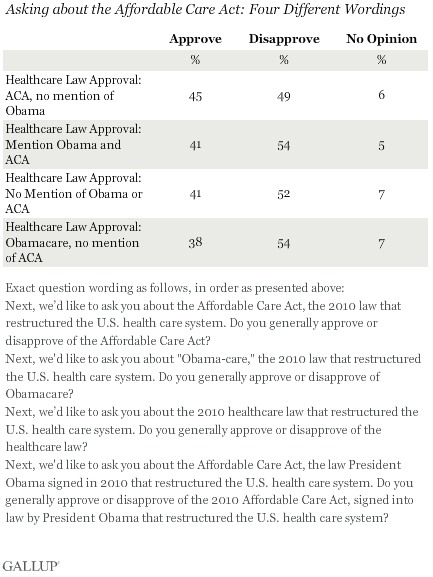 CHART OF THE DAY - From Pew Research, "how FOX, CNN, MSNBC & Al Jazeera differ, in 1 chart." [Pew Research's Fact Tank, @ConradHackett]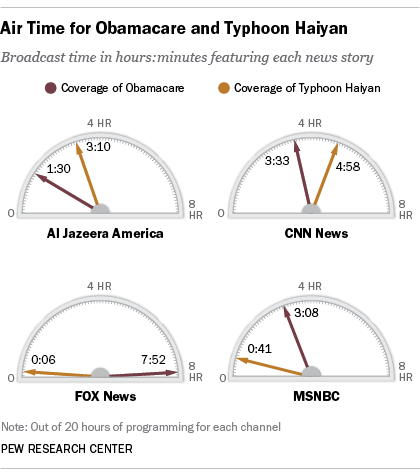 HUFFPOLLSTER VIA EMAIL! - You can receive this daily update every weekday via email! Just enter your email address in the box on the upper right corner of this page, and click "sign up." That's all there is to it (and you can unsubscribe anytime).
THURSDAY'S 'OUTLIERS' - Links to more news at the intersection of polling, politics and political data:
-48 percent of Americans think the NSA intrudes in Americans privacy without justification, while 60 percent think Edward Snowden's disclosures have harmed U.S. security. [ABC News, WaPost]
-Americans have little trust that Iran will adhere to any agreement on nuclear weapons. [YouGov]
-Sean Trende argues that to repeal Obamacare, Republicans need to elect a president. [RCP]
-Political scientist Adam Hall finds that when "extremist" candidates win U.S. House primaries, their party's share of the general election vote decreases by approximately 12 percentage points. [PolMeth via @KWCollins]
-Civis Analytics and the Democratic ad firm GMMB announce a partnership to use "big data" analytics to target television advertising. [GMMB]
-In the UK, the Tories return to "comfort polling." [Lord Ashcroft]