Vice President Joe Biden was beyond excited Thursday to welcome one of his favorite sandwich shops to Washington, D.C.
Biden made an appearance at the grand opening of Capriotti's -- an italian hoagie chain that he frequents back home in Delaware. The vice president was picking up lunch to show President Barack Obama that this is the "best sandwich."
"No more of this stuff about Chicago and Philly and New York," Biden said, according to a pool report. "This settles it. You guys want to get this settled. And end it. I'm ready man. The president is waiting."
Biden racked up a $56.25 order, including his favorite -- "the Bobbie" (turkey, cranberry sauce and stuffing) with hot peppers on the side. He took out money and realized he was short, leading to a good laugh.
From the pool report:
"Alright man," he said, and then turned around and called out to Fran Person, his personal aide, "Fran, you got ten bucks?"

Several people started laughing, and a Capriotti staffer offered to give him The Bobbie for free, but Biden said no.

"I'm not taking it. You know what, I've been going to Capriotti's on Union Street for the last 40 years. I have paid every time I've gone ... In Delaware, you pay. It's simple."
This is not the first time that Biden has made a local lunch trip or welcomed a new business to D.C. Last month, he and Obama hit up Taylor Gourmet for sandwiches during the government shutdown. And last year, Biden made a surprise appearance at the grand opening of Washington's first Costco store.
Below, photos from Biden's trip to Capriotti's: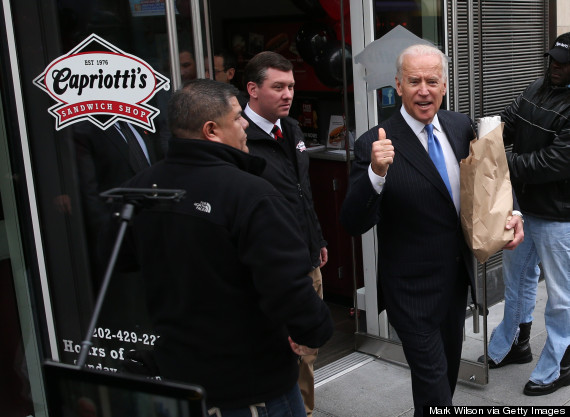 Vice President Joe Biden walks out of Capriotti's sandwich shop after picking up his lunch on November 21, 2013 in Washington, D.C. (Photo by Mark Wilson/Getty Images)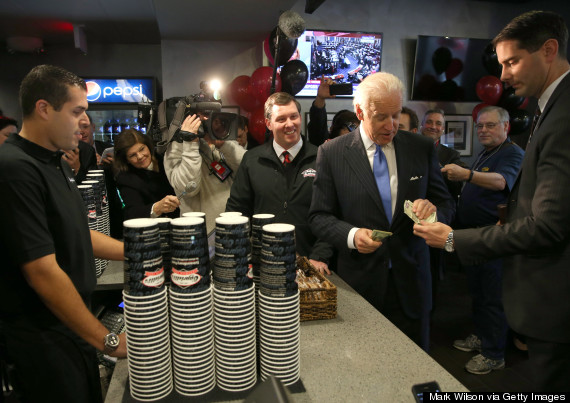 Vice President Joe Biden gets money to pay for his lunch at Capriotti's sandwhich shop, on November 21, 2013 in Washington, DC. Capriotti's is a Delaware based Italian hoagie chain and a favorite of the Vice President. (Photo by Mark Wilson/Getty Images)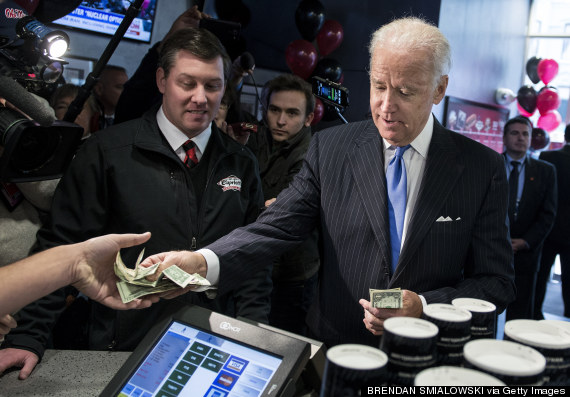 Vice President Joe Biden pays for sandwiches at Capriotti's Sandwich Shop November 21, 2013 in Washington, D.C. Capriotti's Sandwich Shop was established in 1976 in Wilmington, Delaware and is frequented by Biden. (BRENDAN SMIALOWSKI/AFP/Getty Images)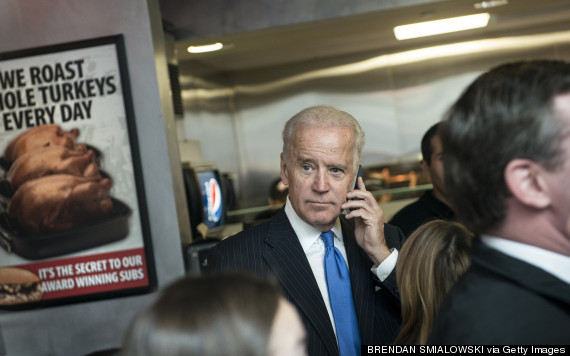 Vice President Joe Biden speaks on cell phone during a grand opening at Capriotti's Sandwich Shop on November 21, 2013 in Washington, D.C. (BRENDAN SMIALOWSKI/AFP/Getty Images)
BEFORE YOU GO
PHOTO GALLERY
The Onion's Best Joe Biden Parodies