Welcome to "Moving Image," our roundup of the best photos from around the world this week.
The following images tell the story of the past seven days' most compelling events, capturing happenstance moments and monumental occurrences all over the globe.
Our picks for this week are:
1. This spewing volcano in Indonesia.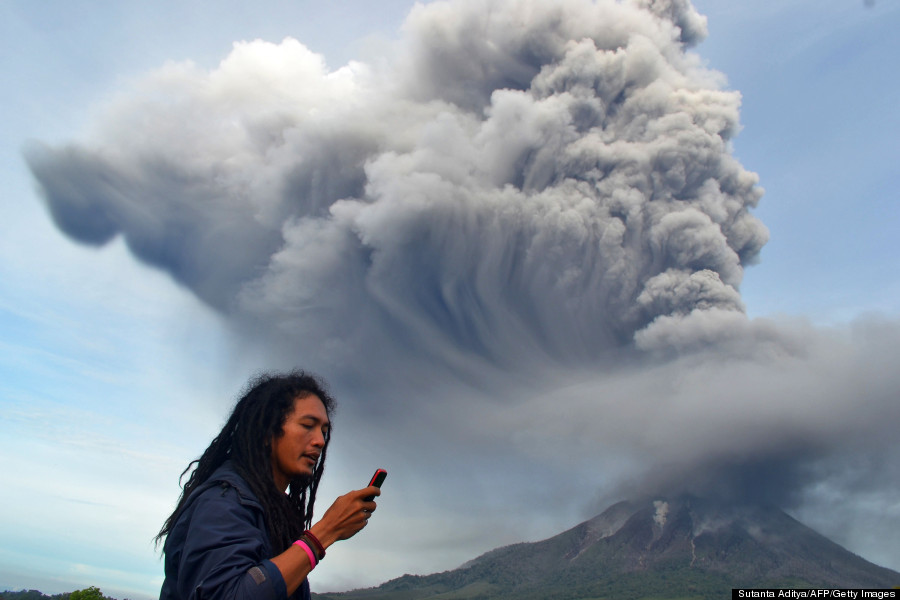 A man uses his mobile phone as Mount Sinabung continues to erupt, with hot smoke spewing from the volcano, in the Karo district on the north of Indonesia's Sumatra island on November 18, 2013. Officials said a week ago at more than 5,000 people had fled their homes since the volcano erupted early this month. (Sutanta Aditya/AFP/Getty Images)
2. This touching image of a family grieving a relative killed during Typhoon Haiyan in the Philippines.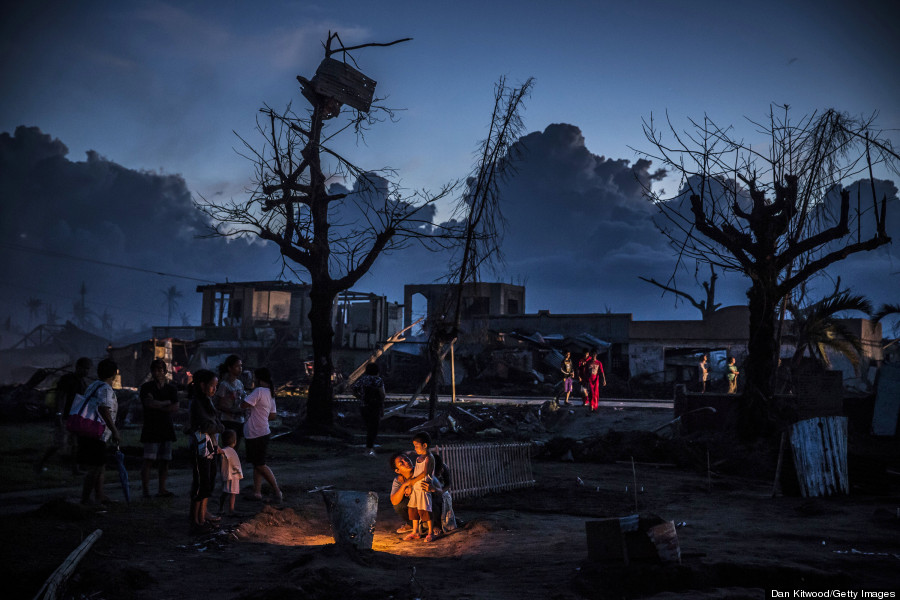 A family gathers around a grave of a relative that was killed when Typhoon Haiyan struck their home on November 18, 2013 in Leyte, Philippines. (Dan Kitwood/Getty Images)
3. These robotic jockeys in the United Arab Emirates.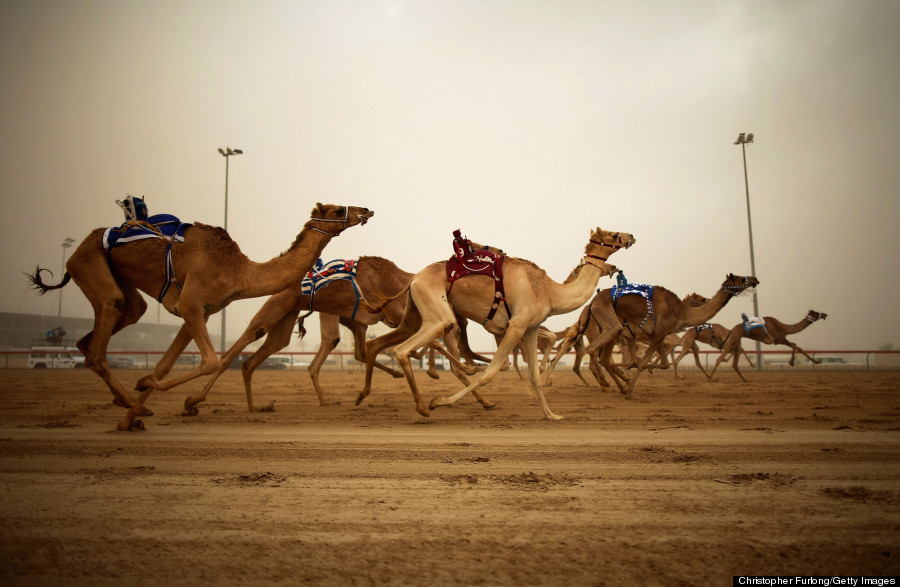 Robotic jockeys control camels during a race at Dubai Camel Racing Club during the Al Marmoum camel racing season on November 17, 2013 in Dubai, United Arab Emirates. Camel racing is one of the oldest sports in the Middle East. (Christopher Furlong/Getty Images)
4. This snapshot of the women's omnium competition in New Zealand.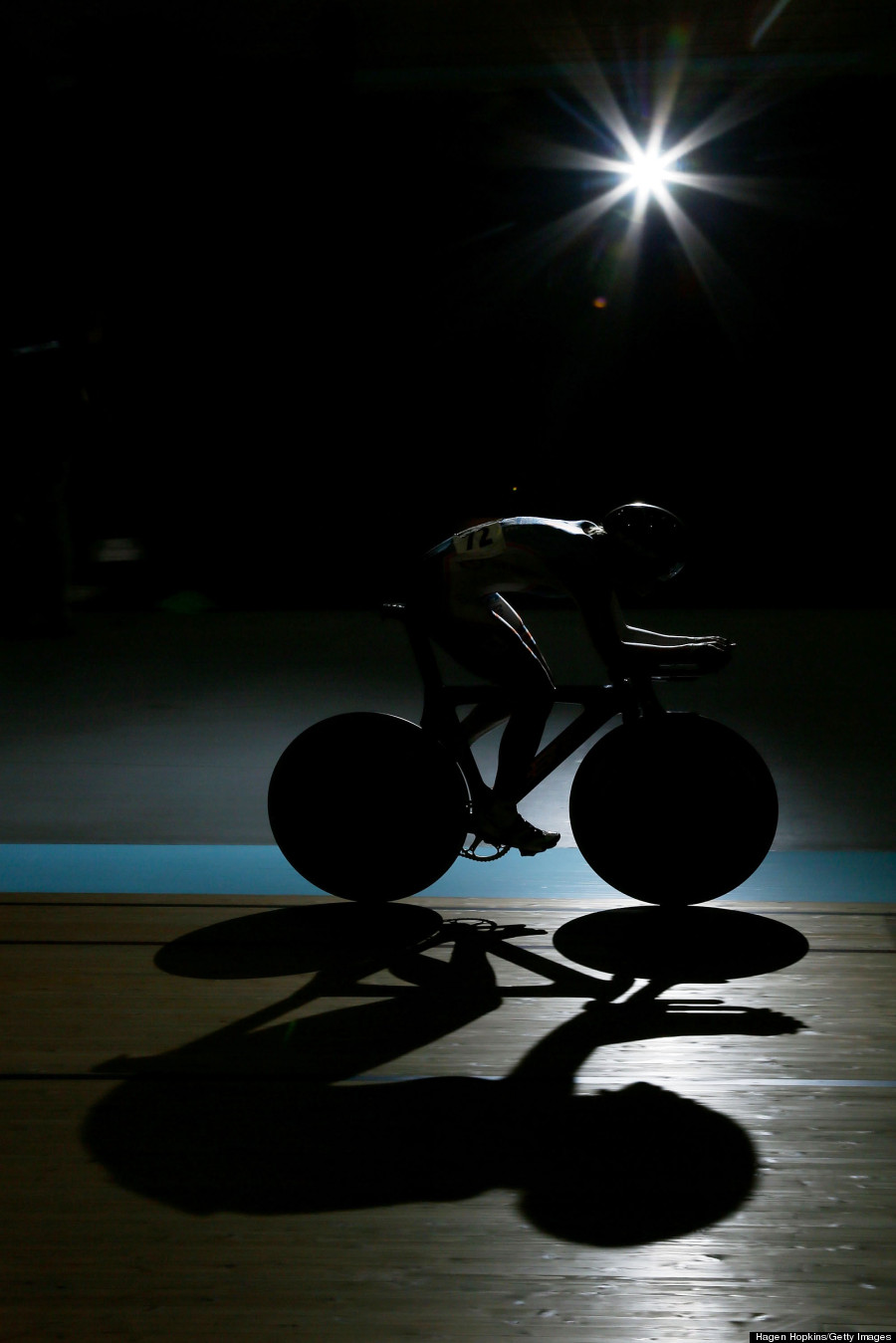 Kimberley Wells of Fearless Femme competes in the women's omnium during the 2013 UCI Festival of Speed at SIT Zerofees Velodrome on November 17, 2013 in Invercargill, New Zealand. (Hagen Hopkins/Getty Images)
5. These excavators in Germany.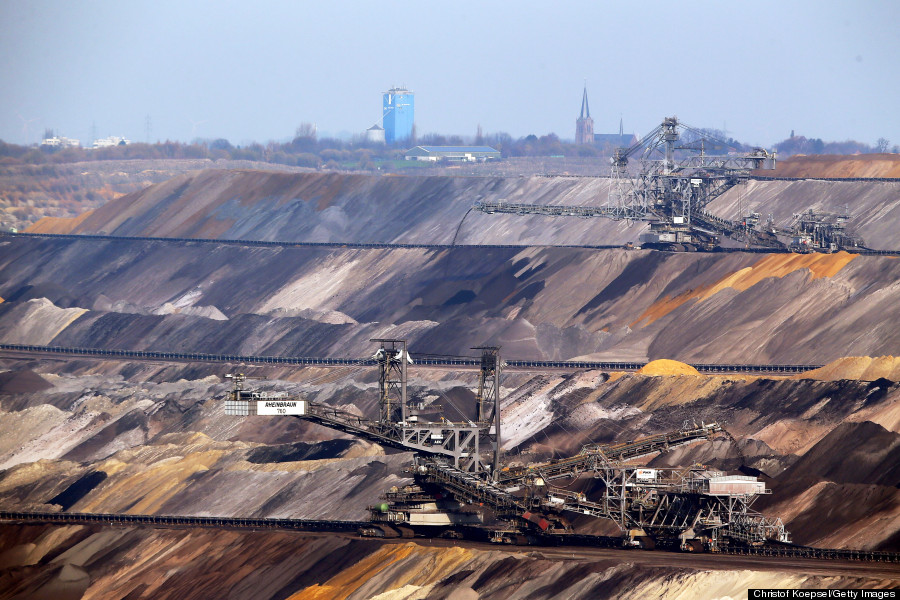 Bucket excavators dig lignite coal out of the ground at the Garzweiler open-pit coal mine at Jackerath view point on November 19, 2013 near Bergheim, Germany. RWE, the energy company that owns the Garzweiler mine, is struggling to remain profitable as Germany switches away from nuclear to renewable energy sources. (Christof Koepsel/Getty Images)
6. This striking shot of typhoon destruction in the Philippines.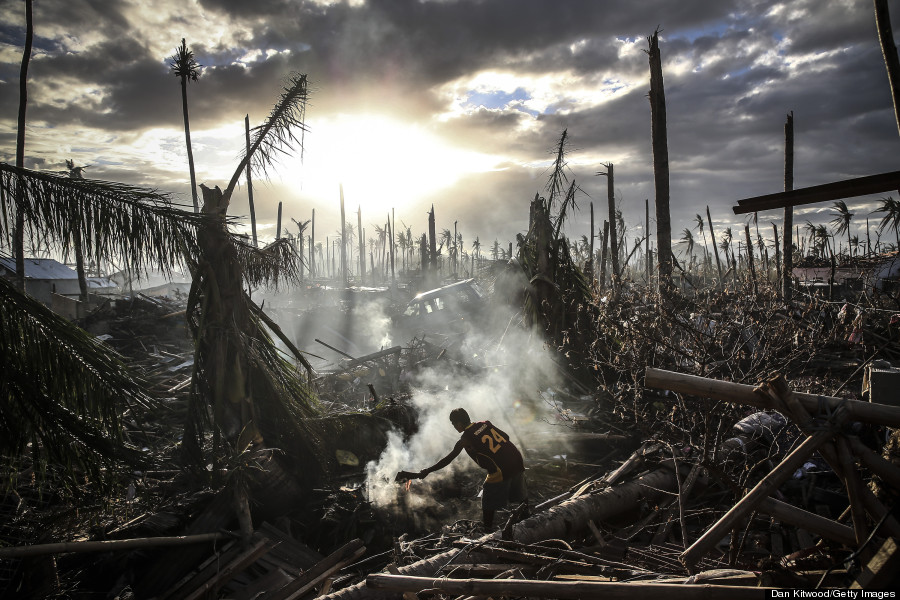 A man fans flames on a fire Tanauan on November 19, 2013 in Leyte, Philippines. Typhoon Haiyan which ripped through Philippines over a week ago has been described as on of the most powerful typhoons ever to hit land, leaving thousands dead and hundreds of thousands homeless. (Dan Kitwood/Getty Images)
7. This photo of typhoon survivors rushing towards relief goods in the Philippines. Typhoon Haiyan survivors rush towards a Philippine Air Force helicopter delivering relief goods in Tolosa, Philippines, Thursday, Nov. 21, 2013. Hundreds of thousands of people were displaced by Typhoon Haiyan, which tore across several islands in the eastern Philippines on Nov. 8. (Dita Alangkara/AP)
8. This snapshot of a rainy night in Seattle, Washington. Pedestrians protect themselves from a steady evening rain as they walk or pause near colorful holiday lights Monday, Nov. 18, 2013, in downtown Seattle. Rain is expected to continue into Tuesday, ahead of clearing skies but considerably cooler temperatures, with highs only in the mid-40s. (Elaine Thompson/AP)
9. This image of a family reuniting after a controversial court case in San Antonio, Texas.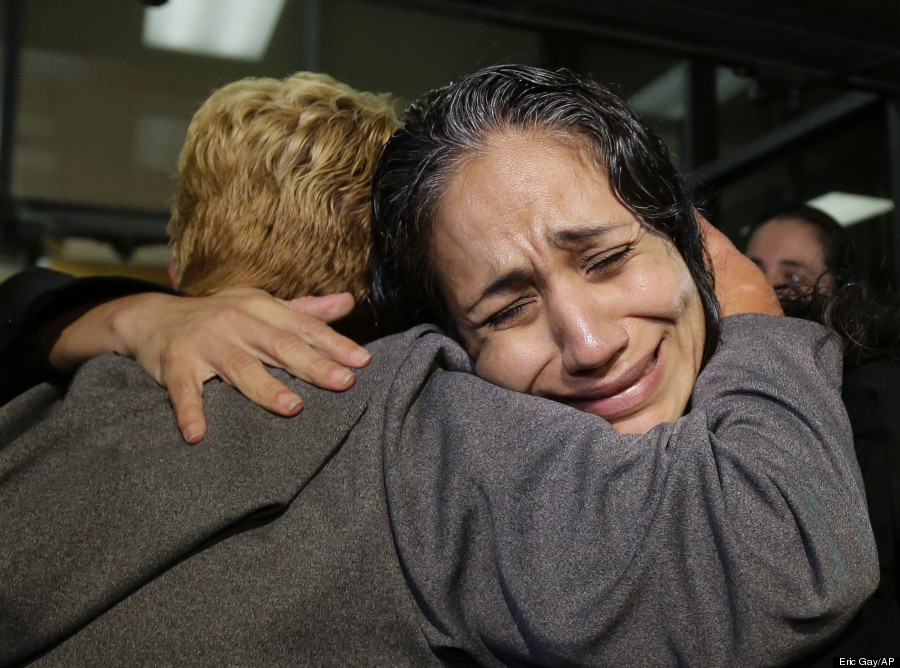 Cassandra Rivera, right, is greeted by family members after she, Elizabeth Ramirez and Kristie Mayhugh were released from the Bexar County Jail, Monday, Nov. 18, 2013, in San Antonio, after it was announced earlier in the day the women imprisoned for sexually assaulting two girls in 1994 were allowed to walk free after a judge agreed that their convictions were tainted by faulty witness testimony. (Eric Gay/AP)
10. This deceptive waste area in Brazil. Small boats sit on the shore of Guanabara Bay in the suburb of Sao Goncalo, across the bay from Rio de Janeiro, Brazil, Tuesday, Nov. 19, 2013. The bay was home to a thriving artisanal fishing industry and popular palm-lined beaches as recently as the late-1970s, but has become a watery dump for waste from shipyards and two commercial ports. Rio de Janeiro will host the 2016 Olympic Games. (Felipe Dana/AP)
11. This prayer session with Pope Francis at the Vatican.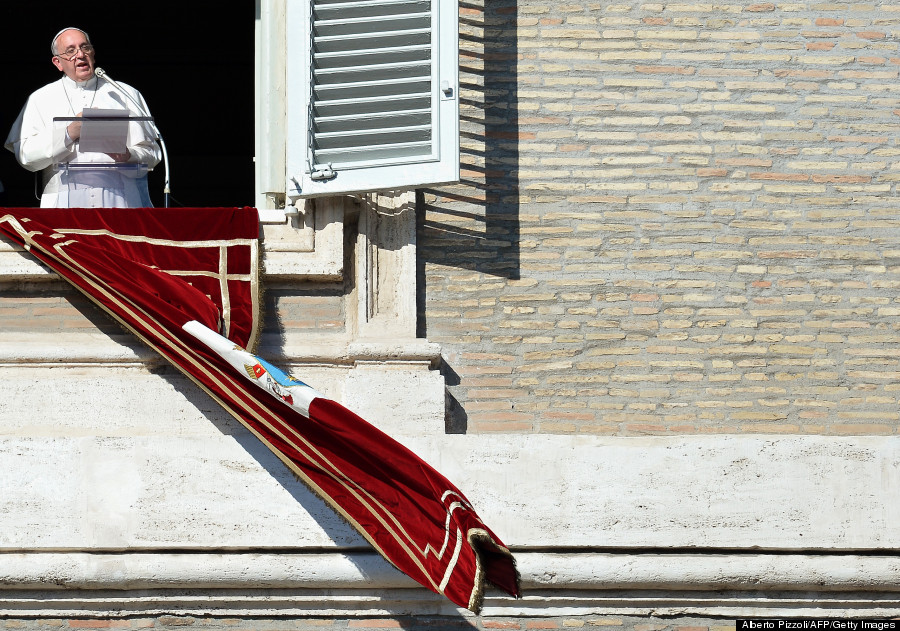 Pope Francis holds on November 17, 2013 his Sunday Angelus prayer from the window of his apartment overlooking St.-Peter's square at the Vatican. (Alberto Pizzoli/AFP/Getty Images)
12. These gale winds in Sardinia. Two tankers are battered by gale winds while at the roadstead in the rough waters of the Gulf of Cagliari, Sardinia, Monday, Nov. 18, 2013. A violent rainstorm that flooded entire parts of the Mediterranean island of Sardinia has led to the deaths of at least nine people. (Max Solinas/AP)
13. These policemen and their dog in Colombia.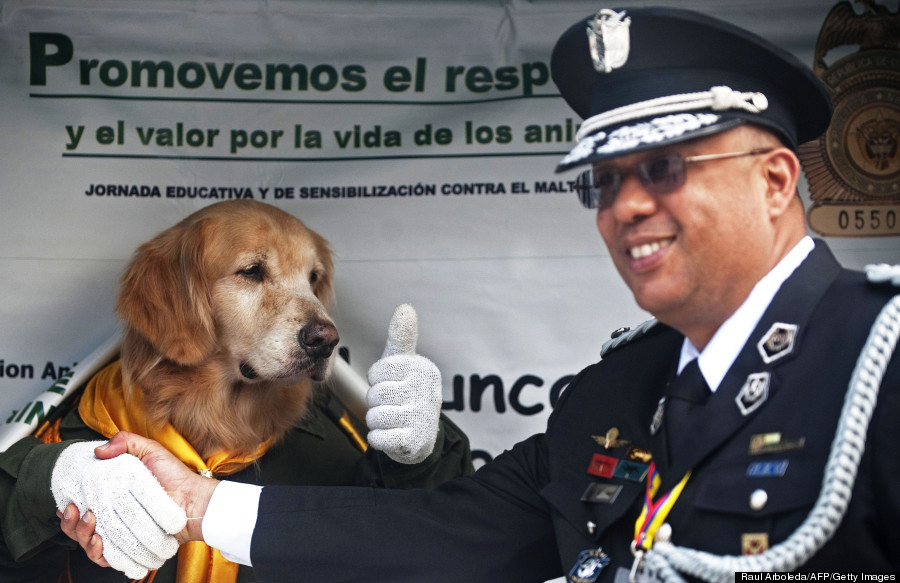 A Panamanian police officer shakes hands with a Colombian policeman who performs with his dog during the inauguration opening of the IV Meeting of Ministers of Public Security of the Americas, on November 21, 2013, in Medellin, Antioquia department, Colombia. (Raul Arboleda/AFP/Getty Images)
14. This ash-covered man in Indonesia.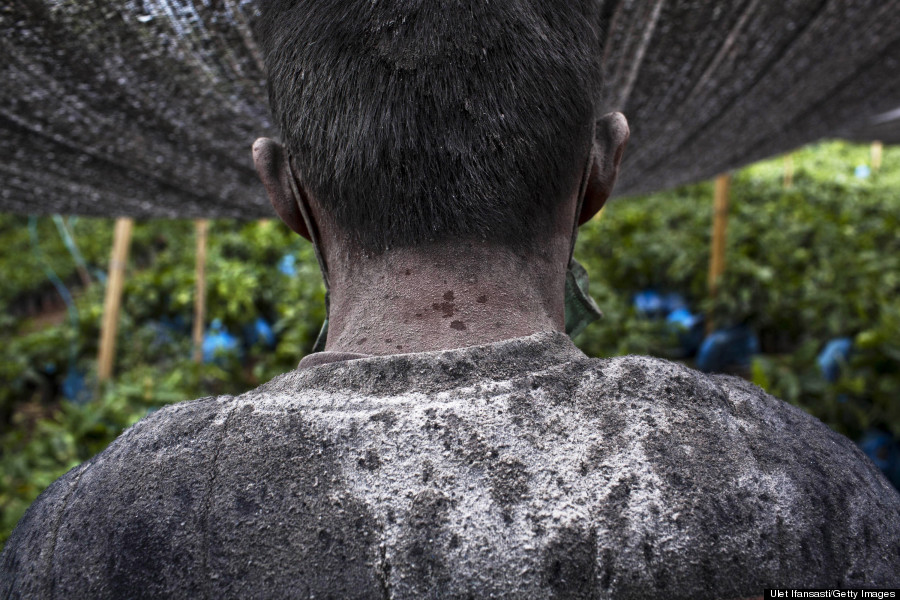 An ash covered man works at a coffee plantation in Guru Kinayan village, located just less than three kilometers from mount Sinabung on November 21, 2013 in Karo district, North Sumatra, Indonesia. Mount Sinabung has had two large eruptions this week including one which saw volcanic ash spewing to a record height of 10km. (Ulet Ifansasti/Getty Images)
15. These giant inflatable puppets in the Netherlands. A child stretches out both arms as she watches a show with giant inflatable puppets by French street theatre company Les Plasticiens Volant during an event to mark the start of the Christmas shopping season in Amsterdam, Netherlands, Thursday Nov. 21, 2013. (Peter Dejong/AP)
Let us know your favorite photos in the comments section and check back next week to see new images.
This story appears in Issue 76 of our weekly iPad magazine, Huffington, in the iTunes App store, available Friday, Nov. 22.
BEFORE YOU GO
PHOTO GALLERY
Moving Image 2013: The Year's Best Photos