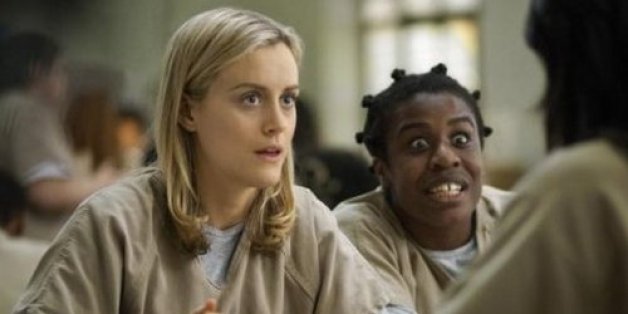 Piper Kerman, author of the memoir that Netflix's "Orange Is The New Black" is based on, conducted an informative AMA yesterday (Nov. 20). Here's what we learned:
"Crazy Eyes" and "Pennsatucky" are real people ...
"There are real people called "Crazy Eyes" and "Pennsatucky" in my book. But they are very different from the characters in the show. This is a good example of the process of adaptation -- Jenji Kohan takes things that she likes from the book and then changes them, sometimes substantially -- to suit the storylines that she wants to create in the show."
... but her favorite character from the show does not actually exist.
"I really like Gloria, who is not based on anything in my book."
Piper Kerman's family was actually really supportive in real life ...
"a big difference is that my family (and Larry's family) were amazing supports, and that I maintained strong ties to my friends and co-workers while I was in prison -- this really reinforced that I was not alone. Those lifelines were everything to me, and to all prisoners. I made a lot of mistakes when I was locked up, but not quite along the lines of Chapman :)"
... and they understand their unflattering portrayals are fictional.
"The real Larry is a good sport about the not-real Larry. He knows that it is fiction."
Much of Piper's actual struggles were internal, but that would have made for very good TV.
"TV really needs external conflict, and that's one of the big differences (other than storyline differences) you'll see between the book and the show. A show that was very introspective would be boring to watch. A book with as much conflict as a TV show has would be unreadable."
Piper Kerman is completely fine with Piper Chapman being written out of "OITNB."
"I would be totally comfortable with [Chapman being written out of the show]. From my POV the show does not have to be about Chapman. It's ultimately Jenji's decision what will happen next."
All of the completely amazing backstories are also completely fictional.
"The backstories are amazing, and the creation of Jenji and her team of writers -- they are all fictional and not drawn from the book. There are some distinct consistent factors for women who go into the criminal justice system: 1) 80 percent have experienced sexual or physical abuse in their lives 2) high incidence of mental illness 3) high incidence of substance abuse"
If anything is true to the memoir, it is the reality of the prison experience.
"I am a consultant on the show, which means I answer questions and provide feedback to Jenji. It is her decision whether to take it or leave it. But the production team did a lot of other research as well, met with many other former prisoners (for example transgendered people who have been through the system) and they continue to do so."
For example, asking people what they're "in for" is genuinely as stigmatized as it appears on the show.
"You really don't ever ask someone what they're in for. Some people choose to talk about it, and some people never do."
If there's anything to learn from Piper's story, it's this:
"My best life advice is to know that you can learn more from your failures than your successes."
"Orange Is The New Black" Season 1 is streaming on Netflix.
BEFORE YOU GO
PHOTO GALLERY
'Orange Is The New Black' Cast On & Off Set