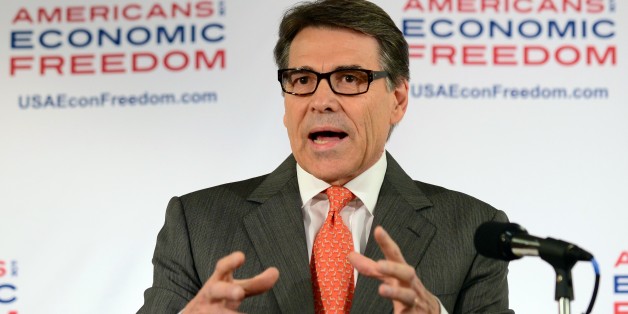 So, which way is it, Rick Perry?
The Texas governor predicted Wednesday that the issue of immigration reform would become "passé," as Mexico's economy continues to grow, propelled by the liberalization of its energy sector.
"I think immigration reform is going to be very passé," Perry told reporters at the Republican Governor's Association's annual conference in Arizona, according to CNN, continuing, "and as a matter of fact there might be a lot of folks who maybe are U.S. citizens going to Mexico looking for jobs in the energy industry."
He went on to say "this whole discussion about immigration reform" will "go away for one thing" and that the issue of border security will shift south, from the U.S.-Mexico border to the Guatemala-Mexico border.
And yet he still wants to pump more money into border security.
The conservative governor slammed Democrats, in the same speech, for trying to pass a bipartisan, comprehensive immigration reform that, to Perry's mind, doesn't secure the border first.
The immigration bill passed by the U.S. Senate in June pumps more than $40 billion into border security.
Critics have argued against the so-called "border surge" precisely because illegal crossings are at their lowest point since the 1970s, with many demographers are predicting that the era of mass migration in the 1990s won't repeat itself due to Mexico's improving economy and decreasing rate of childbirth.
BEFORE YOU GO
PHOTO GALLERY
Why Militarizing The Border Is A Bad Idea