A sight for sore eyes.
VIEW
City of Eyes Optique by Alexander Daas
What: Hindsight is definitely 20/20 at the designer's second optical outpost in Los Angeles.
Why: The boutique carries Daas's sought-after line of specs and shades as well as frames by Mykita, Matsuda, and Tavat.
When: Mon.-Sat., 10 a.m.-6 p.m.; Sun., 11 a.m.-5 p.m.; and by appt.
Where: 12238 Ventura Blvd., b/t Vantage & Laurelgrove Aves., Studio City (818-760-8126).
More Links:
15 Things to Do On Your Lunch Break
Undress the Cast of "The Hunger Games: Catching Fire"
SNACK
Sugarfina
What: Sweethearts Rosie O'Neill and Josh Resnick put Willy Wonka to shame with the luxe brick-and-mortar version of their online candy emporium.
Why: Build your own bento box of specialty sweets and savories (pumpkin pie caramels, Cuba libre gummies, mocha coffee lentils), or let the candy concierge help create a custom gift.
When: Opens Sat. Sun.-Thurs., 11 a.m.-7 p.m.; Fri. & Sat., 10 a.m.-9 p.m.
Where: 9495 S. Santa Monica Blvd., b/t N. Beverly & N. Rodeo Drs., Beverly Hills (855-784-2734).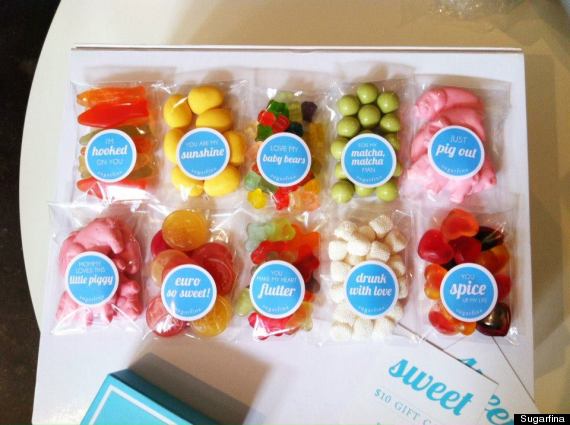 SHOP
Holiday Sample Sale
What: The stylish bloggers behind Always Judging and Because I'm Addicted host an epic event where you can score gifts galore from Simone Camille, 194t, Emerson Ryder Jewelry, and Janessa Leone at up to 80 percent off.
Why: Deck the halls with carryalls in candy-colored vintage textiles, loungewear you can take to the streets, beaded arm candy, and sleek chapeaus.
When: Fri., 11 a.m.-5 p.m.; Sat., 11 a.m.-3 p.m.
Where: 318½ S. La Brea Ave., b/t W. Third & W. Fourth Sts., West Hollywood.
CELEBRATE
Stouts 'n' Staches
What: The inaugural Movember block party (real and fake 'staches welcome) promises more than the chance to ogle Fu Manchus and handlebars; DJs, a band, and discount drafts at some of Venice's legendary watering holes (Townhouse, Canal Club) are also on tap.
Why: A portion of the proceeds goes to the Movember Foundation.
When: Sat., 2-8 p.m.
Where: Hotel Erwin, 1697 Pacific Ave., b/t 17th & Windward Aves. (800-786-7789). Tickets (presale, $10; general admission, $15; VIP, $50) at eventbrite.com.
PONDER
David Lynch: Naming
What: An in-depth solo show of paintings, drawings, photography, and watercolors by one of cinema's more celebrated auteurs (Lost Highway, Blue Velvet).
Why: Fans of his films know Lynch is no stranger to symbolism; the exhibit explores his career-long obsession with the complex relationship between objects and their names.
When: Thru Jan. 4. Opening, Sat., 6-8 p.m.
Where: Kayne Griffin Corcoran, 1201 S. La Brea Ave., at W. Twelfth St., Mid-Wilshire (310-586-6886).
IMBIBE
The Powder Room
What: The brains behind Saint Felix prove that big things come in small packages with a storefront cocktail spot tricked out in slick decor (snakeskin bar stools, curved wood walls), that serves adults-only milk shakes and mixed drinks that focus on fresh ingredients.
Why: Freshen up with the Pink Pussycat (tequila, cherry liquor, strawberry puree) and Adam's Apple (Jack Daniels, caramelized apples, vanilla ice cream) or try your luck with the bar's $500 Velvet Goldmine shake (edible gold, Belgian chocolate).
When: Wed.-Sun., 7 p.m.-2 a.m.
Where: 1606 N. Cahuenga Blvd., at Selma Ave., Hollywood (323-469-5001).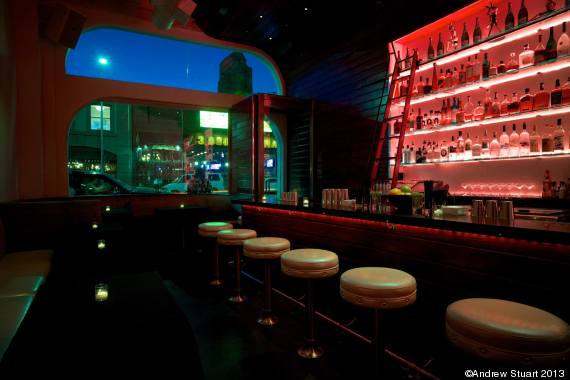 Photo ©Andrew Stuart 2013
For more DailyCandy stories, go to DailyCandy.com.