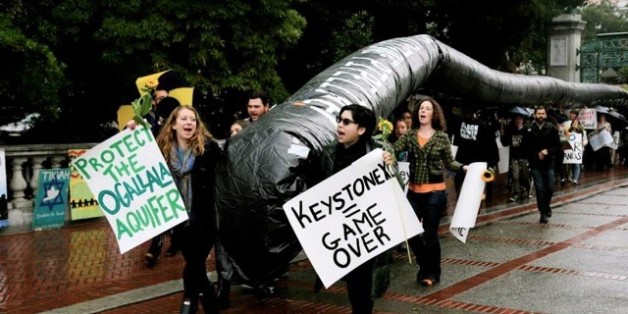 About 75 protesters braved the rain at UC Berkeley on Tuesday to protest the Keystone XL Pipeline extension, which would greatly expand the pipeline bringing crude oil from Canada to the Gulf of Mexico.
The protest was organized by the Associated Students of the University of California and was attended by the Sierra Club, 350.org, the Center for Biological Diversity, Rainforest Action Network, CALPIRG and several campus environmental groups.
Students held signs reading "This pipeline is unBEARable" (a nod to the Cal bear mascot), while others hoisted a 90-foot inflatable "pipeline" through the university gates: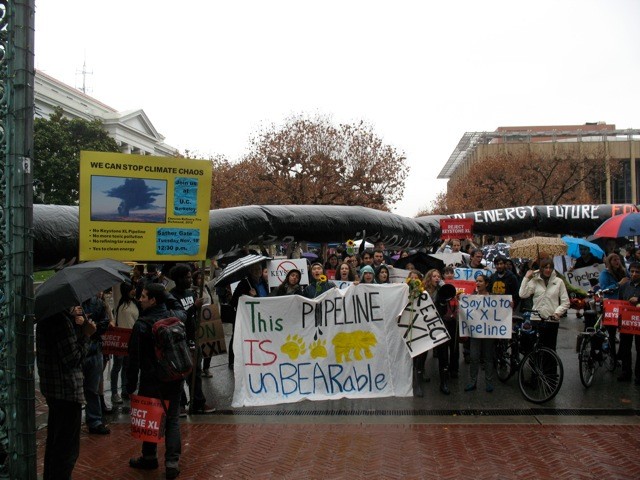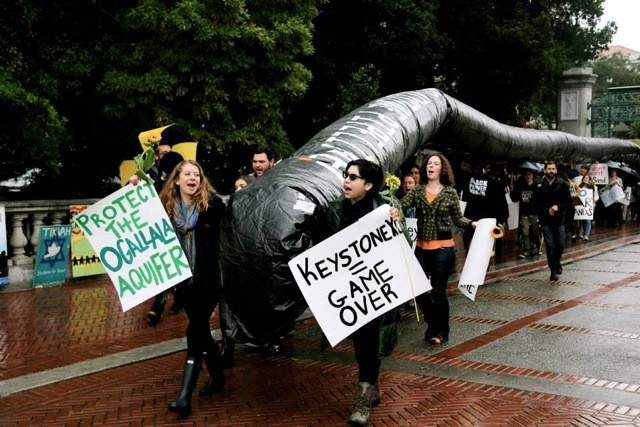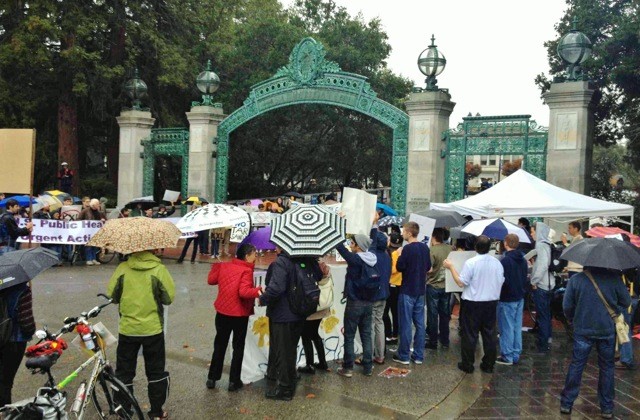 While the pipeline has been a heated issue throughout President Obama's second term, the approaching completion of an environmental impact statement by the State Department has prompted recent comments from celebrities and political figures such as Al Gore and George W. Bush.
Dan Kammen, a professor of energy and resources at UC Berkeley, urged officials to focus on alternative forms of energy at the protest.
"The more that companies see ways to extract dirtier and dirtier fills from the bottom of the barrel, the longer they go before they become leaders in the new energy economy that we see coming in California, in Korea, in Denmark, in Portugal, in Germany," he said.
According to ASUC Director of Sustainability Haley Broder, the UC Berkeley rally may be the first of many across the university system.
"I've been talking with UC Irvine and they're planning to do their own Keystone rally, and so we've been really trying to fire up other UC campuses and Cal States around California," she told KPFA. "Even though this pipeline is not going to go through our state, it's still going to dramatically impact us."
First up in the protest pipeline: a protest in San Francisco on Monday as President Obama arrives for a fundraiser.
It is organized by the Center for Biological Diversity, 350 Bay Area, Friends of the Earth, the Sierra Club, and Credo, and I'm helping and getting Cal students there," Broder told The Huffington Post. "We are bringing the 90-foot pipeline and hopefully a ton of Cal students!"

BEFORE YOU GO
PHOTO GALLERY
Keystone XL Protests