Want a good test for your Obsessive Compulsive Disorder?
100 Montaditos finally opened in Greenwich Village Friday, offering 100 different tapas-sized rolls (OK, they're tiny sandwiches) for you to mull over. Will you try the goat cheese and pesto? Meatball marinara? Pulled pork? Nutella and almonds? Brie, bacon and tomato? We know, we're already twitching just thinking about it.
The celebrated Spanish shop makes its New York debut on Bleecker Street between Sullivan and MacDougal streets. The montaditos are delicious -- we had pork and cheddar, Nutella and ham with manchego cheese to name a couple -- and best of all, everything's affordable. A buck or two will get you one tiny sandwich, and on Wednesdays, beer and sangria are $2 and every montadito is $1.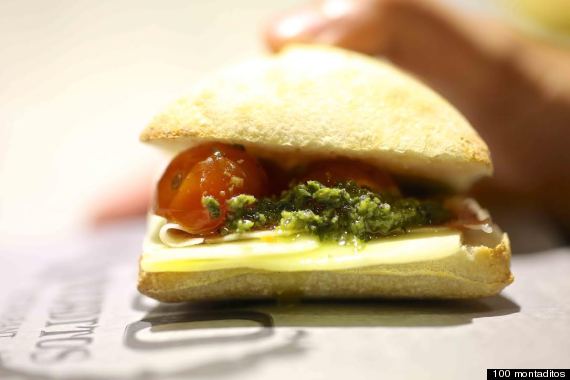 Plus, on Sundays, you can still watch (American) football at the restaurant.
Workers tell us they'll likely add breakfast options later on, making this your one-stop shop for sandwich tasting. And here you thought you were done making Spanish food decisions once you found that perfect tapas joint.