As part of our Blended Family Friday series, each week we're spotlighting a different stepfamily to learn how they successfully blended their two families. Our hope is that by telling their stories, we'll bring you closer to blended family bliss in your own life!
This week, Nia tells us a little bit about her blended family as she and her husband, Max, await the arrival of the family's newest addition: baby Morgan. Scroll down to see what Nia had to say about her growing family -- and to see the fam's adorable new portrait.
Hi Nia. Want to introduce us to your family?
Sure! Right now there's four of us with one on the way. There's me, my husband, Max; our 9-year-old son Montez and our daughter 6-year-old Melanie. Melanie is my daughter from a previous relationship. Montez is Max's son from a previous relationship.
Max and I have been married for a year and half, and our baby, who we're naming Morgan, is due any day now!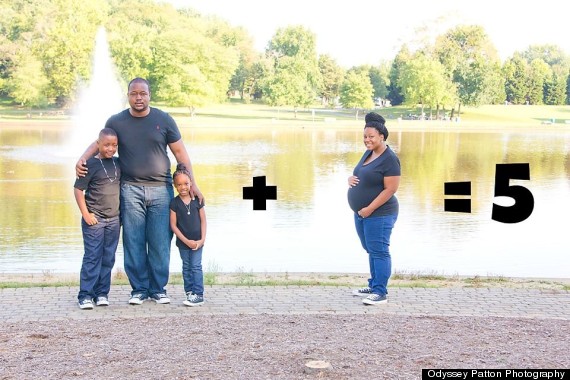 What have been some of the biggest challenges of blended family life so far?
One of the biggest challenges was coming together as a singular unit. Both my husband and I were pretty independent people who raised our kids as single parents. Going from that to a blended family unit definitely presented its own set of challenges initially. However, we eventually gelled and everyone adjusted to the dynamics of being in a blended family. We just had to learn how to raise our kids in a way that worked for both of us.
What's the best thing about being part of a blended family?
If I had to pick a best thing about being part of a blended family, I'd say that it's the support that we give and receive from one another. Of course, that's in addition to the love, laughs and everything else that comes with being together. I couldn't imagine anything less now.
What makes you proudest of your family?
I'm most proud of how my family works together through the good and bad times. In such a relatively short period of time, we were able to come together as a true unit. We have really made this blended family work thanks to the kids and outside support from friends and family who care about us.
What advice do you have for other blended families who feel like a peaceful family dynamic is out of reach?
My advice for other blended families would be to remain patient and always trust each other. Believe that it will work out. Once it does, I can tell you that it's a beautiful experience and you'll have an awesome foundation to build on.
Scroll down for more photos of Nia and Max's family.
If you'd like your own family to be featured on a Blended Family Friday, please email us at divorce@huffingtonpost.com. We're looking forward to hearing your story!

PHOTO GALLERY
Meet Nia And Max's Family
Keep in touch! Check out HuffPost Divorce on Facebook and Twitter.
BEFORE YOU GO
PHOTO GALLERY
Blended Family Friday