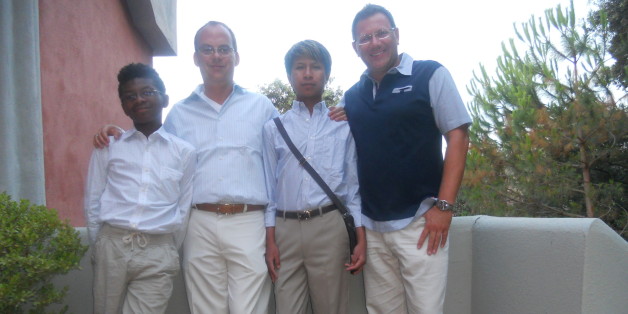 Huffington Post Gay Voices and RaiseAChild.US are collaborating in an 10-part "Let Love Define Family" series for November's National Adoption Month. Each series installment will introduce you to another aspect of fostering and adoption. Together we will meet foster youth, hear from culturally competent foster and adoption agency leaders, chat with cast members from the ABC Family television series "The Fosters," and celebrate LGBT parents and the successful and healthy families they create across the United States. -- Jason Cook, RaiseAChild.US
When Brad and Giuseppe met, they lived on opposite sides of the Atlantic but they were destined to become a couple and, eventually, a family. Today they live in New Jersey where they delight in the day-to-day joys and challenges of raising their two teenagers, both of whom were adopted after the age of ten. For the sake of their family's privacy, they asked that their last names not be used. RaiseAChild.US interviewed Brad about the family's experience adopting as an openly gay couple and why he and Giuseppe hope more LGBT families will consider adopting teenagers.
How and when did you and Giuseppe meet?
My partner and I are both in the travel industry, selling and marketing hotels. We first met at an industry function many years before we ever became friends or began dating. At that time, Giuseppe lived in Italy and I in New York. As fate would have it, about four years later we were re-introduced by a mutual friend in our industry while Giuseppe was visiting New York on a work-related trip. After meeting in person again, that's when the real story began. Just four months later, Giuseppe landed at JFK again, this time with a one-way ticket. Eleven years later, we are living happily together in the suburbs of New Jersey with two wonderful sons.
Are you married or planning to marry?
Neither of us has ever felt the need to "legitimize" our relationship legally. To us, our commitment lies in our hearts. Having said that, we have discussed marriage many times and once had even set a date to have a civil union ceremony in our town in New Jersey. Sadly, as we travel frequently, business got in the way and we had to cancel the ceremony, which probably tells the importance it meant to us. This was all before we became foster parents and had our boys in our lives.
Legally, we could not get married in New Jersey. Legally, getting married would not have solved our biggest issue at the time, the chance of Giuseppe being deported before he could get his permanent residency. We spent hours, weeks, and months, not to mention thousands of dollars, to achieve this goal so we could stay together, which was another reason why a civil union ceremony fell down the priority list. The civil union would not have helped achieve our goal of being able to stay together.
Recently, the State Supreme Court here in New Jersey upheld a ruling from a previous case where the court ruled to basically legalize same-sex marriage in New Jersey as of October 21, despite the strong efforts of Governor Christie to stand in the way of this basic human right. We have been awaiting this ruling for several months, and since the recent ruling of the U.S. Supreme Court, we have been planning to get married in New York if the law in New Jersey did not pass. Now, we are happy to have this right and feel it would be a wasted earned privilege not to become legally married. We plan to do so before the year's end. Now, it means something to our kids and to us in ways outside of the heart, which is where we continue to hold our commitment. Too bad that this did not happen two years ago as we could have been spared unbelievable stress and countless hours of working with our immigration attorney!
What are your thoughts on the importance of adoption and how accessible it is for same-sex couples who want to foster and adopt?
Other than Chris Christie being governor, New Jersey is a very democratic and liberal state. Thus, the laws regarding adoption here were never an issue for us. We never thought of ourselves as anything but prospective parents for a child we would love and who wanted a family. We were never treated differently by the state department of family services, its employees, or anyone else during our experience. In fact, in our foster parent training, we met many other same-sex couples, which made the experience more comfortable than we had ever thought it would be.
How did you decide to adopt?
Our decision to adopt came from two places. First, being a gay couple who had recently moved to the suburbs of New Jersey, we began to feel the need to have a family. Looking around, and having really no close friends nearby at the time, we felt something was missing, which prompted us to ask what, at our age and at that time, should we be doing with our lives. The second reason came after we began looking into a situation regarding the number of homeless gay teens in need of help. We felt that we were in a good position to help some of these teens who were rejected by their own parents and extended families due to their discovery of their own sexual preference at a very young age. Thus, we began taking steps to position ourselves to helping at least one of these kids.
We found a wonderful organization called Just Babies, which was ironic as we were in no way looking to adopt a baby. This was a private company run by two amazing women, a mother and daughter who were hired by the state to train and certify prospective foster and adoptive parents. Throughout our classes, we became more deeply aware of the many different situations through which kids of all ages fall under the care of the state. We met some incredible people during our months of being educated, many of whom we still keep in touch with today. The process opened our minds to not just looking at gay teens; it opened our hearts to every child in the foster system to whom we could provide a loving home. By the end, we "had" to make a difference, and we would not stop until we could.
Did you encounter any obstacles in the process because you're an LGBT family?
Whether adoption was legal for a gay couple, from what I remember, was a question we only asked once. Looking back on this, the issue was never raised a second time until in the final step of adopting our first child, when were informed that in the state of Florida, where our younger son was born, same-sex couples were not allowed to adopt. Thus, in having his birth certificate re-issued with his new name, only one of us could be listed as his legal parent. Although this was upsetting, in New Jersey we are both legally his parents according to the official adoption papers. It did make us realize that if we ever were to consider moving to another state, this is an issue we would absolutely have to look into. We also looked into the legality of Anthony's status as our son in Italy, as this is Giuseppe's country of citizenship. Unfortunately, Italy does not allow single persons or gay couples to adopt. Thus, we are very fortunate to be living in a state that recognizes a home is not the sum or sexual preference of the individuals.
We were called to meet a potential foster child only two days after officially being certified as foster parents. It happened so quickly that we were a bit in shock and rather nervous. On our way to our first meeting we discussed what questions we had, which were many. About two-and-a half hours later, we were driving home knowing we had met our first son. Anthony was 10 at the time, and it was immediate bonding and love at first sight. He had us at, "Can I call you, Dad?"
What made you decide that you wanted to adopt a teen?
As mentioned previously, when we began the journey of starting a family, we were intent on helping a young gay teen who had found themselves without a family. In addition, we both travel frequently for business, leaving the other behind with all the responsibilities of home. Thus, we decided from the start that a child of eight years old or older would be the best fit for us. After about a year, and after having had adopted our first son, he began to make noises about wanting to have a brother. In his mind, the perfect candidate would have been his exact twin.
All of us who have biological siblings know that in most cases, we could not be any more different than those we were born and raised with. We were introduced on paper and in person to a couple of young men who seemingly would fit the bill of what our son thought would be ideal, but after a few test weekends, we came to realize the competition of two boys who had too much in common would not be good for either. Then we remembered a young man whom we had met almost a year previously at an event for legally free teenagers who still had hopes for finding a home. At the time we met him, he was in a good foster home, thus was not paying too much attention to prospective parents, and it was too early at that time for us to strongly consider him as a second member of our family.
Coincidentally, his promoter learned that we were looking to add to our home and contacted us to let us know that Jovani was now in a group home for young gay teens, but still hoping for a forever family. He was now 16, which was a concern of ours, of course, because we had been told time after time that bringing an older child into a home where there are already younger children does not work. Second, we knew Mateo (then Jovani) was gay, and we had concerns about how our younger son would feel about living with three gay men. Last we wondered if we would have time to have any influence and to help a teenager who, at 16 years old, had a history of being abandoned. To summarize, and without writing a novel on every step we took and every situation we analyzed, ultimately our decision was about individuals. We knew our younger son, and we took time to know Mateo and to see how the two interacted.
Do you have any tips for couples thinking about taking in a teen?
Our advice to other gay parents looking to adopt is to absolutely open your mind to all possibilities in terms of race, age, gender, and personalities. Of course, in doing so, you do need to set parameters of what is realistic for your own situation, but never rule out an older child just because you want a baby or you are afraid of what baggage older kids may come with. As one of our boys stated to a room full of prospective parents a speaking engagement we took them to, "If you think we have baggage, imagine how we feel about you because you are a lot older."
Given a safe, loving, and disciplined environment, kids change. It's their nature to want to be good, even though they will act out to gain your attention on occasion. Soon, the acting out becomes normal teenage mischief, which is exactly what you want them to be doing. Each of our boys has his own needs, and some of those come from their pasts, but mostly, they come from being normal boys going through adolescence at this point. Last, no matter how old these kids are, hearing them call you Dad (or Mom) day after day never changes…it makes you feel happier than you could ever imagine every time.
Has your extended family embraced your adopted/fostered children?
We both come from relatively liberal and open families. While it was hard for us to broach the subject with some family members at first, it was only because in our minds we were not sure how they might react to two gay men adopting children. In every case, not only was the idea well received, but the words "amazing," "great," fantastic," and "it's about time" were the most common. Both of our families have embraced our children as if they were blood relations. The boys love their grandparents, aunts, uncles, and cousins. Sadly, none of them live nearby, but having the kids has made us make more of an effort to make sure that we see our families as much as possible.
What would you like other LGBT people to know about adoption?
The last thing that I would have to say is that even though adopting a teenager does not allow you to share all the milestones of a child's life—and quite frankly, teenagers are more expensive up front—up until the age of 18 is the last chance these kids are ever going to have to experience a loving family. If they don't get adopted, they simply age out of the foster system. While the state, at least in New Jersey, does a good job trying to transition these kids into adulthood, no matter how well they may or may not succeed, for the rest of their lives they will never know the feeling of having a room to go home to in college, parents and siblings waiting for them to come home at Christmas, or someone to be proud of the milestones they do have left in their young lives. The bonding is harder, but it's very real as they have the maturity to understand their choices about family at this age. Teenagers tend to be less demanding, as their friends often take priority, and they are in the stage of life where they are trying to find out who they are and who they want to be. But who would you be without your parents to guide you through your adolescence?
Jason Cook is the Parent Advocate at RaiseAChild.US, a nonprofit organization that believes all children deserve a safe, loving and permanent home. We educate and encourage the LGBT community to build families through fostering and adoption to answer the needs of the 400,000 children in our nation's foster care system. RaiseAChild.US works with foster and adoption agencies that have received training in LGBT cultural competence through the Human Right's Campaign Foundation's "All Children – All Families" initiative [link: http://www.hrc.org/resources/entry/all-children-all-families-about-the-initiative] and received its Seal of Recognition. RaiseAChild is leading a five-city tour of special events for prospective parents for National Adoption Month. We are capping successful events in Chicago, Los Angeles, and Kansas City with upcoming events in New York City (December 3) and San Francisco (December 5). To RSVP, visit www.raiseachild.us or email info@raiseachild.us.
BEFORE YOU GO
PHOTO GALLERY
Brad And Giuseppe