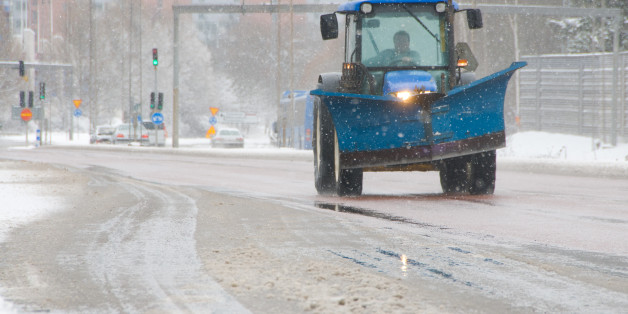 Winter's coming. It's time to break out the cheese brine.
Wisconsin, land of cheese, is test-driving a new material for de-icing the roads this year: the liquid by-product of cheese-making, known as "cheese brine." The method has been around for a few years, but this is the first time a major city, Milwaukee, is trying it out, the Journal Sentinel reports.
A few years back, rural highway employee Emil Norby suggested to his employer, the Polk County Highway Commission, that it try using cheese brine to help with ice on the roads. F&A Dairy offered its by-product, and the first cheese-brine-for-the-road was born.
Cheese brine is typically difficult and expensive to dispose, costing cheese-makers up to thousands of dollars each year, according to MSN. Repurposing the waste product could save cheese-makers time and money.
It could save highway commissions money as well. In the first year that Polk County Highway Commission tried F&A Dairy's cheese brine on the roads, the company saved $40,000 it would have spent on rock salts. "Everybody wins," Chuck Engdahl, F&A Dairy's wastewater manager, told Modern Farmer.
In addition to being cost-effective, cheese brine could offer a greener alternative to salting the roads, which comes with its own set of problems. Twenty million tons of salt are used on the roads each year, according to Slate, and it can pollute drinking wells and erode soil.
According to The Atlantic Cities, Polk County spread "30 percent less road salt than usual" in 2009, the first year they used cheese brine.
Still, like anything else, cheese brine doesn't come without drawbacks. Its longer-term environmental effects are yet to be determined, and cheese brine isn't replacing salt altogether, but merely acting as a primer so that roads need less salt.
And then there's the smell. Emil Norby, who came up with the idea, doesn't think it's such a problem. "I don't really mind it. Our roads smell like Wisconsin!" he told Modern Farmer. Whether the rest of the country will be on board with their roads smelling "like Wisconsin" is up for debate. For now, Milwaukee residents will have to decide how they like the "distinctive odor."