We'd like to be adopted by Christie Brinkley -- it seems like every child of hers is destined to model.
On the heels of daughter Sailor Brinkley Cook's modeling contract with IMG, the supermodel mom ushered yet another one of her children into the fashionable spotlight: son Jack Brinkley Cook. The 18-year-old joins his mother and sister on the upcoming Holiday Issue of Hamptons magazine.
One look at the three of them holding hands as a happy (and very blonde) family, and it's not hard to see that modeling skills run in the family. Luckily, mama Brinkley is making sure that her children enter the industry with good heads on their shoulders.
"With kids, you just shout little snippets here and there when you can, so it ranges from 'Have fun with this job but always be professional' to 'Show up on time and be respectful of everybody else's time,'" Christie told Hamptons. "Nowadays, you also have to be aware of the dark part of modeling that comes along with the shiny, light, bright, happy part." Christie's talking, of course, about online comments that come after a modeling gig. "Those comment threads are an invitation for the bitter and disenfranchised to hide behind a fake name and try to tear you down -- and nobody needs that in life."
With such good advice -- and good genes to go with it -- it looks like Jack is already starting off on the right foot in the modeling world.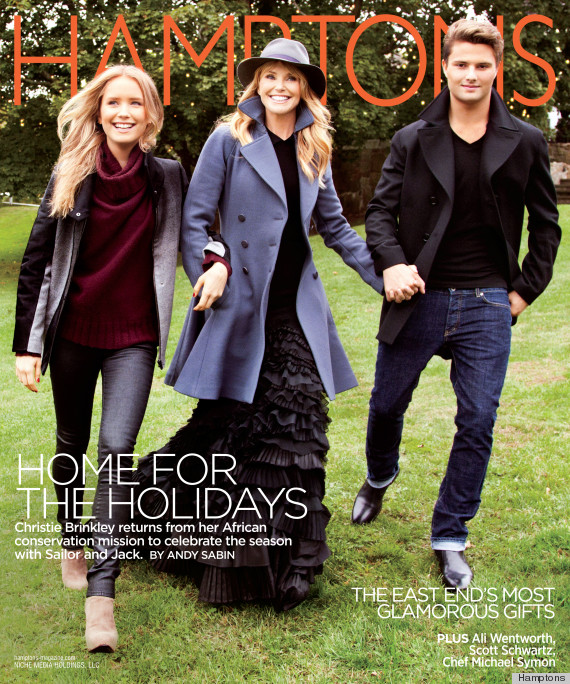 Do you see the family resemblance?
PHOTO GALLERY
Christie Brinkley's Style Evolution
Want more? Be sure to check out HuffPost Style on Twitter, Facebook, Tumblr, Pinterest and Instagram at @HuffPostStyle.