The Illinois Department of Natural Resources is investigating after a cougar was spotted and killed on a northwest Illinois farm about 130 miles west of Chicago.
The IDNR said a conservation police officer was called to a farm in Morrison, Ill. Wednesday around 2 p.m. after property owners spotted the large cat running from a corn field and toward a farmhouse, NBC 6 reports.
(Learn more about cougars and living with Illinois wildlife.)
The property owner requested the animal be euthanized, according to NBC, and after consulting with IDNR officials and wildlife personnel, the cougar was shot with a rifle.
Before it was put down, the cougar was found hiding in a concrete tunnel under a corn crib. Wildlife biologists will perform a necropsy on the cougar, but officials initially believe the cougar weighed more than 100 pounds and was nearly 6 feet long.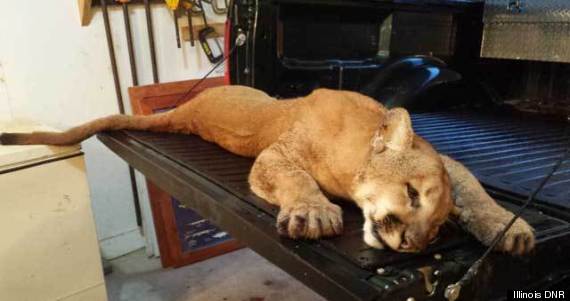 The cougar was shot and killed on a farm in Morrison, Ill., -- about 130 miles west of Chicago -- on Wednesday.
The last time a cougar was confirmed spotted in Illinois was in 2008 when the Tribune reports a male cougar was shot and killed on Chicago's North Side.
According to United Press International, there have been a total of three confirmed cougar sightings in Illinois since 2002 noting the state has been "mostly cougar-free since at least 1870."
BEFORE YOU GO
PHOTO GALLERY
Animals In The News