We all need a little break sometimes.
Sophie Mullins, an apparently overworked first-grader at Gauley River Elementary in Craigsville, West Va., became so fed up with her busy schedule that she wrote her senator about it, local ABC affiliate WCHS reports.
The 6-year-old was having difficulty adjusting to her new schedule and sent the letter to Sen. Joe Manchin asking for guidance.
"All we do is work, work, work," Sophie wrote. "I need a break. Can you please help?"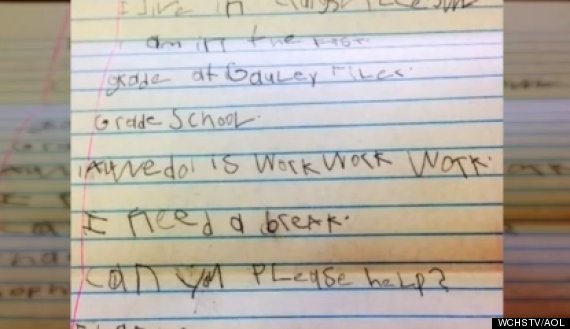 Mother Sarah Mullins told WCHS the letter was the result of an inside family joke. But amazingly, the senator read the message and decided to give his pint-sized constituent a call.
"You're working all the time, aren't you?" Manchin asked Sophie in a video of the call his office posted on YouTube (see above). "So what I'm doing is, see, I'm giving you a break right now. I wanted you to take a little bit of time off since you work so hard."
However, the senator wanted to make sure Sophie knew her efforts would be worth it.
"If you work hard, it's going to pay off," Manchin continued, urging her to "keep working hard on your studies so you get smarter so you can help us."
Sophie, who took the call in her school's office, told Today.com that she wrote the letter mostly due to her math homework, which she feels is "kind of too hard."
The special event was the "first time I got a call from my senator," Sophie told the outlet, adding that she knows that even though school is hard, it's important to do well "so you can go to the next grade and so you won't be behind."
WATCH:
BEFORE YOU GO
PHOTO GALLERY
14 Outrageous Statements About The Common Core Standards