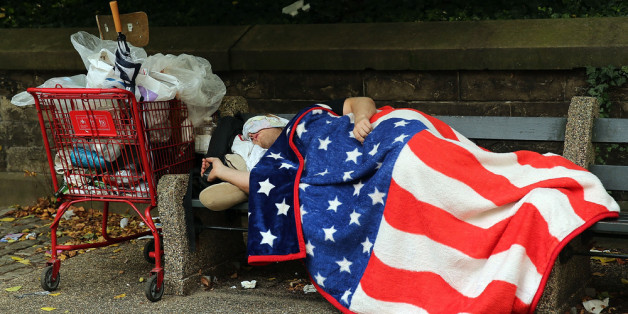 New York City's homeless population rose 13 percent from 2012 to 2013, according to new federal statistics released on Thursday.
The U.S. Department of Housing and Urban Development's one-night study found 64,060 people living in city shelters. New York's uptick comes only second to Los Angeles', where homelessness increased a staggering 27 percent during the same period.
Meanwhile, homelessness at a national level dropped four percent from 633,782 to 610,042 . New York was among five states -- including California, Florida, Texas, and Massachusetts-- that accounted for more than half of the country's homeless population.
Prior to the study's publication, the Coalition for the Homeless hosted a panel on Wednesday to discuss the city's unprecedented homelessness rate and outline possibly policy changes mayor-elect Bill de Blasio could enact to help bring the numbers down.
The rise in homelessness has been seen as a major failure under Mayor Michael Bloomberg's 12 years in office. Homeless advocates have strongly criticized his administration's controversial policies, including the end of housing assistance programs like Advantage.
Bloomberg, meanwhile, has contended that less of New York City's homeless live on the streets as compared to other cities.
"Given our legal mandate to provide safe, temporary emergency shelter to all eligible families and individuals in need every night, we meet this mission successfully, while other cities around the country are putting up 'no vacancy' signs and turning families to the streets and to live in cars," reads a statement form the city's Department of Homeless Services, according to The New York Times.