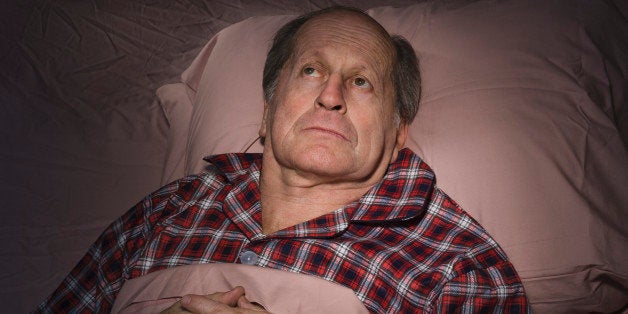 Insomnia symptoms could be a predictor of early death for older men, according to a new study.
Researchers from Brigham and Women's Hospital found that older men who had insomnia symptoms -- such as problems falling asleep or staying asleep -- had an increased risk of dying from heart-related issues over a six-year period.
"Now we know that not only can poor sleep impact disease risk, but it may also impact our longevity," study researcher Xiang Gao, M.D., Ph.D., a researcher in the Channing Division of Network Medicine at Brigham and Women's Hospital and the Harvard School of Public Health, said in a statement. "While further research is necessary to confirm these findings, there is overwhelming evidence that practicing good sleep hygiene and prioritizing sufficient and restful sleep is an often overlooked but important modifiable risk factor in overall health."
The findings, published in the journal Circulation, included data from 23,447 men who were part of the Health Professionals Follow-Up Study who didn't have cancer when they entered the study. The researchers tracked their reports of insomnia symptoms between 2004 and 2010.
During that time period, 2,025 men died. After taking into account other potential factors including chronic conditions, lifestyle factors and age, researchers found that having trouble falling asleep raised the risk of dying from heart-related reasons over the six years by 55 percent, compared with men who didn't experience any insomnia symptoms. And having trouble maintaining restorative sleep raised the death risk by 32 percent.
This is hardly the first time insomnia has been linked to risk for early death. A 2010 study in the journal Sleep showed that men with chronic insomnia and who regularly got a short amount of sleep had a greater risk of dying over a 14-year period than men who regularly got more than six hours of sleep a night and didn't have insomnia.
In addition, a study presented at the 2010 SLEEP meeting showed that it didn't matter what kind of insomnia you had -- any subtype, whether it be people who have trouble staying asleep, people who have trouble falling asleep, or people who chronically wake up too early, had a higher risk of early death.
BEFORE YOU GO
PHOTO GALLERY
Can't Sleep?