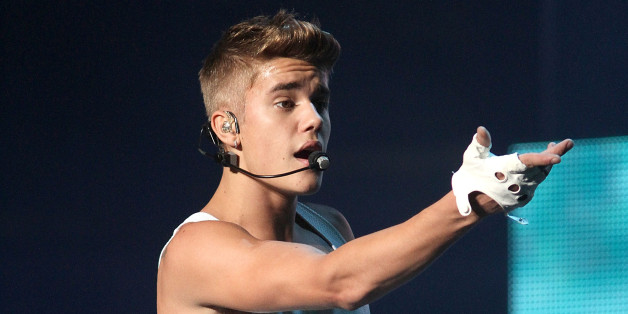 Justin Bieber was in Hawaii recently, and apparently his bad boy streak came, too.
Bieber's security guard was arrested on Thursday after allegedly assaulting a man for taking photos of the superstar at Shipwreck's, a public beach, in Kauai.
According to the Honolulu Star-Advertiser, Dwayne Patterson -- believed to be one of Bieber's security guards -- approached a man who was taking pictures of Bieber and his entourage. Patterson told the man to delete the photos but when he refused, Patterson assaulted him and damaged his camera.
But witnesses say Bieber isn't entirely innocent in the assault.
Kauai resident Levi Lancaster told The Garden Island that the teen celebrity sent his security guard to retrieve the memory card from the man's camera. "He just sent his security to do his dirty work," Lancaster told the Kauai newspaper.
Lancaster watched as the photographer ran from the beach to the parking lot while Bieber's security guards chased after him. When Patterson reached the man at his car, he "put the man in a headlock and lifted him off the ground until he dropped his camera and keys," Lancaster said. "[The victim] was really calling for help."
Bieber apparently yelled to his security guards, but Lancaster said it was to make sure that they had the man's camera.
"There was no remorse," Lancaster told The Garden Island, "How can you go out to Shipwreck's and not expect people to take pictures?"
Patterson was arrested on the scene for third-degree assault and fourth-degree criminal property damage, according to county spokesperson Sarah Blane. He was released after posting $3,000 bail.
If Bieber was trying to avoid being on camera while in Hawaii, he failed. A video was posted of the Biebes and his "zero f*ck giving" while cliff diving somewhere in Hawaii -- although it is unclear where, exactly, the jump took place.
BEFORE YOU GO
PHOTO GALLERY
Justin Bieber through the years