Kim Kardashian is auctioning off her clothes on eBay to raise money for victims of the deadly typhoon in the Philippines. She will give 10 percent of the sales to charity, an amount she has given repeatedly to goodwill efforts in the past.
Kardashian announced the eBay auction on her Celebuzz blog Thursday (Nov. 21), saying a portion of the proceeds will go to the International Medical Corps (IMC), a nonprofit helping those affected by the deadly disaster on the ground.
"The proceeds will go directly to the communities they're serving in the Philippines and will help typhoon survivors get access to medical care and ultimately save lives," she wrote. "My prayers and thoughts are with those affected by the typhoon. Check out my eBay auction here and support those who need our help in the Philippines."
On Kardashian's eBay page, clothes are being auctioned off by designers like Stella McCartney, Jimmy Choo, Prada, Louis Vuitton, Dolce & Gabbana, Alexander McQueen and L'Wren Scott. The highest priced item is a Chanel bag with a current bid of $1,225.
When a prospective buyer clicks on an item, a disclaimer appears on the screen highlighting that 10 percent of the final sale price will go to support the IMC.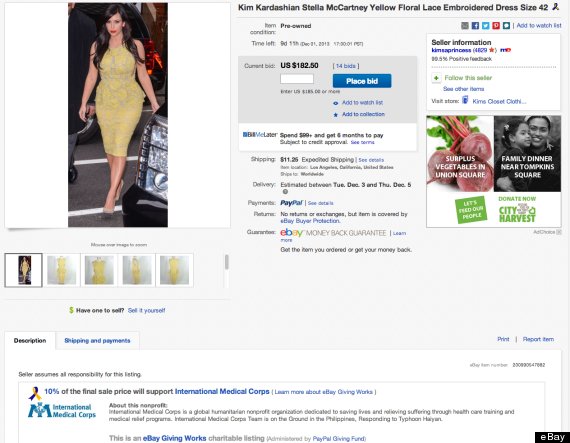 Other celebrities have also lent a helping hand during this difficult time. Victoria Beckham and her husband, David, are selling dozens of pieces from their wardrobes with the help of the British Red Cross and the organization's "Shop Drop for the Philippines" campaign. All the money raised through this will go to help the victims of the storm, Us Weekly noted.
Jessica Alba's Honest Company donated more than $50,000 worth of toxin-free household products to the relief effort. Rosario Dawson, Barbra Streisand, Judd Apatow and Leslie Mann have each offered monetary support, according to E! Online.
As of Friday, the death toll from Typhoon Yolanda rose to 5,000 and is likely to climb even higher, the Associated Press reported. The storm hit the eastern coast of the Philippines on Nov. 8 and crushed forward with winds up to 147 miles per hour, gusts of 170 miles per hour and surges up to 20 feet.
h/t Daily Mail
Editor's Note: This story has been updated with more information from a representative for Kardashian, who provided additional details about the distribution of revenue from this sale and about Kardashian's regular charitable donations.
BEFORE YOU GO
PHOTO GALLERY
Kasting The Kardashians