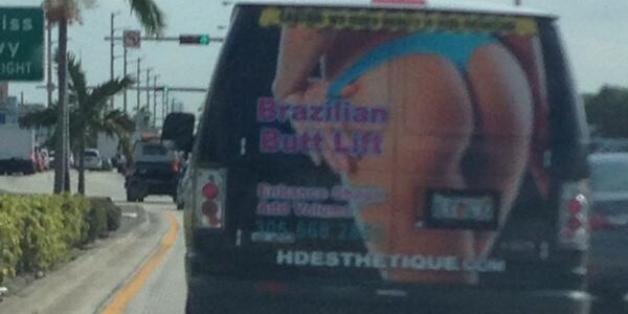 Every week, Miami, you never fail to crack us up by reporting on the things you just don't see in most other American cities, like sandwich shops lost in translation, Speedos in November, "severe" weather that isn't severe at all, and roosters and iguanas on the loose on the town. Behold, this week's funniest and best #onlyinMiami tweets, because there really and truly is no place like home:
"Yeah, just walking around in the parking lot. #OnlyinMiami"

Football. In November. In Miami. via fandium instagram http://t.co/dSQVoe5me6 #miami #dolphins #onlyinmiami pic.twitter.com/PQMyVmE9zz

— SFDB (@sfdb) November 19, 2013
"Morning Spanish lessons? Gotta <3 Starbucks #OnlyInMiami #EstoNoPasaEnCuba"

#onlyinmiami Yes, that's some girl's discarded underwear on Ocean Drive. I don't need to say any more. pic.twitter.com/j5YnxKEiqQ

— Johnny Ikon (@JohnnyIkon) November 21, 2013
I think I just saw a legit moped gang. #onlyinmiami

— Steve Francis (@VAisforHustlers) November 18, 2013
"rooster sighting! #whereami #onlyinmiami"

This man screamed/sang feliz navidad and sweet Caroline while randomly screaming who fucking cares #onlyinmiami pic.twitter.com/BAWWoOZ2oy

— Cali Victoria (@calivictoria) November 20, 2013
This is what you see when you drive thru #Hialeah #onlyinmiami #completelynormal pic.twitter.com/5sJ9xT01bu

— Anyoli Font (@anyolifont) November 19, 2013
Perfect weather, mid-November. #onlyinmiami @stephanie_ceeee pic.twitter.com/gvaCqMnyve

— Marco (@marcougar) November 17, 2013
#OnlyInMiami pic.twitter.com/zzoTkTZXId

— ChurchillsBarberShop (@ChurchillsShave) November 17, 2013
#OnlyInMiami at 11am!! #SouthBeach pic.twitter.com/ii9m7c7kCp

— Mun Bau (@MunBau) November 16, 2013
#LOL Watching the weather girl discuss the "cold front." Hahahaha! Bundle up Miami! #onlyinmiami pic.twitter.com/yISk1HMZaT

— Maria Holloway (@pianogreen) November 13, 2013
#OnlyInMiami does 74 degrees qualify as a #SevereWeatherAlert, @ThankYouMiami. :) pic.twitter.com/LoIQfC23hp

— Melanie Noelle (@MelanieNoelle1) November 13, 2013
#OnlyInMiami you can go to the beach in November 💙 pic.twitter.com/aGwixOiEDD

— kat (@littlekattt_) November 11, 2013
What i wake up to>> #onlyinmiami 😍 pic.twitter.com/pnORplprau

— ashley (@ashlader) November 11, 2013
For Jeff the road striper, it was "Take Your Iguana To Work Day". #itsnameisLarry #onlyinmiami #actuallythiswasdavie pic.twitter.com/ykYmHTjzpv

— Liane Morejon (@LianeMorejonTV) November 22, 2013
'naciones unidas!' puerto rico, colombia, mexico, costa rica, honduras #onlyinMiami #betheforce @FLImmigrant pic.twitter.com/yBVhjr5xaw

— Marisa Franco (@marisa_franco) November 16, 2013