A young boy died Friday night after he and his father were shot during a robbery at their Miami nail salon.
Police say 10-year-old Aaron Vu was pronounced dead shortly after being shot by two men who burst into the salon, demanded money, and then opened fire before fleeing.
"It's sad, tragic, that the child was in the business at the time the crime occurred," Miami-Dade Police Spokesman Alvaro Zabaleta told NBC6. "It's senseless for an innocent 10-year-old to lose his life."
Investigators say the two armed men entered Hong Kong Nails at 14832 N.W. 7th Avenue about 7:30 p.m. Witnesses told WSVN they not only demanded cash from owner Hai Vu, but also told customers to turn over their purses before shooting the Vus.
"It appears that they did get what they came for, so why they started shooting, I couldn't begin to tell you," Zabaleta said.
The Miami Herald reports Hai Vu's wife and Aaron's mother, Lynn, witnessed the shooting.
"Lynn is such a nice person, knows all of her customers by name, remembers how they like their coffee," one customer said after seeing "blood everywhere" when she arrived at the salon Saturday morning. "Everybody loves her. A lot of the time you have to take an appointment at 5:30 a.m. to be able to get in."
Police are searching for the getaway vehicle, a black Dodge Ram pickup, as Hai Vu is reportedly in critical condition at Jackson Memorial Hospital. Officers canvassed the neighborhood Saturday evening, passing out flyers and asking the public for information.
Neighbors have created a makeshift memorial to Aaron at the strip mall where the nail salon is located. A client who left a teddy bear and flowers described Aaron Vu as "helpful and kind.
"He was sweet," she told NBC.
Aaron is at least the fifth child shot in Miami-Dade County this fall. Last Friday, a sleeping 9-year-old boy was shot in the face in Overtown. In nearby Miami Gardens, an 11-year-old girl was shot November 7 by a man who fired into her home; 8th-grader Nevilisha Francis was shot inside her house in October when bullets flew from a nearby alley; and 12-year-old Tequila Forshee was fatally struck in the head by a stray bullet while she was getting her hair braided for the first day of school in her grandmother's living room.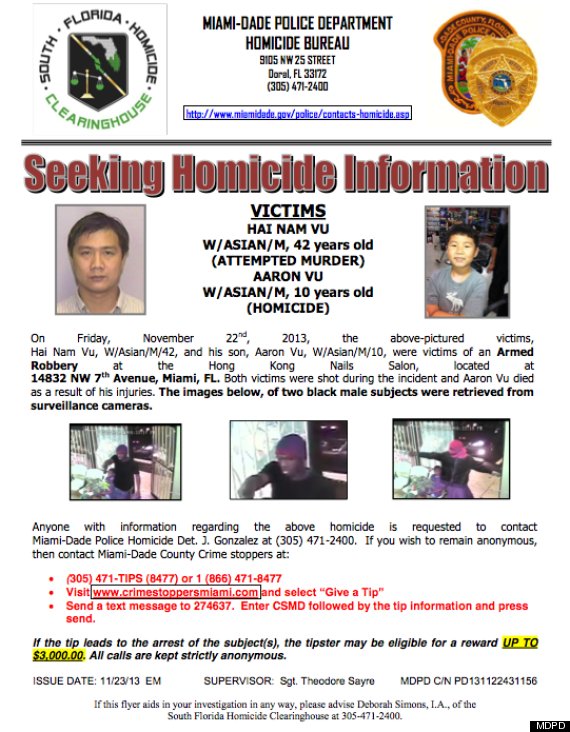 BEFORE YOU GO
PHOTO GALLERY
Obama's Executive Actions On Gun Violence