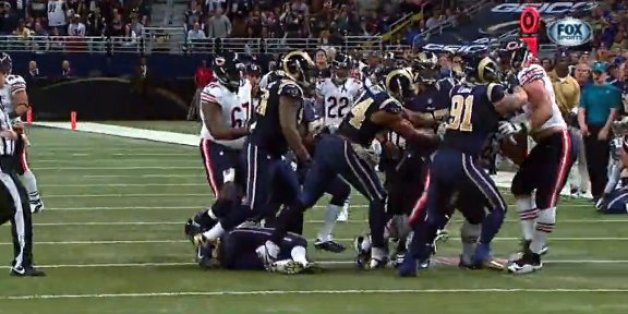 Rams defensive end Chris Long saw his brother, Bears guard Kyle Long, get into a scuffle on the field and immediately took action.
Kyle appeared to go after St. Louis' William Hayes who was on the ground after a frenetic sequence that included a blatant face-mask penalty. As some of the Rams players on the field ran over to help their teammate, Long sprinted onto the field from the bench and tried separating his brother from the scrum.
Chris said after the Rams' blowout win that he was just trying to separate an opponent from a teammate.
If pulling him out of the pile and yoking up is helping him," he said of the altercation, per Michael C. Wright of ESPN.com. "I'm trying to get him off my teammate just like any other situation that would arise. I don't want us to get a flag, and one way to defuse that situation is to get everybody out of there. He happened to be the body that I saw."
Chicago's Long apologized for the incident on Twitter. Hayes said there "weren't any had feelings," per Brad Biggs of the Chicago Tribune.
I want to apologize to the fans for losing my cool today. Not a representation of the person that I am or the Bears. Shouldn't happen.

— Kyle Long (@Ky1eLong) November 24, 2013
BEFORE YOU GO
PHOTO GALLERY
PHOTOS: NFL Week 12