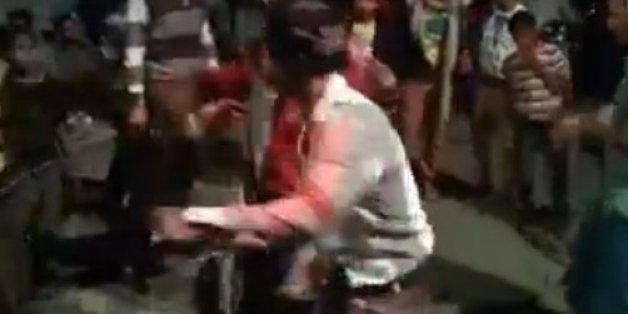 A wedding celebration in Yemen recently ended in disaster after a gun-toting man accidentally fired his AK-47 rifle into a tightly packed crowd while dancing to "Gangnam Style."
Purported footage of the horrific scene, posted on LiveLeak this week, shows wedding-goers dancing to the Psy hit before shots are heard over the music. When the camera pans back down, three people are seen lying bloody and wounded on the ground.
(Warning: The following link contains an EXTREMELY GRAPHIC video.)
Footage from the Yemeni wedding horror can be seen on LiveLeak.
A police source confirmed to Reuters that two people were killed in the southern city of Taiz after the armed man lost control of his rifle. Two others were treated at a local hospital for injuries.
Celebratory gunfire is rather common among revelers in the country. According to the Yemen Times, wedding guests shoot live ammunition and set off fireworks as an expression of happiness.
However -- as illustrated in the most recent incident -- the custom often has deadly consequences. Last year in Yemen's capital city, a 14-year-old boy was fatally struck by a stray bullet fired at a nearby wedding celebration.
BEFORE YOU GO
PHOTO GALLERY
Bad Choices