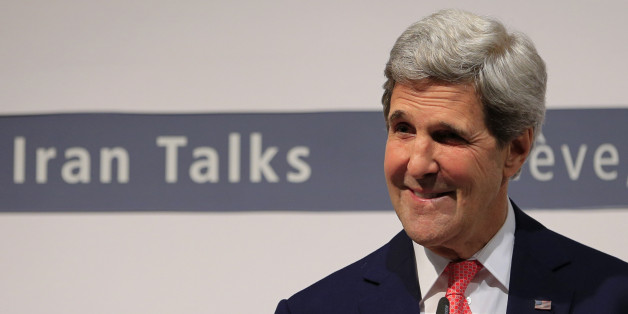 Americans reacted positively to a deal with Iran on its nuclear program, before there was a deal. Rasmussen Reports offers an explanation for why their job approval rating is now the most Obama-friendly. And everyone is still pretty confused about the new health care law. This is HuffPollster for Monday, November 25, 2013.
PRE-DEAL POLL: MAJORITY FAVORS IRANIAN DEAL - Paul Steinhauser: "A majority of Americans support an interim deal with Iran that would ease some economic sanctions on that country in exchange for concessions on Iran's nuclear program, according to a new national poll. A CNN/ORC International survey released Thursday indicates that 56% of the public would favor an international agreement that would impose major restrictions on Iran's nuclear program but not end it completely, with 39% opposed to such an agreement." The telephone survey was conducted November 18 to 20, and these results were published on Friday. The United States and Iran reached an agreement on Sunday that commits Iran to curbing its nuclear activities. [CNN, HuffPost]
-Geoff Garin (D): "ABC-Post poll [also] before agreement: 64-30 favor lifting some sanctions if Iran accepts restrictions that make it harder to produce nuke weapons." [@GeoffGarin]
-WaPost: "But just 4% were "very confident" an #Iran deal would prevent dev. of nuclear weapons, 32% "smwhat" confident" [@PostPolls, WaPost]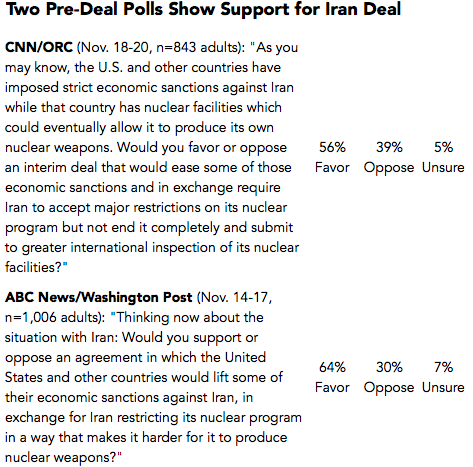 -Col. Morris Davis: "While 69% of Americans have an unfavorable opinion of #Iran, that's 16 points better than our opinion of our Congress." [@ColMorrisDavis]
OBAMA'S LEADERSHIP RATINGS DROP - CNN: "Only four out of 10 Americans believe President Barack Obama can manage the federal government effectively, according to a new national poll. And a CNN/ORC International survey released Monday morning also indicates that 53% of Americans now believe that Obama is not honest and trustworthy, the first time that a clear majority in CNN polling has felt that way. According to the survey, conducted last Monday through Wednesday, 40% say the President can manage the government effectively. That 40% figure is down 12 percentage points from June and is the worst score Obama received among the nine personal characteristics tested in the new poll." [CNN, HuffPost]
WHY IS OBAMA'S JOB RATING HIGHER THAN AVERAGE ON RASMUSSEN? Rasmussen Reports shares some additional data, including results of alternative question wording: "Rasmussen Reports in our daily Presidential Tracking Poll gives respondents four options – Strongly Approve, Somewhat Approve, Somewhat Disapprove and Strongly Disapprove - as opposed to just two - Approve/Disapprove. We are also the one major national pollster who asks this question only of likely U.S. voters, those who tell us they are likely to vote in the next election. Other major pollsters regularly monitored by the nationally recognized Real Clear Politics website ask their presidential approval questions of registered voters only (CNN/Opinion Research, The Economist/YouGov, ABC News/Washington Post, Fox News and Quinnipiac) or of all Americans (Gallup and CBS News). All of these polls also with the exception of The Economist/You Gov ask only approve/disapprove and don't give the respondents the "somewhat" options. Gallup and Rasmussen are the only ones who ask every day. What we have found over the years is that our standards – asking likely voters only and offering the somewhat approve/somewhat disapprove options – lead to fewer surprising highs and lows than other pollsters find. These dramatic changes, however, aren't always long-lasting or a realistic measure of how Americans will vote. Still, we often see similar trends developing over time, but we believe our daily findings are a more accurate representation of where the country's attitudes are at - and are a more accurate reflection of voting outcomes." [Rasmussen]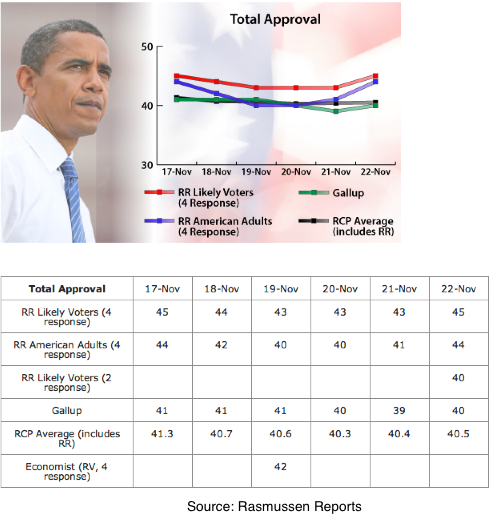 AMERICANS KNOW OF ACA MANDATE, NOT EXCEPTIONS - Emily Swanson: "Most Americans are aware of the Affordable Care Act's mandate that they have some form of health insurance beginning in 2014, but many don't know there are exceptions, according to a new HuffPost/YouGov poll. The poll found the vast majority of Americans, 81 percent, know that the health care law requires insurance. But 43 percent of respondents said they think the law requires every American to have insurance, with no exceptions. Slightly less -- 38 percent -- said correctly that the insurance mandate has exceptions. Another 4 percent said they believe the law does not require anyone to have insurance...Obamacare's individual mandate includes a variety of exceptions, including for those with low incomes and other hardships, as well as for American Indians and religious groups that eschew health insurance." [HuffPost]
HUFFPOLLSTER VIA EMAIL! - You can receive this daily update every weekday via email! Just enter your email address in the box on the upper right corner of this page, and click "sign up." That's all there is to it (and you can unsubscribe anytime).
MONDAY'S 'OUTLIERS' - Links to more news at the intersection of polling, politics and political data:
-The popularity of the new Pope has not created a "Francis Effect" in Catholic identification. [Pew Research]
-Americans are generally positive about the quality of the health care they receive, their healthcare coverage and what they pay for it. [Gallup]
-Gallup's tracker finds Obama's approval tied for a record low. [[Gallup](http://www.gallup.com/poll/166010/obama-weekly-job-score-ties-lowest.aspx)]
-People in the Northeast and younger Americans most likely to be happy with increasing racial and ethnic diversity. [YouGov]
-Michael Cohen argues that Iraq and a faltering economy -- not Katrina - destroyed George W. Bush's presidency. [Guardian]
-Carl Bialik looks at the challenge of measuring what Americans are eating. [WSJ]
-Kai Arzheimer and Jocelyn Evans answer questions about their new measure of polling accuracy. [OUPblog]
-Dan Wagner and Jim Margolis explain how they plan to use data analytics to aid media buying for Democratic candidates. [WaPost]
-Steve Kornacki's guests, Sasha Issenberg, Karen Finney, Lynn Sweet and John Sides, discuss the campaign "game changers" myth. [MSNBC]
-Two sociologists find that parents who have daughters are more likely to be Republican. [Pew Research's Fact Tank]