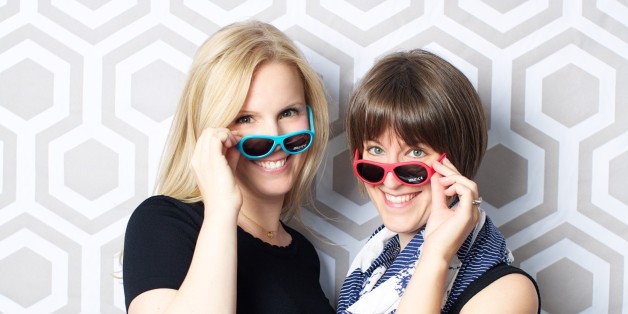 One of the reasons I started my website is that I wanted a place for women to come together and dream. We women need to know that we don't have to hang on to an old dream that has stopped nurturing us -- that there is always time to start a new dream. This week's story is about a military wife who saw a need for a children's product that the market was lacking. With help from her husband and two of their college friends, Molly Fienning created a revolutionary version of a common children's accessory, which has earned millions in revenue. -- Marlo, MarloThomas.com
By Lori Weiss
It was a sunny day in Beaufort, South Carolina and all eyes were on the sky. A group of military wives eagerly waited for their fighter pilot sweethearts to land safely after a month-long deployment. It was a moment Molly Fienning had experienced dozens of times as her husband Ted returned from assignments around the world, but this time, as she watched the planes circle, she couldn't help but notice the looks in the children's eyes.
"Everyone gathers about 30 minutes before they arrive," Molly explained, "to see the jets fly in, in formation. The guys tell us what number their plane is and you see everyone looking up, trying to spot their loved ones. That day I noticed that all the adults were wearing aviator style sunglasses, but the kids were squinting as they looked up -- and I thought, why aren't they wearing sunglasses?"
"I mentioned it to Ted that night -- and without hesitation he said, 'We should make them and we'll call them Babiators.'"
While many couples might get a good laugh out of the idea and move on, Molly had been looking for an idea she could fly with. She hadn't planned on the life she was living -- as a military wife. She'd gone to school at Harvard and held high profile technology jobs, ultimately moving to Washington D.C., after being recruited to be part of a think tank focused on peacekeeping tactics. But her first week in the city, she met Ted and she knew she had to follow her heart.
"Ted was at Harvard at the same time I was," Molly said, "and we'd pass each other in the halls, but we really didn't know one another. When he graduated, he followed a pretty charted path and joined a big consulting firm. But the day after 9/11, he decided he needed to serve. His parents were like, 'Whoa, whoa,' and they convinced him to just give it six months. Six months to the day, he quit his job and joined the Marine Corps."
The handsome military man had flown in from Mississippi for a party -- and that's where the couple realized how much they had in common. Three months later, Molly left her big Washington job and followed her fighter pilot boyfriend.
"I had so many friends who were on high powered career tracks who thought I was crazy to pick up and follow a man I'd known for three months, but I always felt like there was someone who is meant to be your partner. For me, it wasn't about having adventures and then meeting him. When I met Ted, there was this inner knowing that this is the guy I'm going to have those amazing adventures with."
Two months later the couple was engaged, and began a journey that would take them to military bases throughout the country. And as Ted was deployed to different parts of the world, Molly began a career in commercial real estate -- something she felt she could carry with her where ever Ted's work took them.
But that day in Beaufort, when the idea for Babiators was born, she knew they'd landed upon an idea that would ground them.
Across the country in Atlanta, there was another couple charting their course -- Molly and Ted's friends -- Carolyn and Mathew Guard. The couple were also Harvard grads, and Carolyn had followed Mathew back to his home town of Atlanta, where they both attended business school. They were living the high life as consultants -- high, as in up in the air all the time.
"It's much less glamorous than it sounds," Carolyn laughed. "Remember the movie 'Up In The Air' with George Clooney? It's exactly like that. We were each traveling four days a week to different cities. And the weekends would just turn into a long list of errands. But consulting allowed us to see different types of businesses. We knew it would round out what we learned in school, and we'd be able to apply those experiences to the next phase of our careers."
The couples had discussed that next phase many times over dinner -- knowing that there was something bigger on the horizon for all of them. But it wasn't until Molly and Ted shared their idea for Babiators that the two women began to envision building a business together.
"The first thing we did was conduct a survey," Carolyn recalled. "We asked moms what they buy, and what they thought of the products on the market. And what they told us was that kid's sunglasses break too easily."
"And their second complaint," Molly added, "was that they got lost. Moms didn't want to pay $20 for a pair of sunglasses that their kids were going to lose on the playground."
"That's where we saw our opportunity," Carolyn said. "There wasn't a strong children's sunglasses brand that we could identify through the survey and we thought, What if we could create kid's sunglasses that were unbreakable, and guarantee they wouldn't get lost?"
"So we decided to make Babiators out of rubber rather than plastic. You can twist them and turn them and they won't break. And then we created the 'Lost and Found Guarantee.' If a child loses a pair of Babiators, we ship another one free. People thought we were crazy to do that -- that customers would put us out of business. But we wanted to be known for our customer service, and the people who take us up on the guarantee are the ones who talk about us the most."
Article continues below slideshow
PHOTO GALLERY
Molly Fienning
Well, not exactly the most. As it turned out, it was celebrities who created the biggest buzz. While the women began their business on a shoe string budget, opting for a $2,500 website and a logo that was created by Carolyn's brother, they did put some money into one thing -- public relations. While the two partners were cold calling boutiques from their homes, they had account executives pitching the press and sending their product to some of the biggest names in Hollywood.
Within 12 weeks, the women had landed 100 boutiques, and the PR firm landed a feature on the front page of Daily Candy Kids. And as Molly laid in a hospital bed, twelve hours after giving birth to a baby of her own, she spotted something that would skyrocket their business.
"I was flipping through US Magazine, while Ted was sleeping on an air mattress next to my bed. Mariah Carey and Nick Cannon were on the cover with their twins. And inside, their son Rocco was holding a stuffed guitar and wearing a pair of Babiators! I jumped up screaming. After that," she laughed, "Ted had to convince me to try to get some sleep."
Suddenly, the stores began calling them. Babiators became the hottest kidwear in Hollywood, and it wasn't long before they were being sold at Nordstrom. But the biggest hit was yet to come, when the women heard their stylish shades were going to be featured on The Ellen DeGeneres Show.
"Each Ellen episode airs three times across the United States," Carolyn said, "and each time it aired, our website crashed! We had put all this extra service in place, but the response just overwhelmed our servers. It was incredible to see our product on TV, but all we could think about at the moment was the lost opportunity."
But there really was no reason to worry. That day alone, the women sold 1,000 pairs to viewers throughout the country -- and within one short year, from the time Molly and Carolyn decided to go into business together, Babiators became the brand moms ask for. They're now selling not only at Nordstrom, but at Neiman Marcus, Macy's, and Harrods of London, along with 1,800 boutiques around the world. The partners are projecting revenue of two to three million dollars this year.
And their bright idea has become a family business for both couples. Mathew and Ted are now working right alongside their wives -- helping to build more than Babiators, but a children's accessory brand. As Molly predicted, their journeys have brought them to exactly where they wanted to be.
"I had an impressive job when I met Ted," Molly said softly, "but when I was with him, I felt an inner contentment. So when I left that position, I wasn't following a guy, I was following my path. Life is too short to not do what you want to do."
"It's hard to make a big change the way we both did," Carolyn continued, finishing her partner's thought. "I think you need to ask yourself whether you're the kind of person who'll always wonder, if you'd made that move or started that company, what your life would be like. You don't want to spend your life wondering what if."
Add Marlo On Facebook:
Follow Marlo on Twitter:
Sign up to receive my email newsletter each week - It will keep you up-to-date on upcoming articles, Mondays with Marlo guests, videos, and more!