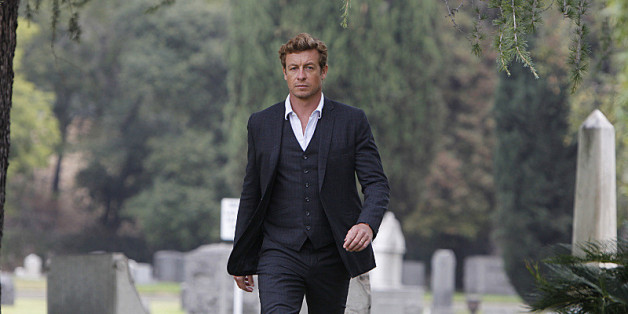 "The Mentalist" is now free to move on after last night's confrontation with Red John.
The episode brought Patrick Jane (Simon Baker) face to face with Red John, the serial killer who has been terrorizing the series for the past six seasons (MAJOR SPOILERS AHEAD).
In the episode entitled "Red John," the killer was revealed to be Sheriff Tom McAllister, who supposedly died in a fire, and not CBI Director Gale Bertram (played by Michael Gaston) as some thought. Patrick Jane eventually confronted Red John face-to-face and killed him.
Many fans are wondering, now that the central plot has come to a conclusion, where will the series go from here?
"The end of Red John is a moment the fans wanted to see, but for many different reasons," Baker told TV Guide. "Some just want it to be over. They're, like, 'Enough, already!' Some really want to see Patrick heal and get on with things."
Jeff Jensen from Entertainment Weekly wrote about the current state of the show and why it needed to kill Red John. In his write-up, he noted that the show was performing well in the ratings "but the producers began to worry that Red John was making the series darker and heavier than desired, and that accumulating narrative was too much for viewers to carry forward and might discourage new viewers from watching. Moreover, after three years of building and stretching, clues and misdirection, fans needed a substantial development."
Next week's episode, directed by Baker, will see the series jump ahead and pick up two years after the events of Red John. "It's almost like a pilot for a new show," Baker told TV Guide. "When we come back after Red John's death, Jane is somewhere in paradise."
The characters have moved on two years after Red John, but is the killer really dead? When speaking with TV Line, Baker said, "For the foreseeable future, yes. I think it's really nice to have a clean cut and not mention Red John at all for a while. Even if [Jane] speaks of the [death], he doesn't mention Red or John in the same sentence."
Bruno Heller, the series executive producer, also told TVLine about the show's new direction. "A great weight has been taken off Jane's shoulders -- and to that degree a weight has been taken off the show. It's going to be the same show ... but with less darkness at the edges."
"The Mentalist" airs Sundays at 10 p.m. EST on CBS.
BEFORE YOU GO
PHOTO GALLERY
CBS New Shows 2013-2014