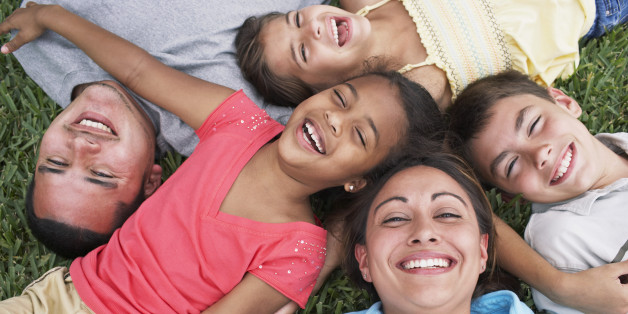 Two-year-old Angel was among 150 foster children who gained a "forever family" Friday, as Los Angeles led the rest of the country in celebrating National Adoption Day.
Tears of joy flowed at the Edmund D. Edelman Children's Court in Monterey Park as Presiding Judge Michael Nash finalized Angel's adoption by John and Kerry Rigsby, who also have three biological children.
"You belong to each other forever," Nash said as John hugged Angel and Kerry wept. "Congratulations, good luck, and God bless you all."
Xochitl Barragan took in her grandson, 5-year-old Martin, after the boy's mother was accused of breaking his femur when he was just a toddler.
Martin, who has cerebral palsy, could not walk or talk when he moved in with his father and grandmother.
"Now, he looks happy," Barragan said, looking at him fondly as he tested out a specialized therapeutic bike donated by the Alliance for Children's Rights after his adoption ceremony.
Eugene and Cherylea Hart made 17-year-old Tristan Hart their eighth adoptive child. They are currently foster parents to six other children.
Tristan had been adopted before, but ended up returning to the foster care system. He is optimistic about the future.
"I want to go be a Marine," he said. "That's what I'm shooting for."
Los Angeles initiated National Adoption Day in 1998. This year, 400 jurisdictions in 50 states are participating. The actual day is Saturday, so L.A.'s Friday night ceremony kicked off the nationwide celebration, officials said.
After this year's ceremonies, the number of children adopted on National Adoption Day will reach 50,000.
"There is no greater gift they can receive," county Department of Children and Family Services Director Philip Browning said.
The department is currently caring for about 17,000 foster children, including 1,400 who are ready for adoption.
There is, however, a severe shortage of foster and adoptive families, said Cynthia Billey, director of the Foster Children's Adoption Project and The Alliance for Children's Rights.
"There's a lot of myths about foster care," she said. "A lot of people think that all the kids in foster care are damaged (and) they also think the process is too long and too expensive, but all three of those things are not true."
It was after hearing about the dire need for foster and adoptive parents that John and Kerry Rigsby decided to take in Angel. They did it even though they already have three biological children -- Andrew, Adam, and Anna -- and Kerry was diagnosed with breast cancer and had to undergo chemotherapy.
"The Bible calls us all to care for these little ones," said Kerry, a former second-grade teacher. "A baby is a precious child of God and deserves to be loved intentionally every day."
To become a foster or adoptive parent, call 888-811-1121. ___
BEFORE YOU GO
PHOTO GALLERY
Adoption Portraits