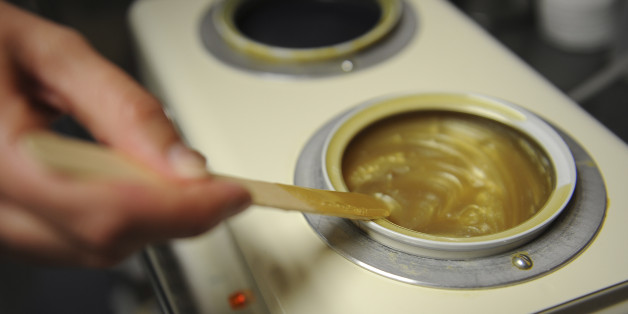 Getting your legs waxed is already a fairly unpleasant endeavor. But a London salon has reportedly made it that much more unbearable by imposing a so-called "fat tax" on its curvier customers.
The Sun reports that MM Bubbles, a salon in South Kensington that offers manicures, pedicures, waxing and body wraps, is charging customers size 12 and larger a fee of £5 (around $8) for a 45-minute leg wax. Women even larger (a size 18 and up) could be charged £10 more.
A British size 12 (equivalent to an American size 8) is actually smaller than the average UK woman's size, the Sun notes, which is actually a size 16 (an American size 12). So the Sun sent a size 22-24 woman to MM Bubbles for a waxing treatment. When being charged for her visit, she was reportedly told by the salon owner, "I know maybe for you it is not very nice but I use more stuff."
As insulting as the concept of a "fat tax" sounds, it's not a foreign concept. Legislation proposed in Nevada this year would impose a 5-cent tax on fast food containing over 500 calories; this month, Mexico's national Congress passed a one-peso-per-liter tax on soda and an 8 percent tax on junk food.
Airlines have debated higher fees for heavier passengers for some time now, reasoning that heavier cargo results in more fuel and CO2 emissions. "Charging according to weight and space is a universally accepted principle, not only in transportation, but also in other services," an economics professor told CNN earlier this year.
Fuel and CO2 emissions is one thing; wax and cotton waxing strips are another. Do you find it justifiable to charge larger customers more money for a leg waxing job?
We've reached out to MM Bubbles for comment and will update should we hear back. Read more at TheSun.co.uk.
UPDATE: A representative responded to us with the following statement: "Please note that this is quite common in beauty salons in London. Our waxing prices are advertised as 'starting from.' I don't see this approach as a discrimination against larger persons, is just common sense. If we use more time and products on one particular customer we need to add a small surcharge. We cover our extra costs in this way. The same logic is applied when someone is going in a hairdressing salon. He/she will be charged depending on the length of the hair."
Beauty and fashion aren't always so pretty:
PHOTO GALLERY
Craziest Fashion Controversies & Feuds
Want more? Be sure to check out HuffPost Style on Twitter, Facebook, Tumblr, Pinterest and Instagram at @HuffPostStyle.