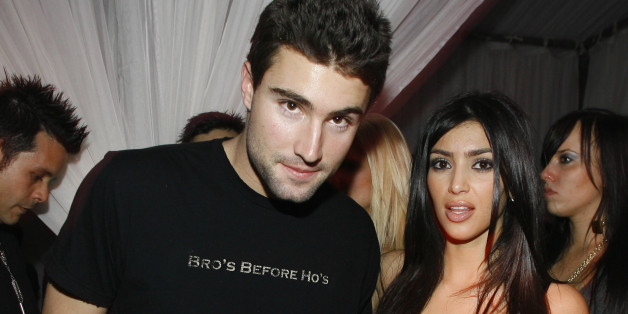 Well, this is awkward -- Brody Jenner isn't sure if he'll score an invitation to Kim Kardashian and Kanye West's wedding, because he wasn't invited to the engagement.
We're not sure what happened to family coming first, but the 30-year-old, who officially joined the cast of "Keeping Up With The Kardashians," revealed he doesn't know if he should expect an invitation to what's likely to be the hottest wedding of next year, even if his stepsister is the bride.
"Well, you never know with the family. I didn't get invited to the engagement, so you never know," Jenner told Us Weekly when asked about the power couple's impending nuptials at the Hyde Nightclub at the Bellagio Hotel & Casino on Saturday (Nov. 23).
We suppose the fact Jenner wasn't invited to Kardashian's big surprise proposal at AT&T Park in San Francisco last month shouldn't come as that much of a shock given that his father, and Kardashian's stepfather, Bruce Jenner, also wasn't invited when West got down on one knee, according to TMZ.
Since Kardashian is reportedly still close with Bruce, despite the fact that he and her mother recently revealed that they have separated, we have to wonder if the decision to ice Brody out came from Kris Jenner herself, who Brody was never exactly fond of -- and never did his best to hide it, either.
It's unclear what the state of Brody's relationship with Kardashian or West is, but let's take a moment to recall exactly who was at that proposal. According to "Girls Gone Wild" founder Joe Francis (who, yes, was very much a guest), there were about 40 people at the surprise engagement, including big names in the tech industry, Uber founder Marc Pincus, and YouTube co-founder Chad Hurley, whom the couple is now suing after he leaked a video of the engagement.
BEFORE YOU GO
PHOTO GALLERY
Kim Kardashian and Kanye West