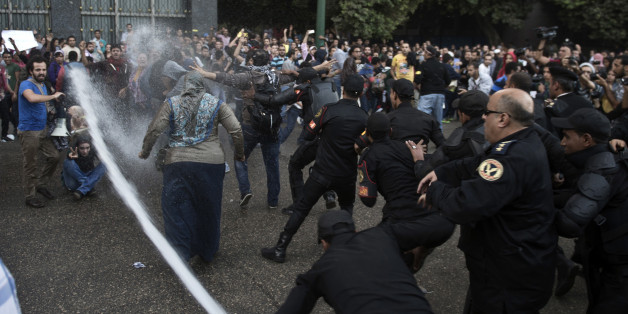 CAIRO -- Protesters poured through deadlocked traffic on downtown Cairo's Qasr Al-Ainy Street on Tuesday evening, demonstrating against a new constitutional article that allows military courts to try civlians. Policemen, one of whom was smiling, sprinted after them, beating and arresting those they could catch. After being detained inside the parliament's Shura Council, protesters reported that they were dragged, beaten and sexually harassed by security forces. It's a story Egypt has heard before.
Egypt's military-backed government -- an unelected body that has led the country since the ouster of Islamist President Mohammed Morsi earlier this year -- issued a law on Sunday that makes it illegal for more than 10 people to gather in a public place unless a police station approves the meeting three days prior. The law, slammed by many as repressive and ironic, has fueled an already growing opposition to Gen. Abdel Fattah Al-Sisi, commander in chief of the Egyptian Armed Forces.
Many political activists and critics fear the law -- and the interim government that passed it -- will bring back repression reminiscent of former President Hosni Mubarak's rule, or worse.
"The new protest law is basically being used to kill off the revolution," tweeted prominent Egyptian activist Gigi Ibrahim. "We must keep protesting and protect our right to demonstrate. People died for this right."
The law imposes prison sentences and steep fines on those who don't get permission for their demonstrations -- like Tuesday afternoon's protest outside the Shura Council and a morning protest commemorating 16-year-old Gaber Salah, nicknamed Jika, who was shot in the chest and head during clashes last year.
Anyone accused of violence at a protest can be slapped with a $44,000 fine -- a sum of money that many Egyptians won't make in decades of work. Deadly attacks on security forces and police across Egypt have only helped fuel the government's crackdown on both Muslim Brotherhood supporters and non-Islamist opposition groups critical of the interim government -- all in the name of security.
Sisi proclaimed that the adoption of the protest law, and other government moves, will "correct the democratic path and establish a regime that pleases all Egyptians," the Associated Press reported.
In one police station in Maadi, a Cairo neighborhood where Muslim Brotherhood supporters have held frequent demonstrations since Morsi's removal from office, a smiling Maj. Hassan Darwish told The Huffington Post that the registration process for a planned protest is simple. When asked why the law was implemented, he replied: "It's for organization reasons. Every country has laws like this."
While demonstrators are legally required to give a reason on paper for their protests, Darwish insisted that police can only reject a protest for "security reasons." According to the Daily News Egypt, the Ministry of Interior has so far already approved two protests under the new law, though that hardly appeases many critics in the wake of Tuesday's crackdown.
Human Rights Watch, for one, said the law risks reversing freedoms gained after the 2011 revolution. Amnesty International released a statement describing the law as a "grave threat to freedom of assembly," commenting on the sweeping powers that security forces now have over protesters.
Political scientist Amr Hamzawy, who previously served in Egypt's parliament, warned in a fiery article published by the Atlantic Council that Egyptians may soon wake up and realize they have become "mere supporting masses to be conjured."
On Monday, the April 6 Youth Movement, a prominent activist group in the 2011 revolution, submitted a request to protest the new law under the banner "Eat popcorn!" -- a sarcastic slap in the face to the interim government. And the group Kefaya (meaning "enough" in Arabic), which played a key role in carrying out mass protests against Mubarak, slammed the law as sheer thuggery and said that the government "has not yet learnt its lesson."
Steven A. Cook, a Middle East expert at the Council on Foreign Relations, told HuffPost that the "people in Egypt are not going to accept what they believe to be unjust laws," pointing to the revolution and the years of protests that have followed. He equated the law's logic to the way the Supreme Council of the Armed Forces, the military body that ruled between Mubarak and Morsi, viewed protests.
"They kept relying on average Egyptians for support," he said. "They did get that support at certain times, but it was hardly a risk-free strategy. One overreaction from the Ministry of Interior or the military police can turn people against the government."
But Sisi and the interim government still maintain strong support among Egyptians who are sick and tired of protests -- especially ones by the Muslim Brotherhood. On Qasr Al-Ainy Street, as protesters screamed and swerved between cars, Ibrahim, a taxi driver who used to manage a fleet of 200 cars before tourists largely stopped coming to the country, shook his head and pointed at the chaos. "This is why I support the protest law," he said.
Like many Egyptians, Ibrahim took part in the revolution that toppled Mubarak and the mass protests that followed. He has scars from when he was shot with a cartouche. But now, Ibrahim said the protests must stop for the sake of the country's security and economy. "Egypt needs a strong ruler right now," he said, praising Sisi's politics. "The protests now are bad."
Still, if Tuesday's events foreshadow Egypt's days to come, the current government, just like its predecessors, might soon find itself in the doghouse, cast away by the very people who took to the streets in support of Sisi as military planes drew hearts in the sky.
On Tuesday night, ONtv -- a popular privately owned television station that has recently unabashedly broadcasted pro-government news -- aired footage from the protests. And then a woman, her voice broken by tears, appeared on screen saying, "The police state that all these young guys and girls revolted against on January 25 is back."
BEFORE YOU GO