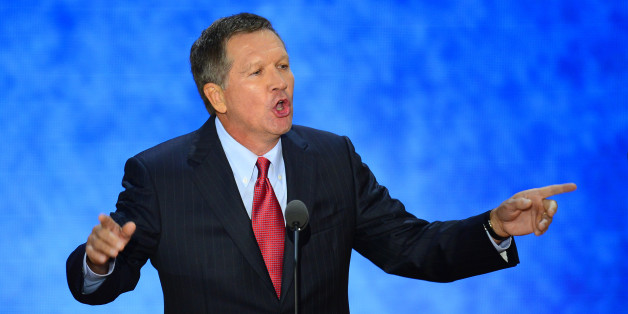 Ohio's John Kasich holds a modest lead against a relatively unknown challenger, while New York's Andrew Cuomo leads by substantial margins against his potential opponents. Economic anxiety has never been higher among lower income Americans. And another national poll shows the Democrat's October bump in the generic House vote disappearing. This is HuffPollster for Wednesday, November 26, 2013.
OHIO GOVERNOR LEADS 'UNKNOWN DEM' BY 6 - Quinnipiac: "Ohio Gov. John Kasich begins his reelection year with a 44 - 37 percent lead over a largely unknown possible Democratic challenger, Cuyahoga County Executive Ed FitzGerald, according to a Quinnipiac University poll released today. This is down from a 47 - 33 percent lead for Gov. Kasich in a June 25 survey by the independent Quinnipiac University...Ohio voters approve 52 - 33 percent of the job Kasich is doing as governor, close to his all-time high job approval of 54 - 32 percent June 25, and give him a 41 - 30 percent favorability rating. For FitzGerald, 71 percent don't know enough to form an opinion." [Quinnipiac, HuffPollster chart]]
NY GOV. CUOMO LEADS BY WIDE MARGINS - Two new polls both show Andrew Cuomo far ahead of several lesser known potential opponents. Quinnipiac: "New York State Gov. Andrew Cuomo, who saw his job approval rating drop in Quinnipiac University polls in the first six months of the year, opens his reelection bid with a 62 - 25 percent approval rating today….In an early look at the 2014 governor's race, Cuomo tops Westchester County Executive Rob Astorino, a possible Republican challenger, 56 - 25 percent. Astorino leads 62 - 23 percent among Republicans while Cuomo takes every other party, age, gender, income and regional group." [Quinnipiac]
Marist Institute: "New York State Governor Andrew Cuomo is a strong, early favorite to win re-election as he heads into 2014. When matched against several potential Republican gubernatorial candidates, Cuomo leads each of them by at least 40 percentage points...A majority of registered voters in New York State — 52% — approves of the job the governor is doing. This includes 8% of voters who think Cuomo is doing an excellent job and 44% who describe Cuomo's job performance as good. 31% give Cuomo fair marks while 13% report he is performing poorly. Three percent are unsure." [Marist]
Why the different job rating? - To recap: Two surveys of registered voters in New York State, conducted using similar methodologies just days apart (Marist fielded their poll Nov. 18-20, Quinnipiac fielded theirs Nov. 20-24) measured a 10 point difference in Cuomo's job approval rating. These sorts of differences are typically explained by different question wording. Quinnipiac found 62 percent who said they approve of Cuomo rather than disapprove, while Marist found 52 percent who rate his performance as excellent or good, rather than fair or poor. The excellent/good/fair/poor wording typically produces a smaller percentage in the two top categories, presumably because some respondents hear "fair" as more of a neutral category. [For past differences see Pollster.com here and here]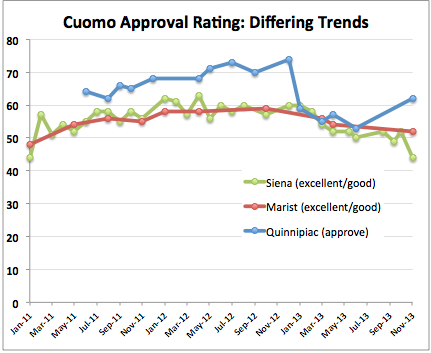 But wording may not tell the whole story - The "approve" wording appears to drive higher Cuomo ratings in some instances, but not others, creating something of a puzzle. The ratings by Marist and Siena College, which both use the excellent/good/fair/poor wording, have produced nearly identical trends in Cuomo's rating over the past three years. The Quinnipiac survey and it's approve/disapprove wording, on the other hand, produced consistently higher Cuomo rating from 2011 to 2012, then showed a steep drop in January followed by an apparent jump on the current survey.
ECONOMIC ANXIETY SOARS FOR LOW INCOME WORKERS - Jim Tankersley and Scott Clement: "American workers are living with unprecedented economic anxiety, four years into a recovery that has left so many of them stuck in place. That anxiety is concentrated heavily among low-income workers...More than six in 10 workers in a recent Washington Post-Miller Center poll worry that they will lose their jobs to the economy, surpassing concerns in more than a dozen surveys dating to the 1970s. Nearly one in three, 32 percent, say they worry "a lot" about losing their jobs, also a record high, according to the joint survey, which explores Americans' changing definition of success and their confidence in the country's future. The Miller Center is a nonpartisan affiliate of the University of Virginia specializing in public policy, presidential scholarship and political history. Job insecurities have always been higher among low-income Americans, but they typically rose and fell across all levels of the income ladder. Today, workers at the bottom have drifted away, occupying their own island of in­security. [WaPost]
POLL FINDS GOP WITH EDGE OVER DEMS ON GENERIC HOUSE BALLOT - Paul Steinhauser: "A new CNN/ORC International poll indicates a dramatic turnaround in the battle for control of Congress in next year's midterm elections. Democrats a month ago held a 50%-42% advantage among registered voters in a generic ballot, which asked respondents to choose between a Democrat or Republican in their congressional district without identifying the candidates. That result came after congressional Republicans appeared to overplay their hand in the bitter fight over the federal government shutdown and the debt ceiling. But the Democratic lead has disappeared. A new CNN/ORC poll indicates the GOP now holds a 49%-47% edge….'It looks like the biggest shifts toward the Republicans came among white voters, higher-income Americans, and people who live in rural areas, while Democrats have gained strength in the past month among some of their natural constituencies, such as non-white voters and lower-income Americans,' said CNN Polling Director Keating Holland." [CNN]
House race polls - HuffPollster's chart shows the abrupt rise and fall of Democrats' 2014 congressional advantage in the last two months. Polls during the shutdown gave Democrats a significant edge against the GOP, while in the last two weeks, polls by Quinnipiac, Fox, Rasmussen and CNN found Republicans tied or slightly ahead. [HuffPollster chart]
HUFFPOLLSTER VIA EMAIL! - You can receive this daily update every weekday via email! Just enter your email address in the box on the upper right corner of this page, and click "sign up." That's all there is to it (and you can unsubscribe anytime).
TUESDAY'S 'OUTLIERS' - Links to more news at the intersection of polling, politics and political data:
-Gallup's consumer confidence weekly average slips slightly for the first time since the government shutdown ended. [Gallup]
-69 percent of Americans say they are unaffected by the new health care law. [Gallup]
-45 percent of U.S. adults report that they live with one or more chronic health conditions, such as high blood pressure and diabetes, and 31 percent of them have to find out what medical condition they or someone else have. [Pew Research]
-Nathan Gonzales sees the possibility of "another midterm nightmare" for Democrats in 2014. [Roll Call]
-Charlie Cook ponders whether President Obama's job approval ratings can bounce back from their recent declines. [National Journal]
-Luke Frans (R) says Obama has used up his reservoir of goodwill. [National Review]
-Kristen Soltis Anderson (R) highlights Obama's falling ratings for honesty and trust. [DailyBeast]
-A television ad buy driven by set-top box data produces more impact at lower cost. [Ad Age via @AlexLundry]
-The Census bureau introduces Dwellr, a new app for comparing places to live. [NPR]
BEFORE YOU GO
PHOTO GALLERY
United States Governors