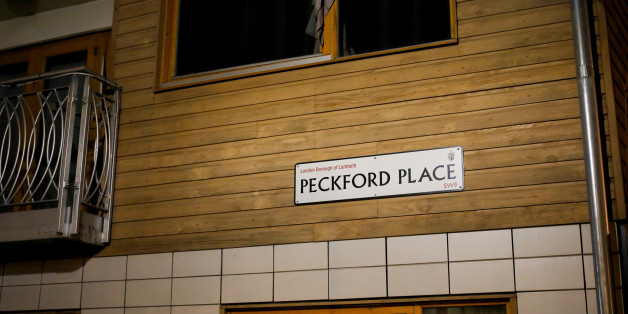 A woman who fell to her death from the home of the couple suspected of holding three slaves phoned her family shortly before in what may have been a cry for help.
Sian Davies had "virtually disappeared" after becoming involved with an extremist Left-wing sect while studying at the London School of Economics in the Seventies.
Then, in 1996, the 44-year-old got in touch with her family for the first time in a decade. Months later, on Christmas Eve that year, she fell from an upstairs bathroom window at the house in Herne Hill.
She spent seven months in hospital with critical injuries but died on August 3 the following year.
Living in the house were members of the Maoist collective including Aravindan Balakrishnan and wife Chanda — who were arrested at another address in Brixton last week, on suspicion of keeping three women in domestic servitude for 30 years.
Miss Davies's cousin Eleri Morgan said she believed Sian was the mother of the 30-year-old woman known as Rosie, who was allegedly kept as a slave for her entire life before being rescued from the Brixton house with two others. Ms Morgan said the woman looked like her cousin, and she would take a DNA test to establish the truth.
A coroner recorded an open verdict on Ms Davies's death, but described it as mystery, saying no one could explain why she fell from the window. Today Scotland Yard said it was re-examining details of the case.
Ms Morgan told the Standard that she received a phone call from her cousin in the summer of 1996 in which Ms Davies sounded "odd" and "not herself".
The retired teacher from Eltham said: "She rang me up out of the blue. She just said, "Hi this is Sian." She asked how I was and that was it. She wouldn't divulge anything. She was very quiet, very controlled, almost matter of fact."
Ms Morgan added: "It could have been a cry for help but she didn't sound distressed and when I asked if we could meet, even just for a coffee, she said no. She wouldn't tell me anything.
"I knew she had been brainwashed in some way to cut us all off the way she had. Also she was very different. She used to be vivacious, she enjoyed life. This was a different person on the phone." The former law student had joined the commune in 1973 after arriving in London to study at university. It was claimed that after she fell, members of the commune failed to tell Miss Davies's family that she was in hospital, claiming she was on holiday in India.
Ms Morgan said her cousin used to send her mother letters and a man called "Comrade Bala" was mentioned time and time again. Miss Davies visited her mother only once in the Eighties, and was accompanied by two women from the group.
"I'm so angry at these people, it is unforgivable what they did to her," said Ms Morgan. "They claimed they were the only relatives she had. I was just down the road while she was lying in hospital. It was a wicked thing they did."
Balakrishnan, 73, and his wife, 67, are on police bail until January while police inquiries continue. Their three alleged victims — the 30-year-old Briton, an Irishwoman aged 57 thought to be from County Armagh, and a 69-year-old Malaysian — were rescued from the council flat in Peckford Place, Brixton last month. They are believed to have suffered years of "physical and mental abuse".
The Malaysian is now thought to be Aishah Mautum, who disappeared in the Seventies. She was a high-flying student who won a scholarship to study in England but became involved in extremist politics.
Ms Mautum's sister Kamar said Aisha gave up everything after coming under the spell of Balakrishnan.
Speaking to the Daily Telegraph, Kamar said it was their mother's dying wish to know what happened to her daughter who never returned from  the UK.
She added "I have felt so choked without her for years and years. She was  so talented, she was the apple of my mother's eye. She asked for her on her deathbed."
When Aishah arrived in Britain she became attracted to an organisation called the Malaysian and Singaporean Students Forum (Mass) which had a reputation as an extremist Maoist group.
Balakrishnan and his wife — originally from India and Tanzania — became  well known to the police and security services as political agitators in the Seventies.
He was expelled from the Communist Party and set up the Workers' Institute of Marxism-Leninism-Mao Zedong Thought, operating from a squat and bookshop in Acre Lane, Brixton.
The pair were arrested in a police raid on the premises in 1978. The former bookshop is now an Algerian cafe.