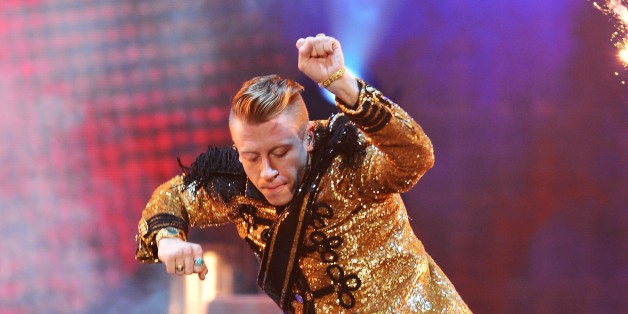 The following article is provided by Rolling Stone.
By Simon Vozick-Levinson
After spending the last year-plus building their debut LP, The Heist, into a platinum smash, Macklemore and Ryan Lewis are finally ready to make a follow-up album. Well, almost: Macklemore tells Rolling Stone he can't wait to hit the studio when their world tour wraps next year. "We're going to make music again [in 2014]," he says, "because we haven't really had time to do that all year."
LINK: Rolling Stone Cover Issue: Thrift Shop Superstar Macklemore
The Seattle duo have U.S. shows booked through mid-December, followed by a planned appearance at the Times Square ball drop on New Year's Eve. When that's done, Macklemore will take a much-needed break with fiancée Tricia Davis. "We're gonna leave, disappear, evaporate and get out of America," he says. "Hopefully, we'll be in a place where no one knows who Macklemore is, and I'll just get back to why I love making music and life."
LINK: Macklemore Opens Up About His Struggle to Stay Sober
In March, Macklemore and Ryan Lewis have even more dates in Australia and Asia. Then, finally, the real work begins. "After that, we're going to be in the studio for a long time," says the rapper. "We'll just buckle down and work until we have something to present to the world."
LINK: In Photos: Macklemore and Ryan Lewis in Concert
The Heist's unexpected success is a tough act to follow, but Macklemore is up for the challenge. "I think there's obviously going to be a little bit of pressure," he says. "But the beautiful thing about being independent is you don't have a deadline. What it's going to come down to is living and experiencing things."
LINK: Rolling Stone's List of the Best Albums of 2013: Mid-Year Report
Adds the MC, "I haven't really felt like I had much to write about. This has been going so fast – every day feels like it's a different airplane, or a different city, or a different show. I want to live some life outside of this Macklemore and Ryan Lewis bubble that we've been in."
BEFORE YOU GO