Hundreds of demonstrators against the proposed Keystone XL pipeline surrounded San Francisco's SF Jazz Center on Monday as President Barack Obama arrived for a fundraiser
While well-dressed attendees waited to enter the jazz center, protesters took to the nearby streets and rooftops carrying signs, unfurling banners and shouting into bullhorns.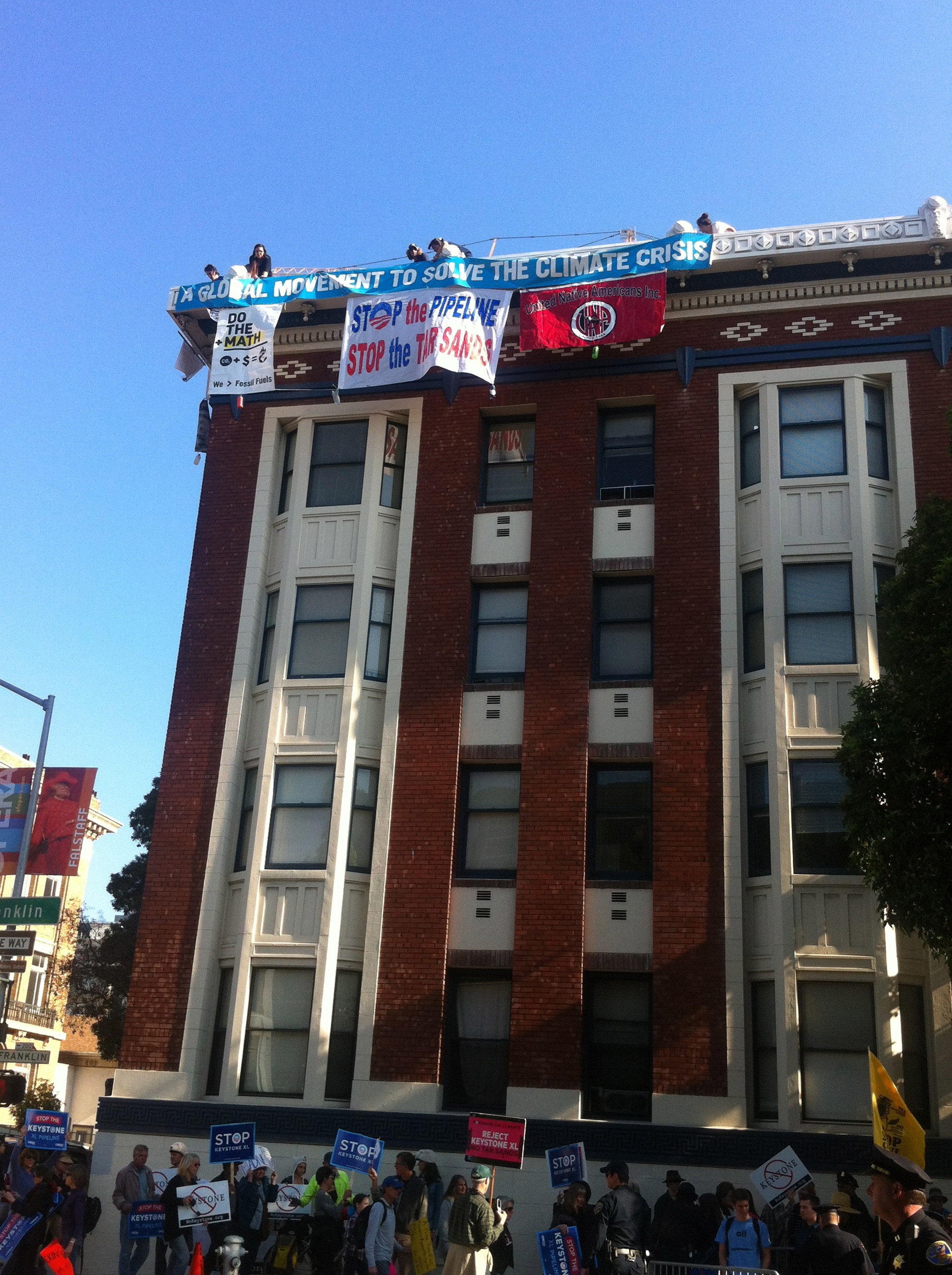 "Climate change is the game-changer for every other issue," protestor Ruth Lombard of Sonoma told The Huffington Post. "We're not facing the end of the planet, but we're facing human extinction and the extinction of a lot of other species at the same time. It just makes sense to be here."
Peter Anderson of Marin County was in the river restoration business before joining the Sierra Club and 350.org. "I've seen [the effects of climate change] with my own eyes," he said. "Our forests are dying from New Mexico on up to the Arctic Circle. Our creeks are being sucked dry."
People opposing the Keystone XL, which would pipe crude oil from Canada's Alberta tar sands to Gulf Coast refineries, weren't the only demonstrators at the fundraiser. Members of the antiwar group Code Pink and others staged a "die-in" protesting Obama administration drone strikes.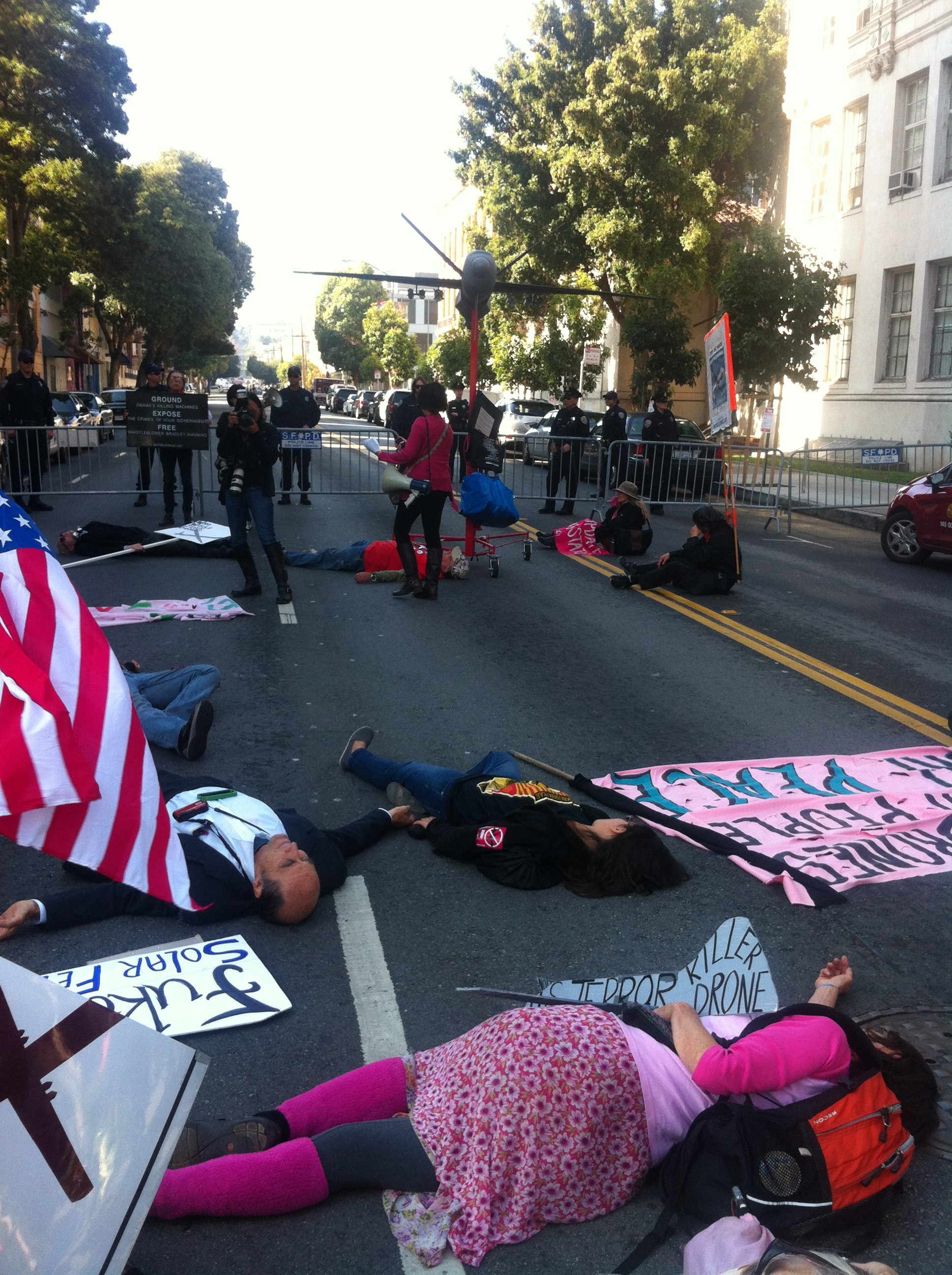 Among the protesters was Jim Dorenkott, a Navy veteran who said he served in the Vietnam War from 1963 to 1966.
"I'm here protesting the policy of the Obama administration to use diplomacy so little and rely on this drone warfare that's not making any of us safe," Dorenkott said. Look at "the amount of hatred that's being born around the planet because of drones."
Dorenkott said he feels the administration's approach to climate change is nearly as egregious as its drone policy.
"My God, we just saw devastation in the Philippines that's unprecedented," Dorenkott said. "And the nations that are pouring carbon into the world couldn't even take on the responsibility to help the low-lying nations deal with the catastrophe coming. And we wonder why people might want to attack us."
Earlier, at an invitation-only speech at the Betty Ann Ong Chinese Recreation Center, Obama faced protests of a different kind.
During the president's remarks onstage, a heckler later identified as grad student Ju Hong, interrupted Obama, shouting that he had been separated from his South Korean family for 19 months.
"Mr. President, please use your executive authority to halt [deportations]," Hong shouted. "We agree that we need to pass comprehensive immigration reform, but at the same time, you have the power to stop deportations."
"Actually, I don't," the president replied. "And that's why we're here."
Hong continued to speak and Obama's security team members stood ready to escort him from the building.
"Don't worry about it, guys," said Obama, waving his security away. "These guys don't need to go."
The president then turned back to the crowd and the heckler.
"I respect the passion of these young people because they care deeply about the concerns for their families," Obama said. "Now what you need to know is that when I'm speaking as the president of the United States and I'm coming to this community, if in fact I could solve all these problems without passing them in Congress, then I would do so. But we're also a nation of laws ... and so the easy way out is to try to yell and pretend like I can do something by violating our laws. What I'm proposing is the harder path, which is to use our democratic processes to achieve the same goal that you want to achieve. But it won't be as easy as just yelling. It requires us lobbying and getting it done."

BEFORE YOU GO
PHOTO GALLERY
Obama Protested In San Francisco