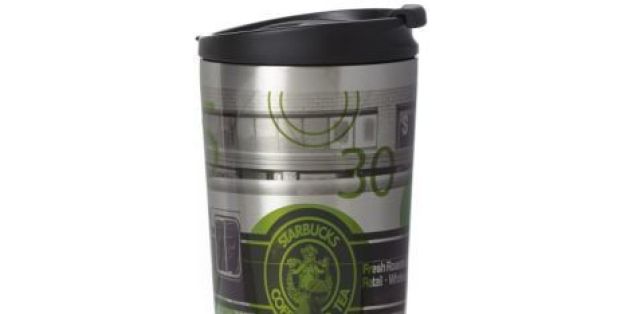 For all you Pumpkin Spice Latte fiends out there, drinking your beverage of choice may have just gotten a little easier. On Black Friday this year, Starbucks is offering a special deal on a Stainless Steel Espresso Refill Tumbler, which you can use to get one espresso drink a day for the entire month of January. The offer is only good for espresso beverages. Starbucks puts the total value of the 16 ounce tumbler and the daily drinks at $140 -- the average price of a grande espresso drink for 31 days, plus the price of the container itself. On Black Friday, it's yours for $65, and the price rises to $75 after that.
Starbucks has long promoted the use of personal tumblers. Since 1985, the company has offered various discounts to customers who bring in their own cup. In April of 2010 and 2011, it offered a month-long deal similar to this year's Black Friday offer, but only for brewed coffee.
This holiday season, Starbucks is encouraging customers to enjoy its "beloved holiday trio – Gingerbread Latte, Peppermint Mocha and Caramel Brulée Latte," according to the press release. Of course there's also the Eggnog Latte, the Cinnamon Dolce Latte, the White Chocolate Mocha and the infamous Pumpkin Spice Latte.
Will you be buying the espresso tumbler?
BEFORE YOU GO
PHOTO GALLERY
World's Coolest Starbucks Stores