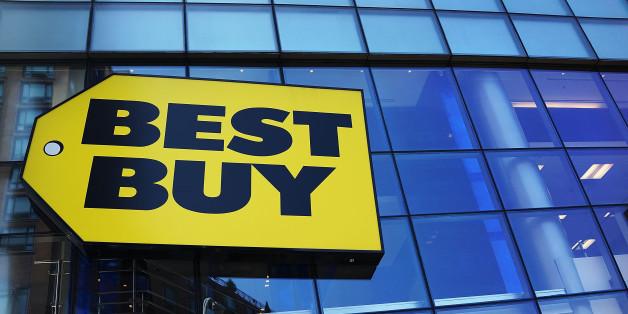 We've already had a chance to review the ads from Target and Walmart, and now that the entire Best Buy Black Friday ad is available, our picture of Black Friday 2013 is getting clearer by the minute. From what we can tell, Best Buy will have offer seriously competitive sales on Black Friday — as long as you're not shopping for anything Apple. We'll explain why below, but first let's talk about doorbusters.
How to Score a Best Buy Doorbuster
Want to make sure you get a Best Buy doorbuster deal? According to the ad, limited quantity of these deals will be available in-store only on Thanksgiving. Doors open at 6 pm, but employees be handing out doorbuster tickets to customers standing in line up to two hours before stores open, so get there early and be ready to wait. Don't feel like venturing to the store? Best Buy will cut the online prices of a second set of "mystery doorbusters" on Thursday at 11 pm ET.
Best Buy Black Friday Ad Analysis: The Best Buys
Samsung 65" 1080p LED-Backlit HDTV for $999.99
One doorbuster that may be worth waiting in line for is this Samsung 65" HDTV. Priced at just under $1,000, this name-brand set is at least $398 below the current price of any comparable HDTV and the cheapest Samsung 65" set we've ever seen. (We saw a similar Samsung HDTV for $1,498 with a $250 Dell gift card in September.) Although the specs aren't available, note that it's likely a very basic unit; the 1080p resolution and 120Hz refresh rate are probably this set's only noteworthy features.
Kindle Fire HD 7" 16GB Tablet for $99.99
2013 is shaping up to be a great year to buy a previous-generation Kindle Fire HD. Best Buy's doorbuster price for the 7" tablet is especially tempting because it's a sale on the 16GB model, not the 8GB. At $100, that's tied as the best price we've ever seen for this tablet at either capacity; our previous mention at this price point was for a 16GB refurb. (A new 16GB model currently goes for $169 on Amazon.)
Samsung Galaxy S4 4G Smartphone for AT&T, Sprint, or Verizon for free
Although we predicted that we'd see the return of for-profit phone deals, we also predicted that we'd see free Android phones in the weeks leading up to Black Friday, so we'll call this prophecy fulfilled. This stellar deal is $100 below the lowest price we've seen for a new Galaxy S4 on any network, and at least $60 below the best price we could currently find elsewhere.
ASUS Celeron 1.5GHz 12" Touchscreen Laptop for $249.99
This Asus ultraportable may lack the bells and whistles of higher-end touchscreen laptops, but $250 is still a seriously great price. Until now, the best price we'd ever seen for any new 12" touchscreen laptop was $280, so this deal is definitely worth grabbing if you're looking for a basic laptop with touch capabilities. (This build currently goes for at least $325 elsewhere.)
Roku 2 1080p Wireless Media Player for $59.99
We predicted that the current-generation Roku 2 would be $69 on Black Friday, so we're pleasantly surprised to see Best Buy offering it for $9 less. Better yet, $60 is a $20 drop from this media player's current lowest price.
Toshiba 16GB TransMemory USB Flash Drive for $5.99
It may not be the most exciting Black Friday purchase, but this Toshiba 16GB USB flash drive could make for an excellent stocking stuffer at just $6. That's tied with our April mention as the best price we've seen all year for any new USB 2.0 flash drive without rebate hassles. (It also beats the current price low for this model by $7.)
Whirlpool 24.8-Cu. Ft. French Door Refrigerator for $999.99
Although we don't typically look for great deals on appliances from Best Buy's Black Friday sales, this Whirlpool French door refrigerator is a really, really good deal. At $1,000, it's not only $500 under the current lowest price for this model, but it's also the cheapest Whirlpool French door fridge we've ever seen.
Best Buy Black Friday Ad Analysis: The Bad Buys
Apple iPad 2 16GB WiFi Tablet for $299.99
This doorbuster seems like a steal at first glance. It's $80 under the current price-low, and $49 below our most recent mention of new unit. However, Best Buy briefly offered this iPad for $20 less in May, so we know the retailer can do better than $300. It's a good deal if you can score one, but we don't recommend waiting in the cold just to bag one of these old iPads.
Apple iPhone 5C 16GB Phone for AT&T, Sprint, or Verizon for $48
Sorry Best Buy, but Walmart is definitely the place to get an iPhone 5C on Black Friday. Not only does Walmart's $45 price point beat out Best Buy by $3, but the Walmart will also bundle it with a $75 gift card — yielding the first for-profit Black Friday phone deal we've seen this season. Better luck next year, Best Buy.
Apple MacBook Pro Haswell 13" Laptop with Retina Display for $1,099.99
Paying just $1,100 for a Haswell-equipped MacBook Pro with Retina is not too shabby, since it's at least $189 below the best current price we could find and about 15% under what Apple charges. However, we predicted that we'd see up to 20% off from authorized Apple resellers on Black Friday, so odds are good that you can score a MacBook like this one for less.
LG 55" 1080p LED-Backlit HDTV for $499.99
Another disappointing doorbuster, this LG 55" HDTV is definitely not worth your valuable Black Friday time. Not only did we predict that we'll see an HDTV with these specs for $429 on Black Friday, but we already saw a similar LG set for $52 less back in September. It may be $300 under the current price of a comparable set, but we're sure that there will be better deals on this class of TVs on Black Friday.
Best Buy has certainly maintained its place among the top three merchants to shop at on Black Friday. By selling a Samsung 65" HDTV at an all-time price low, dropping the Kindle Fire HD to just $100, and offering the cheapest 12" touchscreen laptop we've ever seen, Best Buy should definitely have a place in your Black Friday game plan. Just ignore the snooze-worthy Apple deals, and you'll be all set to save! Be sure to check out our Black Friday deals page for all the latest news, ads, and predictions.
BEFORE YOU GO
PHOTO GALLERY
Thanksgiving 2013 Store Hours