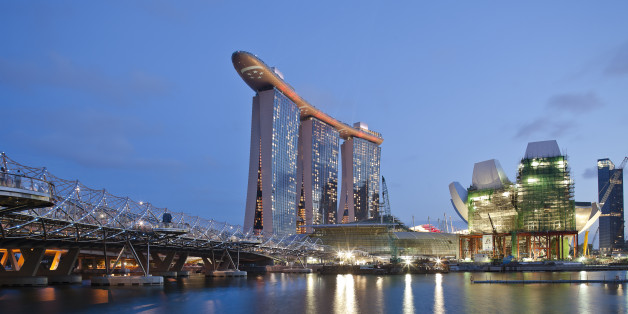 The mega star, athlete, model, husband, father and all around hunk David Beckham may have retired at the ripe old age of 38, but he certainly isn't ready to start playing mahjong with the neighbors.
The British superstar is teaming up luxury resort company Las Vegas Sands and entering the tourism industry. You may (or may not) know this brand to be the company behind The Palazzo and The Venetian in Las Vegas, but if you're looking to rest your head on a pillow that is kinda, sorta owned by Becks himself, you'll have to travel much further east.
Beckham and the resort chain are going to be focusing their attention on the Macau version of The Venetian and Singapore's Marina Bay Sands hotel. Looking to grow the high profile Asian brands, which have billions of dollars invested in them, president of Las Vegas Sands Michael Leven, said "The odds are extremely high that a partnership with David Beckham will help us further those efforts and provide David with the same benefit."
The Marina Bay Sands is one of the world's most impressive hotels, and one of Singapore's biggest tourist attractions. The rooftop hotel pool, or the SkyPark as it is affectionately referred to, is a must-see for most visiting the city, but the resort itself offers an endless number of amenities that make it "Asia's leading destination for business, leisure and entertainment."
The Venetian Macau is not only a stunning property with plenty of places to bet it all on black, it is also quickly becoming a destination known for its sporting events. Just this week played host to a welterweight fight where, not-so-coincidentally Beckham attended to cheer on fighter Manny Pacquiao.
BEFORE YOU GO