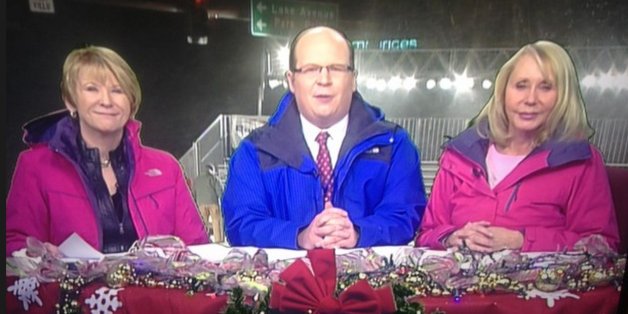 Now that's the Christmas spirit!
The Duluth's Northland News Center anchors were called out on Wednesday morning for dressing up in heavy winter clothing while covering the Christmas City of the North parade in order to give off the illusion that they were actually outside in the cold. In fact, they were sitting comfortably inside their warm studio in front of a green screen.
The radio station Mix 108 was first to point it out to viewers on Friday, noting that a few times the anchors accidentally mentioned "going back outside." Mix 108 had this to say on their website:
"Come on guys. This is Duluth, this is the "Christmas City of the North," would Santa sit indoors during an elf parade? Does Al Roker sit inside for the Macy's Thanksgiving parade? Of course not, so why are hardy Duluth anchors sitting indoors wearing big winter jackets?
Duluth's Northland News Center's anchor Barbara Reyelts later told JimRomenesko that indeed they were inside but since they never told viewers directly that they were outside, they did not lie.
BEFORE YOU GO
PHOTO GALLERY
Journalism Scandals