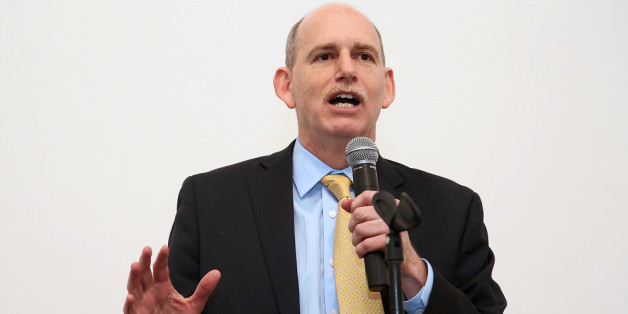 What may very well be the beginning of the end of marijuana prohibition in the United States has already begun.
Colorado marijuana dispensaries are readying to open their doors to sell recreational pot to adults in a matter of weeks and Washington state pot shops are close behind, but one drug reformer has his sights set on a much larger goal: legal access to all drugs.
"People should not be punished for possessing a small amount of any drug," said Ethan Nadelmann, executive director of drug reform group Drug Policy Alliance, to NBC News in an exclusive new profile piece.
"I'm always telling my marijuana reform allies, when they say we need to legalize marijuana and get tougher on the other drugs, 'shut the hell up,'" Nadelmann said.
"We don't need to end one discrimination and prohibition to double down on another."
Portugal is the only country in the world which has a drug policy model that somewhat resembles the vision Nadelmann has. More than 10 years ago, the European country decriminalized all drug use and offers treatment to drug addicts rather than criminally prosecuting them.
"There is no doubt that the phenomenon of addiction is in decline in Portugal," President of the Institute on Drugs and Drug Addiction Joao Goulao said to the Agence France-Presse in 2011 when the law hit its tenth anniversary.
Nadelmann recently spoke in Denver during the International Drug Reform Conference to talk about an exit strategy for the war on drugs and said that the world has hit "the tipping point on marijuana."
"[It's] Because of what Colorado and Washington did and what Uruguay is going to do" Nadelmann said to a supportive crowd. "And we've hit the tipping point because 58 percent of our fellow citizens say it's time to legalize marijuana."
On Jan. 1, 2014, recreational marijuana will go on sale legally in Colorado for the first time in U.S. history -- more than 100 pot shops are expected to open near the first of the year. By mid-year, Washington state marijuana dispensaries are expected to begin retail marijuana sales as well.
Uruguay is expected to pass its own marijuana legalization laws, which will make it the first country in the world to establish rules for the production, distribution and sale of marijuana for adults.
And just last month, Gallup released a poll showing that 58 percent of Americans think that marijuana usage should be made legal, which is the first time in U.S. history that more than half of Americans have expressed support for legalization.
"We may be at the tipping point with marijuana -- two states down, 48 to go," Nadelmann said in Denver. "And hopefully one country down, 200 to go -- that's a long way to go. So we have to be smart."
He explained that "being smart" means states like Colorado and Washington will have to bear the burden of leadership in the end of pot prohibition. "Your system is going to have to be tighter and more restricted and constrained than sometimes seems reasonable -- so that the rest of the country can be reassured that this is the right way to go."
Nadelmann's point was illustrated just this week when more than a dozen medical marijuana shops in the Denver-area were raided by federal authorities in the largest federal enforcement action on medical marijuana businesses since medical pot became legal in Colorado, The Denver Post reported.
The investigation is ongoing and it remains unclear what laws, if any, were broken by the dispensaries however Colorado Attorney General John Walsh's office has said that "there are strong indications that more than one of the eight federal prosecution priorities identified in the Department of Justice's August guidance memo are potentially implicated."
Yet, despite the raids, the march toward marijuana policy reform carried on with the world's first recreational marijuana sales license being granted to a Colorado dispensary just last week.
BEFORE YOU GO
PHOTO GALLERY
27 Reasons Why U.S. Shouldn't Lead War On Drugs