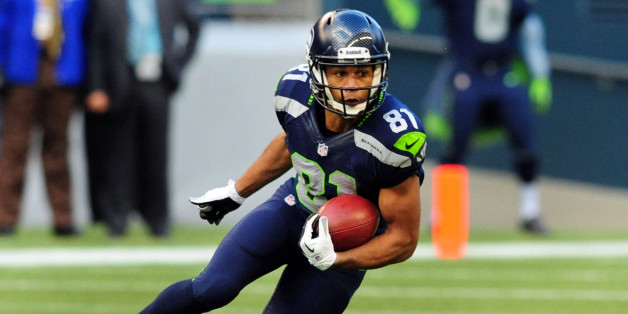 Seahawks receiver Golden Tate thinks two of his teammates, cornerbacks Walter Thurmond and Brandon Browner, put themselves ahead of the team, but the team must move on.
In an interview with 710 ESPN Seattle's "Bob and Groz", Tate said it was "definitely poor judgement" in response to Thurmond's four-game suspension and Brandon Browner's reported one-year suspension for violating the league's substance abuse policy.
"It's very unfortunate and you would think the guys would really find what we got going more important. I don't want to talk down or bad about any of these guys. What we have right now is way too important to jeopardize that." Tate said. "You are affecting way more than yourself. I feel like that was kind of a selfish move on both those guys part. But it is what it is. Like I said the show must go on."
Listen to the full segment here.
Tate might be used to seeing his teammates get suspended for performance-enhancing drugs or substance abuse by now. Thurmond is the seventh teammate of Tate's since 2011 to be suspended for one of the two violations, per Dan Hanzus of NFL.com. Browner would be the eighth if his reported suspension sticks.
Last season, both Browner and Richard Sherman were suspended for PEDs late in the season. Browner dropped his appeal and missed the final four games so he could rejoin the team in the postseason. Sherman's suspension was overturned after his appeal.
According to Albert Breer of NFL.com, Browner has filed for an appeal.
BEFORE YOU GO
PHOTO GALLERY
Best 2013 Sports Photos