 Oh, so your town has a Christmas tree? That's cute, but it doesn't compare to the 600-ton one made of sand in Florida.
This season, make a plan to visit these 10 U.S. cities that commemorate Christmas with something more creative than your standard evergreen.
A 600-ton sand tree
West Palm Beach, Florida
Yup. In West Palm Beach, Florida, sculptors managed to build a massive Christmas tree out of sand -- and host a lighting ceremony -- in less than a week. Their "tropical winter wonderland" includes four other 25-ton sand sculptures… no big deal.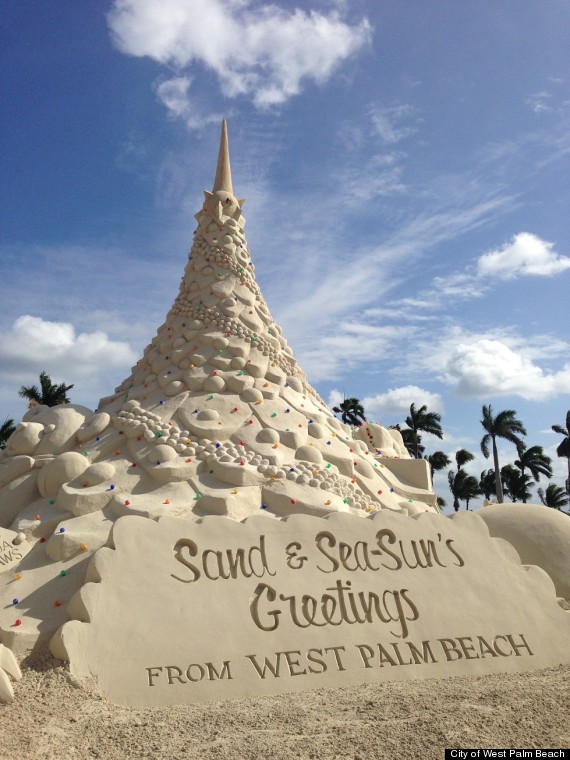 A fruitcake toss
Garrison, North Dakota
What a brilliant way to get rid of everyone's (least) favorite dessert. At the Dickens Village Festival, revelers perform something similar to a water balloon toss, but with the loathed baked goods. Age brackets from six-and-under to adult men chuck cakes for hundreds of dollars in prize money.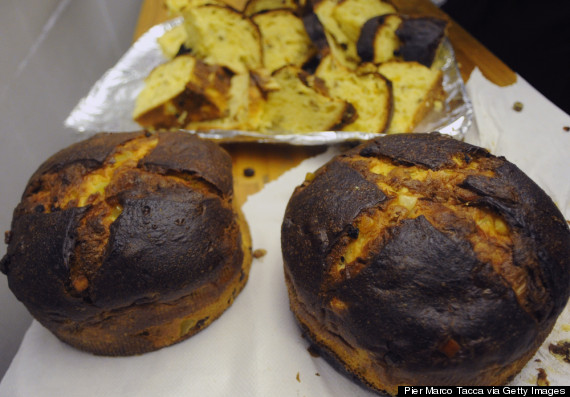 A one-man rendition of "A Christmas Carol"
Skaneateles, New York
For two and a half hilarious hours at the Dickens Christmas festival in Skaneateles, New York, resident Kim Tenreiro stars in "A Christmas Carol" …all by himself. Dickens characters roam the Finger Lakes town by day, and you can share dinner with them at a local inn.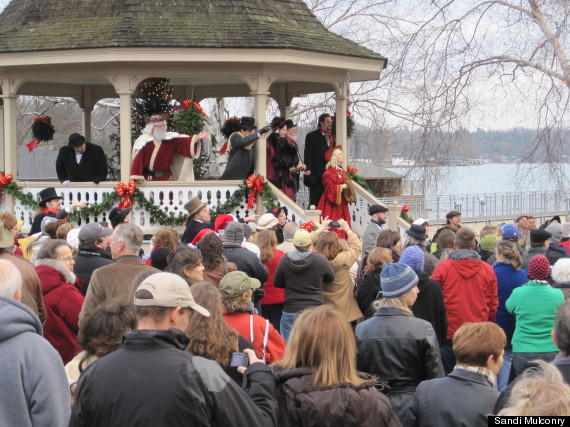 A Santa Claus postmark
Santa Claus, Indiana
More than 400,000 letters to Santa will wind up at the post office in Santa Claus, Indiana this season. Many of them will receive a special Santa Claus postmark, designed each year by a local high school student. People from far and wide mail bulks of Christmas cards and personally drive their Santa lists to the post office, just to ink that special cancellation mark on their letter.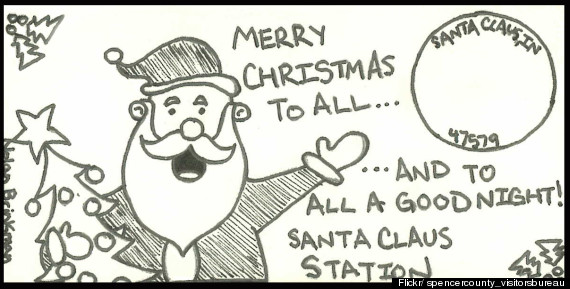 A yule log on a sled
McAdenville, North Carolina
In the small town of McAdenville, there is one twinkling, lit-up Christmas tree per every two residents. The town goes all out for Christmas-- last year there were more than 375 trees placed all around the town of 654 people, and houses got drenched in festive wreaths. In McAdenville's Yule Log Parade, dozens of kids drag a piece of wood around on a sled before igniting it in the big town fireplace to the sound of carols.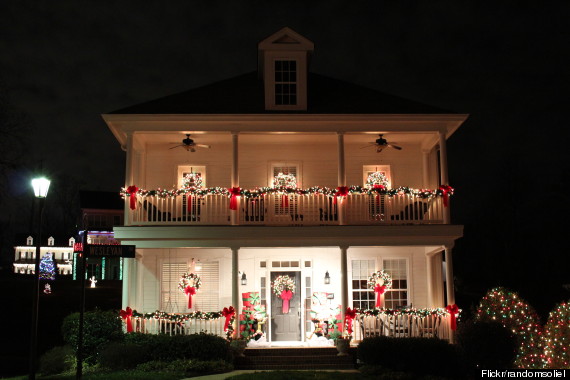 A hotel cookie tour
White Mountains, New Hampshire and Maine
On the Annual Inn to Inn Holiday Cookie and Candy Tour, sweet-toothed treasure hunters drive from one quaint mountainside property to the next, collecting fresh-baked cookies as they go. Visit all 13 inns on the tour, and you'll score a shiny new ornament.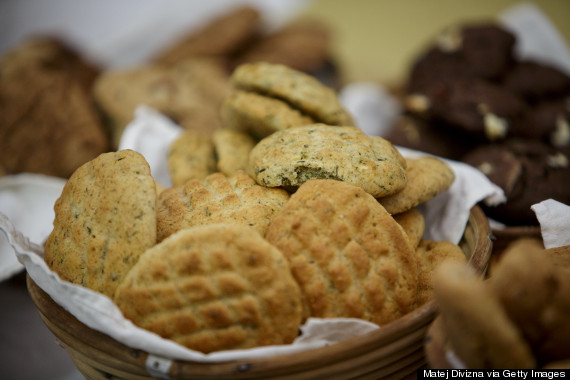 A 100-foot megatree
Los Angeles, California
Only L.A. could do it this big. At over 100 feet, the tree in The Grove outdoor shopping mall is routinely one of the country's tallest, topping even the one in Rockefeller Center. This year, Mary J. Blige, CeeLo Green and Gavin DeGraw sang till it was all lit up. A ride on the Polar Express
Lincoln and North Conway, New Hampshire
The magical children's book comes to life at two New Hampshire train stations, where kids and parents (and anyone yearning for Christmas magic, really) hop aboard real trains for a real, two-hour ride to a land of Christmas enchantment. Santa greets them at the end with a reading of "The Polar Express."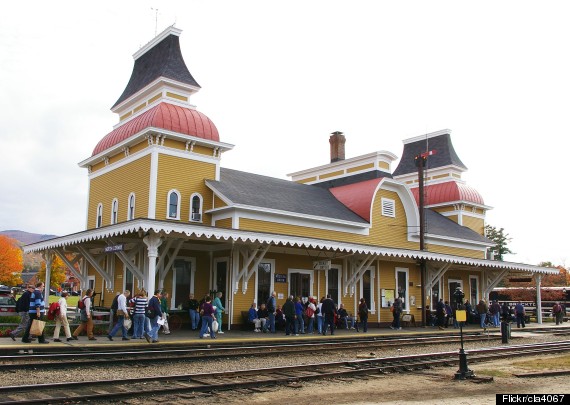 A Christmas museum
Paradise, Pennsylvania
At Dutch Country's National Christmas Center, window-shop for vintage toys on the "Street of Memories" before visiting exhibits that include an animal storybook village and "1950s Christmas Morning," a re-creation of a typical holiday living room from the decades of yore.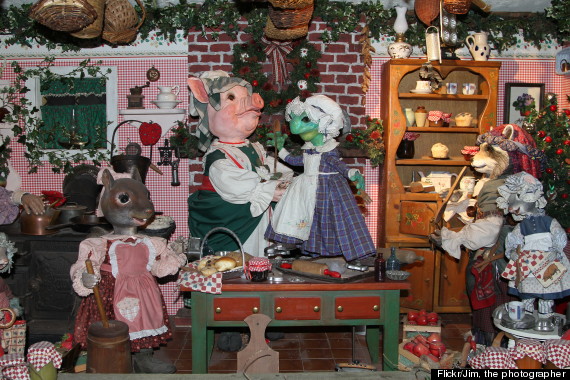 A visit from Charles Dickens's kin
Pigeon Forge, Tennessee
The Inn at Christmas Place is already pretty festive-- it's decked in evergreens and twinkly lights 365 days a year. The holiday spirit goes into overdrive each November when Gerald Dickens, great-great-grandson of "A Christmas Carol" author Charles Dickens, visits to recite the play aloud. BEFORE YOU GO
PHOTO GALLERY
Christmas 2012 Around The World