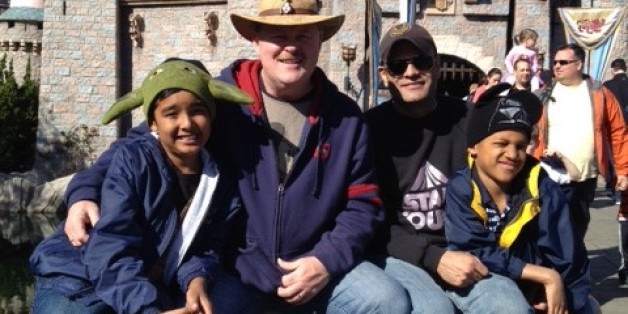 Huffington Post Gay Voices and RaiseAChild.US are collaborating in an 10-part "Let Love Define Family" series for November's National Adoption Month. Each series installment will introduce you to another aspect of fostering and adoption. Together we will meet foster youth, hear from culturally competent foster and adoption agency leaders, chat with cast members from the ABC Family television series "The Fosters," and celebrate LGBT parents and the successful and healthy families they create across the United States. -- Jason Cook, RaiseAChild.US
John Waite, 54, and Peter Escobedo, 41, live in San Jose where John is a notary and Peter is a manager at a telecom company. From the beginning, they were committed to building their family through fostering and adoption, but they planned to parent only one child. When their social worker introduced them to two young brothers, however, they knew their lives had changed forever. RaiseAChild.US talked with Peter about the adoption process and about how he and John became adoptive parents as an openly gay couple.
How did you and John meet? What made you decide to start a family together through fostering/adoption?
John and I first met while playing on the same softball team around 11 years ago. I was surprised at what a good player he was, and although we played on the same team (no pun intended), we didn't really interact a lot with each other during the season. We actually didn't start dating however until a year later when we were bowling in the same league. Our two teams were playing against each other and I think it was at that time we started to do a little flirting back and forth, and we've been together ever since.
I had always known that I wanted to have children someday and had made that clear to John from the get go. He was supportive of it and after about five years together we finally decided that we were settled enough in our lives to start the process. We knew it would be life changing to say the least, but we were ready for the challenge.

I was adamant about going through public adoption. Whenever we would see stories of foster children on television, going from home to home with no family or stability, and hear their heart-wrenching stories, it would break my heart. No child should ever have to go through life like that, so John and I were determined to go through public adoption. I wanted to ensure that at least one child would never have to endure that experience, and now, thankfully, two little boys will never have to go through that sort of ordeal.

Tell us about your boys and your adoption experience with EMQ Families First.
At the time we decided to adopt, my sister was a social worker for CPS (child protective services). We had asked her what avenues we should pursue in the process and she highly recommended EMQ FamiliesFirst. She worked closely with many agencies and counties, and told us EMQ was a highly reputable organization from her experience. I contacted our local office and set up an appointment to meet with them.
Being a same sex couple you never know what kind of reception you'll receive, even in the progressive thinking San Francisco Bay Area where we live, but the staff there was so supportive, and really took a liking to John and me. We worked with a couple of different people from the agency who got the ball rolling and ultimately we ended up with Yvette Frojelin who was our caseworker
It was Yvette who eventually paired us up with our future sons. We had gone with her to an adoption picnic, where prospective forever families can meet and interact with children who are up for adoption in a fun and casual environment. We had expressed interest in two individual little boys at the picnic that seemed like a good match for us and asked Yvette to submit a follow-up with them. She did, but also suggested we consider two little brothers who were there that she thought we would be interested in adopting as well. We hadn't met them, because there were so many children there, and we had only thought about adopting one child, but we were more than willing to go for it. Ultimately, it was Yvette's instinct that cemented our future. The brothers' social worker, Irene, saw our profile and wanted to set up a meeting with us. It happened so fast, but John and I were so excited.

What was it like to suddenly become parents of older children?
Dominic and Diego were six and five, respectively, when they came to live with us. Suddenly we had two kids, one in kindergarten and the other in first grade. They had already been emancipated by the court so the process was relatively quick and easy. Being that they are only eleven months apart it really is like having twins, but their personalities could not be any more different. We love them unconditionally and wouldn't have them any other way.
Tell us your thoughts on the importance of adoption and how accessible it is for same sex families.
There were many avenues we could have taken to start a family. I know some prefer surrogates and others go through private adoption. But with so many children in the foster system who need families, public adoption was the only way that we wanted to go.

However difficult you may think it is to raise a child, multiply that by ten. It's not easy -- just ask any parent! -- but sometimes I look at our sons and think, "Where would they be right now without our family?" and that puts everything in perspective and makes it all worth it. You realize that there is something in life that's bigger than you, and that giving a child a loving, secure, and supportive home is the most important thing that you will ever do.

Has your extended family embraced your adopted/fostered children?
Both John's and my families have been beyond supportive. They have taken to both our sons and treat them as if they were our own biological progeny. My family was so excited when we told them we were adopting. The boys know our parents as Grandma and Grandpa and all of our siblings introduce them as their nephews. We're so lucky that both our families have welcomed our sons with such exuberance.

How has having children in your home changed your lives?
To be honest it's not all Disneyland and playgrounds, as we have found out. There are parent-teacher meetings, helping with schoolwork, sibling rivalry, and all the other things that go along with childhood. The thing that's changed our lives is seeing how they've not only impacted us, but how we have helped them. Direction and guidance, respect for others, and a sense of self-worth are just some of the things we try to instill in our sons. We realize that having them grow up to be happy and healthy in a loving family is the most important thing for us to strive for.

What words of encouragement or advice do you have for other LGBT couples who are considering adoption?
Attitudes are changing. Our whole block was so excited for us when we told our neighbors we were adopting. If you would like to adopt, whether you're single, partnered or married, don't be afraid to do it. There are so many children who need a loving, stable home and giving that is the greatest thing you can do, not only for a child but for yourself. Seeing how you can make a difference in the life of foster child is the greatest gift you can receive.
Jason Cook is the Parent Advocate of RaiseAChild.US, a nonprofit organization that believes all children deserve a safe, loving and permanent home. We educate and encourage the LGBT community to build families through fostering and adoption to answer the needs of the 400,000 children in our nation's foster care system. RaiseAChild works with foster and adoption agencies that have received training in LGBT cultural competence through the Human Right's Campaign Foundation's "All Children – All Families" initiative [link: http://www.hrc.org/resources/entry/all-children-all-families-about-the-initiative] and received its Seal of Recognition. RaiseAChild is leading a five-city tour of special events for prospective parents for National Adoption Month. We are capping successful events in Chicago, Los Angeles, and Kansas City with upcoming events in New York City (December 3) and San Francisco (December 5). To RSVP, visit www.raiseachild.us or email info@raiseachild.us.
BEFORE YOU GO
PHOTO GALLERY
John and Peter