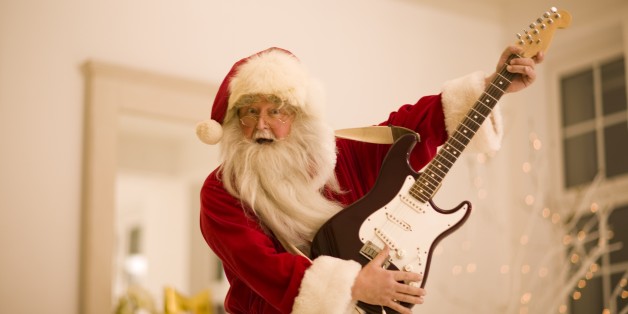 From the aisles of your grocery store, the doctor's office waiting room, or an elevator, the pervasive sounds of holiday music are here before you've even finished the last of the Thanksgiving leftovers.
Admit it. At the start of the season, you find yourself tapping your toe to the beat of "Feliz Navidad." But ironically, the tunes created to get us in the Christmas state of mind are more akin to Chinese water torture after one too many forced listens. Retailers also use music, particularly at the holidays, to lift our moods so that we might dig deeper into our wallets.
But what makes Christmas music particularly annoying is that it's created for mass appeal, according to The Wall Street Journal. Our brains and ears crave unpredictability and variety, and classic holiday music just doesn't serve that up.
We asked our Facebook fans which Christmas songs drive them up the wall. Scott Guiher summed it up best: "They are all annoying after about ten days of hearing them over and over."
1) "Grandma got run over by a reindeer...HATE IT," said Janet Ramirez Korsak .
2) "Santa Baby.. Worst song ever written!!!" said Maggie Montgomery.
3) "I'm a nice Jewish girl who loves the Christmas season and enjoys hearing the songs, but "Jingle Bell Rock" is annoying," said Charlene Rotenberg Mandelbaum.
4) "Jingle bells" said Jamie Wieloch Greco.
5) "Feliz navidad. Cringe," said Patti Eischen.
6) "Little Drummer Boy. Not plausible," said Iris Farias.
7) "Rockin Around the Christmas Tree-ugh," said Diane Hunt Addante.
8) "'The Twelve Days of Christmas' can be a bit too much if you hear it too often!" said Jane Thompson.
9) "Winter Wonderland can get pretty annoying," said Jamie Wieloch Greco.
10) "Christmas Shoes!" said Maggie Montgomery.
Which Christmas song drives you crazy? Tell us in comments!
EARLIER ON HUFFPOST50:
PHOTO GALLERY
BEFORE YOU GO
Improve Your Credit Score
PHOTO GALLERY
Improve Your Credit Score