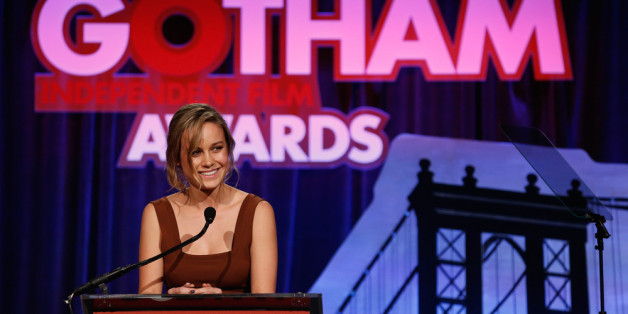 "Inside Llewyn Davis" and Brie Larson were two surprise winners at Monday night's Gotham Awards in New York, the ostensible kick-off of awards season. (It even says so on the Gotham Awards website: "The Gotham Independent Film Awards, selected by distinguished juries and presented in New York City, the home of independent film, are the first honors of the film awards season.")
"Inside Llewyn Davis" was named Best Feature at the ceremony, putting the Joel and Ethan Coen film at the top of a category that included presumed Oscar favorite "12 Years A Slave" as well as "Ain't Them Bodies Saints," "Before Midnight" and "Upstream Color." ("Inside Llewyn Davis" is out in limited release on Dec. 6.)
"It's a movie made in New York about New Yorkers, filled with New Yorkers," title star Oscar Isaac said to the Gotham Awards crowd while accepting the trophy.
Larson, who stars in "Short Term 12," won Best Actress, defeating Cate Blanchett (for "Blue Jasmine"), Scarlett Johansson (for "Don Jon"), Amy Seimetz (for "Upstream Color") and Shailene Woodley (for "The Spectacular Now"). Blanchett was the expected choice for the award heading into the night, if only because of her standing as an early Oscar front-runner for Best Actress.
Other winners on Monday night included Matthew McConaughey, who won Best Actor for "Dallas Buyers Club," and Ryan Coogler and Michael B. Jordan, the director and star, respectively, of "Fruitvale Station." Coogler won the Gotham Awards Breakthrough Director honor, while Jordan took home Breakthrough Actor.
Last year, "Moonrise Kingdom" won Best Feature, while "Beasts of the Southern Wild" director Benh Zeitlin took home Breakthrough Director. (Zeitlin wound up scoring an Oscar nomination in the Best Director category.) The Gotham Awards did not give out traditional Best Actor or Best Actress trophies in 2012.
For more on the Gotham Awards, head to HitFix.
BEFORE YOU GO
PHOTO GALLERY
Gotham Awards 2013