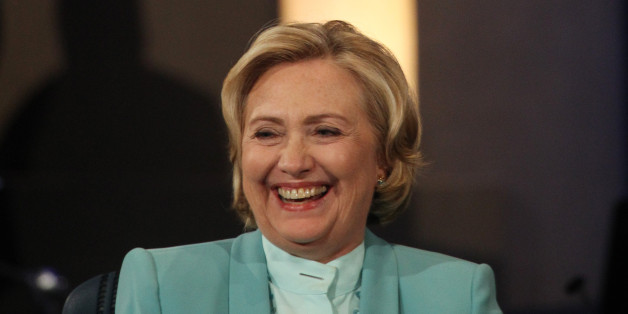 Hillary Clinton is working to mend fences with African Americans, but a variety of polls say that among rank and file voters, the scars of 2008 have largely healed. A DailyKos contributor explains why pollsters faced a bigger challenge in Virginia's governor's race. And Americans would like to drug test their member of Congress. This is HuffPollster for Monday, December 2, 2013.
CHRISTIE, CLINTON LEAD THE PRIMARY PACK - Paul Steinhauser: "A new national poll indicates, that for the first time, there may be an early frontrunner in the race for the 2016 Republican presidential nomination. And according to a CNN/ORC International survey, if Hillary Clinton decides against making another bid for the White House, Vice President Joe Biden would be the initial favorite to capture the Democratic nomination...Twenty-four percent of Republicans and independents who lean towards the GOP questioned in the survey say they'd be likely to support [New Jersey Gov. Chris] Christie for the Republican nomination, up seven percentage points from a CNN poll in early September. Back then, Christie and Rep. Paul Ryan of Wisconsin, the House Budget chairman and the 2012 Republican vice presidential nominee, were virtually tied at the top of the GOP list, with Christie at 17% and Ryan at 16%....Sixty-three percent of Democrats and independents who lean towards the Democratic Party say the former secretary of state, who also served as senator from New York and first lady, would be their choice for the party's nomination, with Biden a distant second at 12%. Freshman Sen. Elizabeth Warren of Massachusetts, a favorite of many progressives, stands at 7%, with New York State Gov. Andrew Cuomo at 5% and two-term Maryland Gov. Martin O'Malley, another possible candidate, at 2%." [CNN]
CLINTON'S FAVORABLE RATING ERODES WITH GOP & INDEPENDENTS - YouGov's William Jordan: "Nearly nine months after leaving office, more Americans have an unfavorable than a favorable opinion of former Secretary of State Hillary Clinton, according to a recent YouGov/Economist poll. However, Clinton remains the indisputable favorite among Democrats to be their 2016 presidential nomination...From January 14th to February 2nd an average of 24%, or about a quarter of Republicans had favorable views of Clinton. But over the first four weekends of November her rating with the same group was just 15%. An even greater drop is visible among Independents, traditionally a particularly important bloc of voters, a majority (51%) of whom viewed Clinton favourably during January. For November, the same number is over 10 points lower, at 40%. There has been hardly any shift in her support from Democrats, a group which still has overwhelmingly positive views of Clinton (84% favorable in January; 80% in November)." [YouGov]
CLINTON SEEKS TO 'REBUILD BOND WITH BLACKS' - Amy Chozick and Jonathan Martin: "Since Mrs. Clinton left the secretary of state post in February, she and her husband have sought to soothe and strengthen their relationship with African-Americans, the constituency that was most scarred during her first bid for the presidency. Five years after remarks by Mr. Clinton about Barack Obama deeply strained the Clintons' bond with African-Americans, the former first family is setting out to ensure that there is no replay of such trouble in 2016...'I think that this is an effort to repair whatever damage they felt may have been done in '08,' said the Rev. Al Sharpton. Mr. and Mrs. Clinton 'know that there are some who have lingering questions, if not antipathy, towards them,' Mr. Sharpton said." [NYTimes]
Favorable rating dropped, then recovered - Via Twitter, Carroll Doherty notes Pew Research findings: "HRC's image did suffer among blacks in '08, as @nytimes reports. Fav rating sank 23 pts. But she's recovered since." A Pew Research report from December 2012: "[Clinton's] favorable ratings among blacks plummeted in the spring of 2008: By May, as Obama secured his hold on the nomination, just 59% of African Americans viewed Clinton favorably...A year after the election, a survey by Pew Social and Demographic Trends found that Clinton's overall favorability mark...among blacks – 93% — was as high as Obama's."
[@CarrollDoherty, Pew Research]
Potential African-American support higher since 2008 - Results from a recent HuffPost/YouGov poll yield similar results. Among all potential primary voters (those who say they typically vote in Democratic primaries), 47 percent say they will definitely support Clinton in 2016, another 35 percent say they would consider Clinton, only 4 percent say they would not consider supporting her and 14 percent say it's just too soon to say. The "definitely support" percentage is very close to Clinton's 48 percent of the votes cast in primary states in 2008. However, Clinton's definite support percentage is now just as high among African American as it is among other Democrats. According to a compilation of primary state exit polls produced by ABC News, Clinton won an average of just 15 percent of the black vote in the 2008 primaries against Barack Obama. Obama's narrow delegate lead over Clinton rested on his overwhelming advantage with African Americans. [YouGov, RCP 2008 Democratic popular vote, ABC News: exit poll key groups, see also HuffPost: 'Why Hillary Clinton Shouldn't Be Threatened by Elizabeth Warren']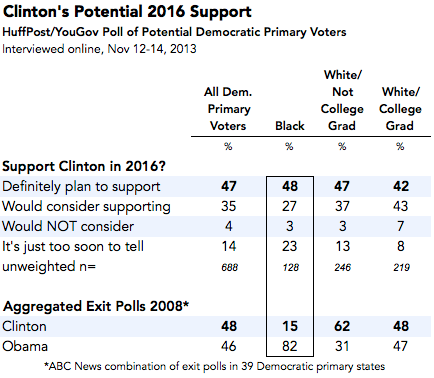 Political leaders matter more - Political scientist John Sides: "It appears that the Clintons are making a real effort to repair any damage from that comment. But Chozick and Martin's account would benefit from a crucial distinction: African American voters vs. African American political leaders. The leaders may need to be wooed. But the voters really do not.
The reason is simple: Political leaders of all stripes (and all races) pay a lot more attention to politics than voters do. Political leaders would most likely not only remember Bill Clinton's remarks but, in some cases, need and expect the Clintons to make amends. And so the article features approving statements about the Clintons' latest outreach from African American leaders such as Al Sharpton, Tavis Smiley, and Reps. Elijah E. Cummings (D-Md.) and James E. Clyburn (D-S.C.). But African American voters? It is far from clear how many knew about or remember Bill Clinton's remarks nearly six years ago. Among black voters, any negative feelings about Hillary Clinton were erased long ago." [WaPost's Monkey Cage]
COMPARING POLLING ON VA GOV TO OTHER RACES WITH THIRD PARTY CANDIDATES - DailyKos contributor Dreaminonempty: "A few weeks ago there was an election in Virginia where the polls were off by a fair amount—the margin of victory for the Democrat in the governor's race was about five points less than the polling average had predicted. The question I wanted to answer is, just how unusual is it for such a polling miss to occur? The simple answer: it's pretty much normal when there's a third candidate polling more than 5 percent….The only 'big picture' lesson I can come up with is that a third party, third-place candidate on average underperforms the polling average, by about half a point, which is not news. The underpeformance was more than one point in 7 of 20 cases, with one case of overperformance by more than one point. Major party third-place candidates, however, overperformed in four out of six races. And as far as Virginia goes? The third-place, third party candidate underperformed by 3.0 points, the second worst of the 20 cases. So in that regard, it was indeed unusual." [Daily Kos]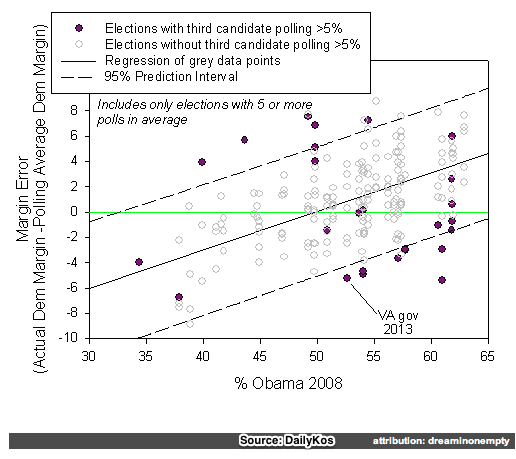 AMERICANS QUITE ENTHUSIASTIC ABOUT DRUG TESTING CONGRESS - Emily Swanson and Arthur Delaney: "While most Americans like the idea of drug testing for welfare recipients, they LOVE the idea of drug testing for members of Congress. According to a new HuffPost/YouGov poll, 64 percent of Americans favor requiring welfare recipients to submit to random drug testing -- a measure pushed by Republican lawmakers in recent years -- while 18 percent oppose it. But an even stronger majority said they're in favor of random drug testing for members of Congress, by a 78 percent to 7 percent margin. Sixty-two percent said they "strongly" favor drug testing for congressional lawmakers, compared to only 51 percent who said the same of welfare recipients." [HuffPost]
HUFFPOLLSTER VIA EMAIL! - You can receive this daily update every weekday via email! Just enter your email address in the box on the upper right corner of this page, and click "sign up." That's all there is to it (and you can unsubscribe anytime).
MONDAY'S 'OUTLIERS' - Links to more news at the intersection of polling, politics and political data:
-Only a third of Americans say most people can be trusted. [AP]
-Consumer spending sentiment rises slightly. [Gallup]
-The Kaiser Family Foundation shares an interactive chart showing trends in favorability toward the ACA health reform law by demographic subgroups. [KFF]
-Young Americans are the least familiar with the ACA. [Gallup]
-Nate Cohn sees Scott Walker as a potential 2016 GOP frontrunner. [New Republic]
-The top seven seats in the Hotline's Senate Race Rankings are all held by Democrats. [National Journal]
-Jonathan Bernstein has a few polling ideas on the ACA, Afghanistan and the deficit. [A Plain Blog About Politics]
-Doug Schoen and Pat Caddell worry about the public malaise. [Politico]
-A Canadian pollster worries that "a spate of spectacularly inaccurate polls" will lead to a ban on surveys during campaigns. [Globe and Mail]
-Peter Woolley speaks on the benefits of "polling foolery." [YouTube]
-How a quant copes with divorce. [Flowing Data]