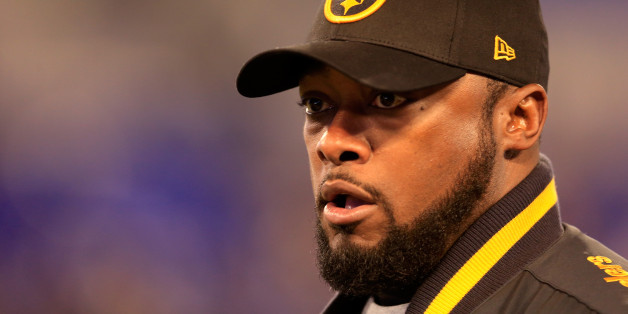 Pittsburgh Steelers safety Ryan Clark told reporters after the team's first practice of the week that his coach had "no intent at all" when he seemed to interfere with a Baltimore Ravens kickoff return during a Thursday night game between the bitter rivals. It remains to be seen if those tasked with reviewing the incident for the NFL will see things the same way, especially after viewing a previously unseen angle of the play in a video released by KDKA-TV in Pittsburgh on Monday.
WATCH: KDKA Video Shows Mike Tomlin Stepping Toward Field
After a Steelers touchdown cut the Ravens' lead to 13-7 in the third quarter, Jones fielded the ensuing kickoff and eluded every would-be tackler in his path. Running along the Steelers' sideline, Jones had no one in uniform between him and the end zone. But his path was not clear: Tomlin was standing, with his back to Jones, on the white border edging the field and seemed to cause the returner to alter his path back into the field. After the slight change of direction, Steelers cornerback Cortez Allen pulled down Jones from behind. That tackle saved a touchdown and the Ravens would be held to a field goal on the possession.

(GIF via @SBNation)
After his Steelers lost 22-20, Tomlin conceded he was in the wrong place but insisted that he had not intentionally interfered with the play.
"I always watch the returns on the Jumbotron; it provides a better perspective for me," Tomlin explained to reporters after the game, via NFL.com. "Obviously, I lost my placement as he broke free, and saw at the last second how close I was to the field of play."
Tomlin's account of the play was somewhat undermined by another angle shown during the NBC broadcast that showed him appearing to take a step toward Jones before hopping out of the way.

(GIF via @SBNation)
The initial account of the Steelers coach took a further hit when the footage recorded KDKA-TV photographer Michael Challik surfaced on Monday. Tomlin, who did appear to be watching Jones' return on the JumboTron, can be seen moving into his position along the sideline as the play unfolds.
WATCH KDKA-TV VIDEO ABOVE
Citing league sources, NFL Media Insider Ian Rapoport reported that both Tomlin and the organization could be fined for the incident. The Steelers could also lose a draft pick, according to Silver's sources.
WATCH: NFL Media Insider Ian Rapoport On Possible Punishment
ALSO ON HUFFPOST:
PHOTO GALLERY
BEFORE YOU GO
Best 2013 Sports Photos
PHOTO GALLERY
Best 2013 Sports Photos