Sophie Calle, part artist, part rogue detective, uses what is missing and forgotten as a starting place for making art. In 1981 she worked as a chambermaid in a Venice hotel, sifting through patron's things and collecting them into a scrapbook of hidden habits. That same decade, she stumbled upon an abandoned address book in the street, interviewed the names listed and created an unconventional portrait of the book's anonymous owner.
In her exhibition "Dérobés," now at the Galerie Perrotin in Paris, Calle uses absence as her canvas, transforming memories and personal narratives into permanent works of art. The exhibition is divided into three segments. The first, "What Do You See?", begins with artworks stolen from the Isabella Stewart Gardner Museum in Boston in 1990. Calle asked curators, guards, staff members and visitors to describe what they saw inside the empty frames that remained at the museum.
In Room 2, the "Purloined" series follows a similar theme, asking museum personnel to describe a Lucian Freud painting and two Turners belonging to the Tate Gallery in London, a Picasso at the Richard Gray Gallery in Chicago, and a Titian from the Marquis of Bath's residence, Longleat House, all of which had been stolen. Finally in "Le Major Davel", Calle asked staff members at the Musée Cantonal des Beaux-Arts in Lausanne to describe the missing parts of "Major Davel," a painting by Charles Gleyre, that was partly destroyed during a fire.
The three installations communicate what occurs between viewer and artwork in the sacred museum space. Partly an homage to these lost and damaged works, partly a portrait of those who were moved by them, Calle transforms absence into a poetic meditation on the invisible matter that was left behind. See some of the works, and the text accompanying them, below.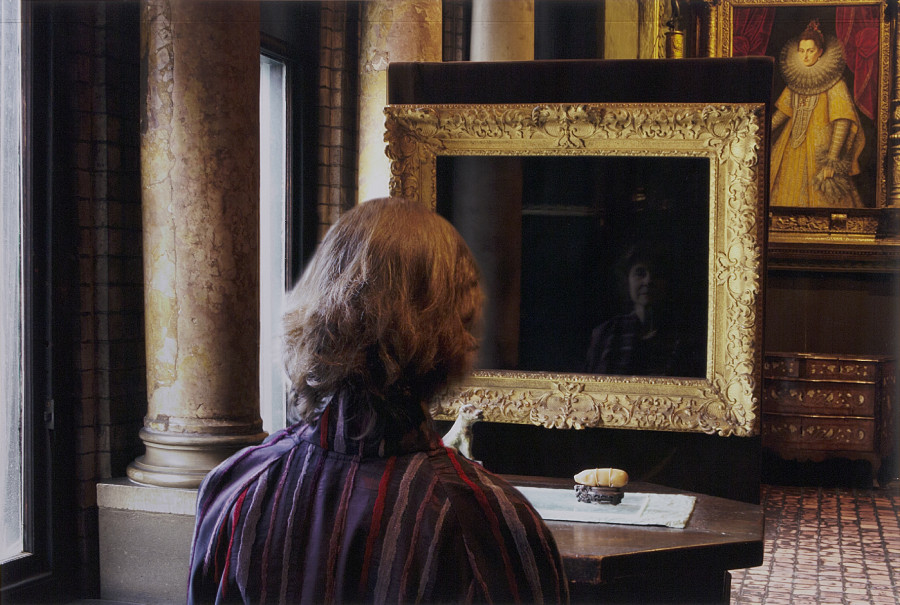 "What Do You See ? Landscape with an Obelisk. Flinck", 2013
Colour photograph, text, frames (plexiglass and metal frames) 68 x 101 cm / 26 3/4 x 39 3/4 inches (each, photo and text)
On March 18, 1990, six paintings by Rembrandt, Flinck, Manet and Vermeer, five drawings by Degas, one vase, and one Napoleonic eagle were stolen from the Isabella Stewart Gardner Museum in Boston. The frames of the Rembrandt, Vermeer and Flinck paintings were left behind. In 1994, after being restored, the empty frames were hung back in place, further emphasizing the painting's absence. I asked the curators, guards, other staff members and visitors to tell me what they saw within these frames.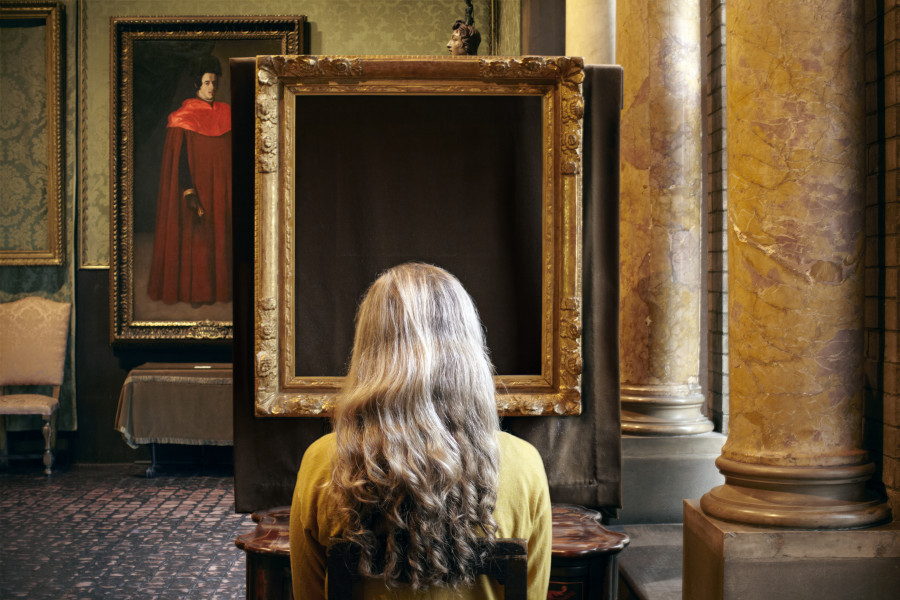 "What Do You See ? The Concert. Vermeer.", 2013
Colour photograph, text, frames (plexiglass and metal frames) 68 x 101 cm / 26 3/4 x 39 3/4 inches (each, photo and text)
I see my reflection, so I see my sadness ❖ I see dark emptiness with a gold frame ❖ What do i see? I see something strange, a painting that shows my image as a mirror ❖ I see my reflection, me right in the center of this beautiful frame, with the sunlight reflected on my left shoulder. It's very narcissistic, but I can't resist seeing myself as the subject of a painting and since the Zurbaràn is very visible in the reflection, I see myself as a slighltly weary, modern, companion to that old monk in red ❖ I definitely see the obelisk. This wonderfully mysterious element of the obelisk catching the light. I see a virtuosic, busy painting, figures walking along a winding road, patches of light and shadow from sunlight coming through clouds. I see a wonderful kind of Dutch thing ❖ I see a story, told in the form of this empty frame, and inside, I see a palpable feeling of loss. I see a perfect tribute, better than a reproduction. I see an installation, an invitation for people to sit and look at themselves as a piece of art ❖ I don't know what to make of it. I know it could have been another old picture, maybe a seascape, or a landscape, something soothing, but I think I just see glass.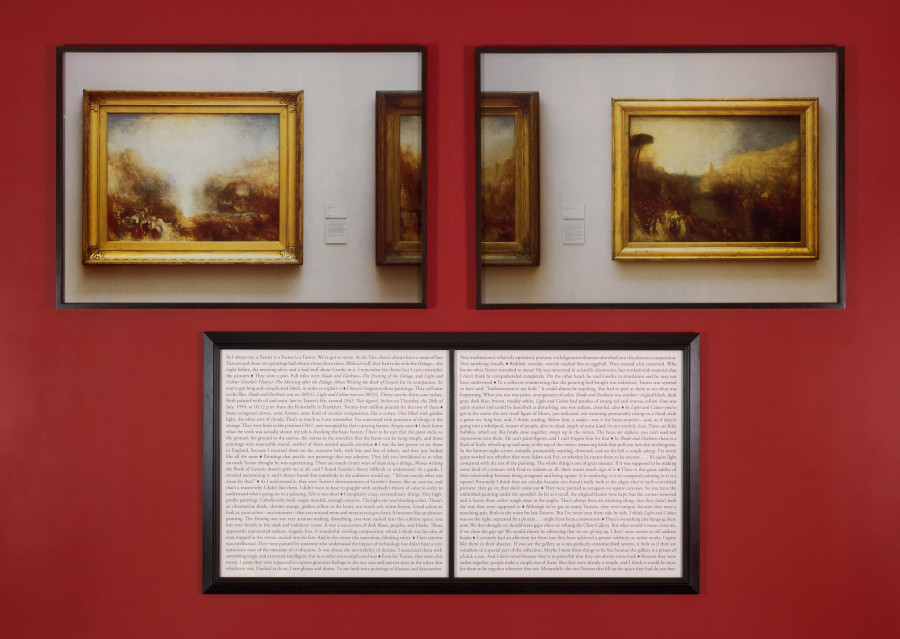 "Purloined: Turner", 1998-2013
Two colour photographs, text, frames
On July 28, 1994, Shade and Darkness-The Evening of the Deluge and Light and Colour (Goethe's Theory)-The Morning of the Deluge-Moses Writing the Book of Genesis, by J.M.W. Turner, were stolen from the Kunsthalle in Frankfurt.The two paintings were on loan from the Tate in London. In front of the two new Turners that took their place at the Tate Britain, I asked curators, guards, and other staff members to describe the missing works.
As I always say, a Turner is a Turner is a Turner. We've got so many. At the Tate, there's always been a room of late Turners and those two paintings had almost always been there. Biblical stuff, they had to do with the Deluge-the night before, the morning after; and it had stuff about Goethe in it. I remember the theme but I can't remember the pictures ❖ They were a pair. Full titles were Shade and Darkness-The Evening of the Deluge, and Light and Colour (Goethe's theory)- The Morning after the Deluge-Moses writing the Book of Genesis for its companion. So you've got long and complicated labels, in order to explain it ❖ I haven't forgotten those paintings. They still exist in the files. Shade and Darkness was no. 00531, Light and Colour was no. 00532. Thirty-one inches. Both painted with oil and resin, late in Turner's life, around 1843. Not signed. Stolen on Thursday, the 28th of July, 1994, at 10:12 p.m. from the Kunsthalle in Frankfurt. Twenty-four million pounds for the two of them ❖ Same octogonal canvas, same format, same kind of circular composition, like a vortex. One filled with golden ligh, the other sort of cloudy. That's as much as I can remember. I'm concerned with positions of things in the storage. They were both in the position C047, now occupied by their carrying frames. Empty ones.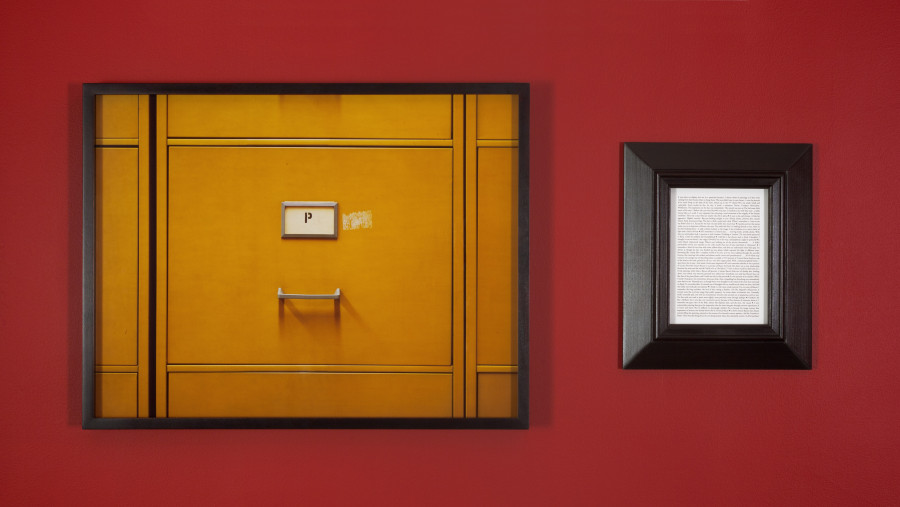 "Purloined : Lucian Freud, Francis Bacon's Portrait", 1998-2013
On May 27, 1988, Lucian Freud's Portrait of Francis Bacon was stolen from the Neue Nationalgalerie in Berlin. The painting was on loan from the Tate in London. In Tate Britain's storage room, in front of the drawer where it was kept when it wasn't on display, I asked curators, guards, and other staff members to describe the missing work.

It was often on display, but not in a particular, location. I always think of paintings as if they were coming from their home when we hang them. This one didn't have it's own house ; it was the portrait of an artist living in the back of the store, locked up in the drawer ❖ It was small. Small and vulnerable. Seven inches by five. So tiny. A jewel, a miniature. Precise. Compact Meticiculous. Withdrawn. The expression on the face was melancholic. The mouth was just as if he had some little secret of his own. I believe the eyes were blue ❖ It was pure. It looked at me with blue eyes-a fairly intense blue as I recall. A very expressive face showing a total awareness of the tragedy of the human condition. Here was a man who saw clearly what life is about ❖ A man in his eraly forties. A little bit aggressive. Slightly neurotic. Big eyes looking straight at you. Plump cheeks, pointed chin, mouth closed. Fairly pronouced lips. The hair is thick, swept back, dark. When I remember it, I start to see my father's face in it. Except for hair ; my dad didn't have much hair ❖ A gentle portrait that seems rather coy in its depiction of Bacon, the man. You really feel that it is looking directly at you, when in fact he's looking down-it adds a whole modesty to the image. It has a freshness to it, and a clarity of light and a clarity of form ❖ All I remember is a little fat face . . . very big cheeks, jowlish cheeks. With that sort of drunken look. I associate it with London. Drinking in London. The man looks preserved in fluid, a little bit pickled, like formaldehyde ❖ I did like it but always used to think I shouldn't. I thought it was too brutal, a bit vulgar. Powerful, but in the way a schizophrenic might be powerful.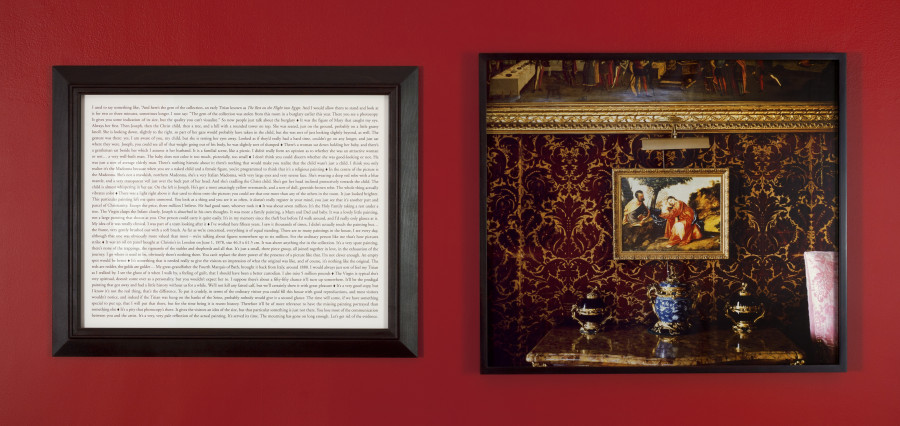 "Purloined : Titian, The Rest on the Flight into Egypt", 1998-2013

On January 6, 1995, a painting by Titian, The Rest on the Flight into Egypt, was stolen from the Marquis of Bath at Longleat House, England. The empty space was filled with a reproduction. I asked the lord of the manor, the guards, and the staff to describe the missing work.

I used to say something like, "And here's the gem of the collection, an early Titian known as The Rest on the Flight into Egypt. And I would allow them to stand and look at it for two or three minutes, sometimes longer. I now say : The gem of the collection was stolen from this room in a burglary earlier this year. There you see a copy. It gives you some indication of its size, but the quality you can't visualize. " So now peoplejust talk about the burglary ❖ It was the figure of Mary that caught my eye. Always her first.Then Joseph, then the Christ child, then a tree, and a hill with a rounded tower on top. She was seated, just on the ground, probably on a little grassy knoll. She is looking down, slightly to the right, so part of her gaze would probably have taken in the child, but she was sort of just looking slightly beyond, as well. The gesture was there : yes, I am aware of you, my child, but she is resting her eyes away. Looked as if they'd really had an hard time, couldn't go on any longer, and just sat where they were. Joseph, you could see all of thaht weight going out of his body, he was slightly sort of slumped ❖ There's a woman sat down holding her baby, and there's a gentleman sat beside her which I assume is her husband. It's a familial scene, like a picnic. I didn't really form an opinion as to whether she was an attractive woman or not... a very well-built man. The baby does not color it too much, pictorially, too small.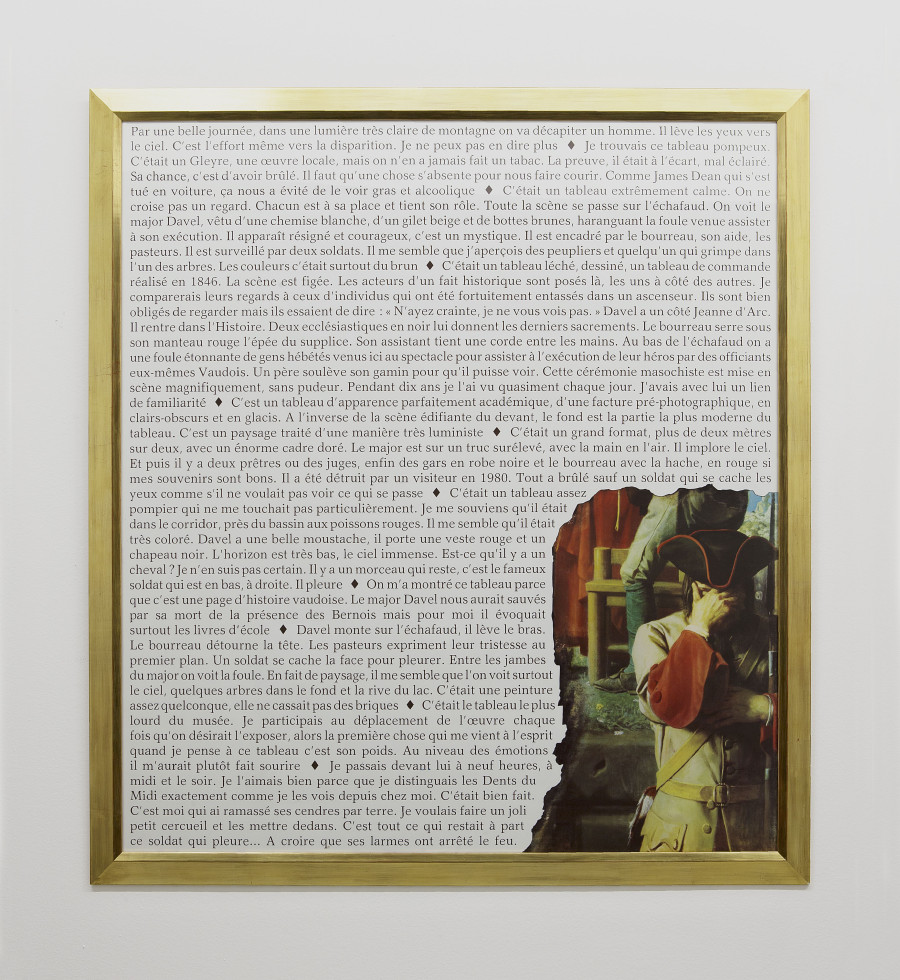 "Le Major Davel," 1994

On the night between August 24 and 25, 1980, the painting by Charles Gleyre, Major Davel, was partly destroyed by fire that ensued from an act of vandalism. All that remained of the canvas was the crying soldier in the bottom right-hand corner. I asked the curators, guards, and other staff members at the Musée Cantonal des Beaux-Arts in Lausanne to describe what they remembered of the missing part of the painting.
On a sunny day, in the bright mountain light, a man is about to be beheaded. He is raising his eyes to the sky. The very effort towards disappearance. That's all I can say ❖ For me it was a pompous painting. It was a Gleyre, a local work, but it never had much success. It was kept out of view, dimly lit. It got lucky when it was burned. Things have to become absent for us to hurry to see them. Like James Dean who died in a car crash, sparing us the sight of him fat and alcoholic ❖ It was an extremely calm picture. Not one gaze meets the viewer's. Everyone is where they should be, playing their role. The whole scene takes place on the scaffold. We see Major Davel, wearing a white shirt, a beige waistcoat and brown boots, haranguing the crowd that has come to see his execution. He looks resigned and courageous. He is a mystic. He is flanked by the executioner, his aide, the pastors. He is watched by two soldiers. I think I can make out poplar trees and someone climbing one of the threes. The colors were mainly browns ❖ It was a slick painting, drawn, a commission executed in 1846. The scene is frozen. The actors of a historical are placed ther side by side. I would compare their expressions to people squeezed together by chance in an elevator. They are forced to look, but they try to say : "Don't worry, I can't see you." Davel has a Joan of Arc side. He is entering history. Two churchmen in black are giving him the last rites. The executioner is holding the fatal sword tightly under his red coat. His assitant has a rope. At the bottom of the scaffold is a surprising crowd of gaping onlookers come to see the show, to watch the execution of their hero by executants who are themselves Vaudois. A father holds up his kid for him to see. This masochistic ceremony is magnificently staged, without shame. I saw it virtually every day for ten years. I had grown familiar with it.
Calle's "Dérobés" runs until January 11, 2014 at the Galerie Perrotin, Paris.
See more from Calle's "The Address Book" below:
PHOTO GALLERY
The Address Book